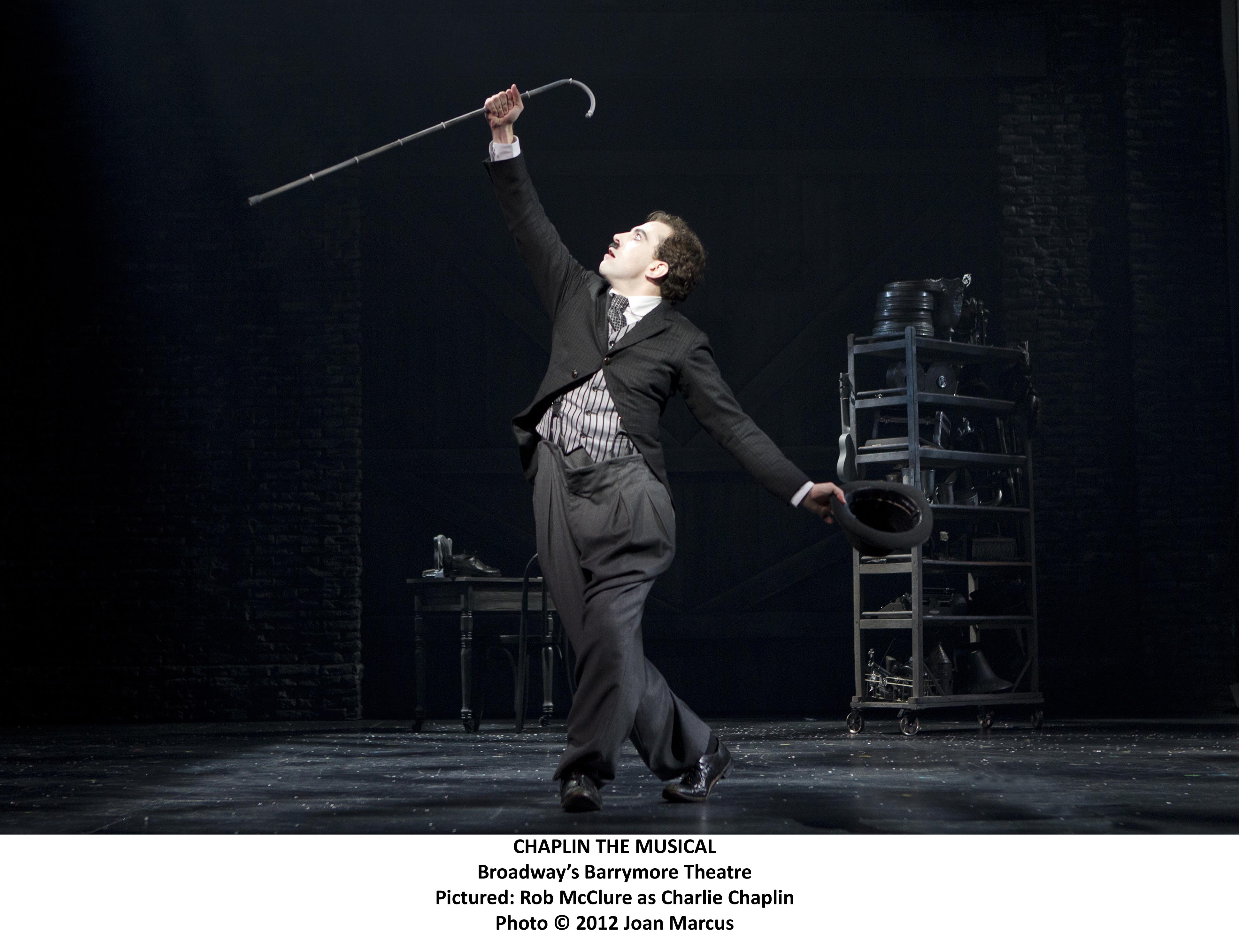 Mostly unknown until this past year, Rob McClure has leapt his way from the Broadway stage to the 2013 Tony Awards. The 30-year-old is nominated for Best Actor in a Musical for his memorable performance in "Chaplin." Although the show was short-lived, McClure's portrayal of the silent-screen legend left a lasting impression on audiences and critics alike. McClure already took home a 2013 Theatre World Award for his role and was also nominated for Outer Critics Circle and Astaire awards. NYC-ARTS chatted with the star about his Tony nod, Chaplin, and what's in the horizon now that the Little Tramp is behind him.
What were you doing when you found out you were nominated for a Tony?
I was watching the live announcement online. When they said my name, my wife gasped beside me, and frankly, I said, "Holy shit!" at which point my iPhone went ding and it was a message from my mother, which read, "Holy shit!"
What were other people's reactions after the announcement?
I got literally hundreds of messages of love and support. It was overwhelming. The message that sticks out the most was from a group of students from my old high school (New Milford High School), where I recently went back to do the lighting design for their production of "The 25th Annual Putnam County Spelling Bee." They notified me that the moment the announcement was made, the school erupted. They were all watching in their first-period classes. That turned me into a sobbing mess.
Did you know this was a career-changing role when you took it?
No clue. We all hope that each project we land will be fun, exciting, and move our career forward, but you never can tell for sure. I knew that it was special, and I knew I was grateful to be there. I had no clue how much it would change my life.
What was the most challenging part about playing Chaplin?
There were many challenges. I thought the hardest part was going to be the physical challenges - learning the tightrope, roller-skating blindfolded, playing the violin, etc. But actually, it was finding that beating heart underneath all of that. Everyone in the silent film era could do tricks. What set Chaplin apart was his heart. I quickly realized that I needed to get that right in order to make the performance special.
Aside from your talent, to whom/what do you attribute your burgeoning success?
That's an interesting question, and I get highly existential the more I think about it. How far back shall we go? The director Warren Carlyle for his vision? The composer Chris Curtis for his words and music? Telsey + Company Casting for calling me in? My high school teachers for their encouragement? Charlie Chaplin for his life? What I'm getting at is there were millions of miracles that needed to happen for this moment to line up for me.
Are you a superstitious person? Anything you do for good luck?
I am not a superstitious person, but I'm a lucky man! I think that everything I could have done to win was done on that stage. My work is finished. Now it's time to celebrate being nominated, and celebrate the Chaplin Chapter of my life, and the life-long friendships it provided me.
What's your take on the other Tony nominees this year? What have you seen?
I am such a huge fan of this art form. I wish I could have seen more, but alas, it's the curse of a working actor. I'm trying to see all of my fellow nominees in their shows before June 9. It's less about checking out the competition and more about showing love and support for each other. We're actually getting dinner together, the five of us, prior to awards night.
What can you tell me about your role in "Honeymoon in Vegas" this fall?
I can tell you that I am so excited to be a part of that project. I am a huge Jason Robert Brown fan, and a huge fan of my co-star Tony Danza. From what I've heard it's going to be a top-notch collaboration, and I'm beyond thrilled to return to the Paper Mill Playhouse. They are responsible for at least a thousand of those "millions of miracles" I was mentioning before.
Calling all HuffPost superfans!
Sign up for membership to become a founding member and help shape HuffPost's next chapter