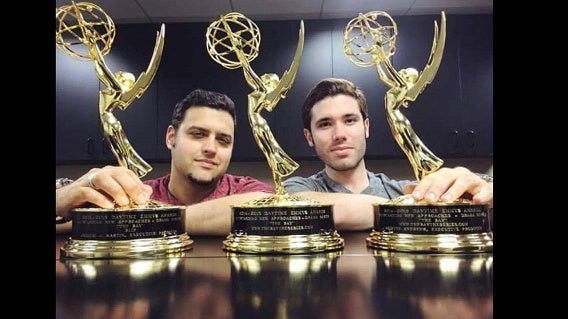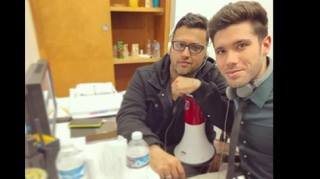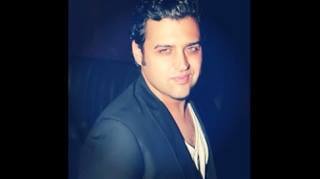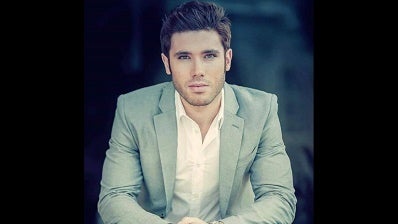 One of the great things about being a freelance writer is getting to interview and meet amazing artists. This past week I was blessed to catch up with the dynamic multiple Emmy® winning team from LANY Entertainment (THE BAY, THIS JUST IN) Producer, Writer, and Director Gregori J. Martin (G) and Actor and Producer Kristos Andrews (K). Their candor and joie de vivre (enjoyment of creating art and life) are inspiring and insightful.
How did the two of you meet and what was the deciding factor that made you create LANY Entertainment together?
K: It's sort of a long story but Gregori and I first met seven years ago at my mom's art gallery in Marina Del Rey when he came by an event to check out her artwork. I was a competitive skateboarder at the time but always had an interest in the film and TV world. My mom's publicist introduced us, and after we met, she actually forced me to call him (laughs), literally with threats, and invite myself to his next event. I'm glad she did that, and I'm glad Gregori was open to me inviting myself (laughs). Gregori and I then picked up conversation on Facebook and he ended up taking me on as an acting student, as he's done a lot of work as an acting coach and was doing more classes. When it came time to pay him for the first set of coaching lessons he actually handed me back my check and told me he had a lot of faith in me, and not to worry about it. This was a huge compliment for me to hear - barely acceptable. He then said he was looking to mentor someone into the business, and I seemed like a good fit for it. After all, he had a business mentor, Gerald Kessler (CEO and founder of Nature's Plus vitamins and Natural Organics) so he was into the idea of being a mentor himself; paying it forward. That's Gregori's nature, and it was evident with Derrell Whitt who was another very talented actor, producer and student of Gregori's who I've had the pleasure of working with since the time I first got to know Gregori. One thing led to another, we became good friends, I was involved in the work he had going on, climbed up the learning curve fast as I could, and one day he just told me he'd like to actually be teammates on a business level. That was big for me, to actually have the honor of being business partners with Gregori. He told me he appreciated my drive and said I had a good head on my shoulders. It was a step up the ladder and I was excited to rise to the occasion. Also, as far as my life and all the wonder about what to pursue, it was perfect timing. Working my way into the world I always wanted to be in, via my own company with someone I like and trust, was the perfect solution to my life wonders. And then we went full speed ahead. LA represents Los Angeles, where I'm from, and NY represents New York, where Gregori's from, simple yet cool. So there you have it. And here we are, two shows, 7 Emmy® nominations, 4 Emmy® wins later, with an amazing group of people working in unison, now including my sister, Celeste Fianna, (actress and Producer on THE BAY) and all the great people we are working with. We always try to keep a family vibe about it, grateful for all the success.
G: (smiles and laughs) What he said.
What is a typical day like at LANY Entertainment? Does Carol keep everyone on track & organized?
K: Oh yeah. She certainly does keep us all on track and organized while we're busy mostly being the creative wild cards. Nothing gets by her. She schedules our life, turns any given partnership's custom deal points into full-fledged agreements, she sends us death threats anytime our budget contingency's dwindling, and it's very nice (laughs). On top of it she actually is a lovely woman with a fun, southern comforting vibe which keeps things charming throughout all the business operations. There really is no typical day at LANY other than the fact that the work is endless. I say that with zero resentment because we love what we do, and I'd personally choose this over putting half the amount of effort for double the pay into anything else more profit driven. When you love something, and can be excited about getting out of bed in the morning to start your day, you develop this endless supply of energy and inventive thought which fully supports what you're doing.
G: What he said again. (Laughs) Work is on my mind from the second I wake up, to my final thoughts before drifting into dreamland. It's a very exciting environment because there's always something new on the canvas. We keep ourselves busy with lots of exciting projects and as Kristos mentioned it's always great to know we have teammates we trust. There are a lot of people who work for us or with us on the various projects so the wheels are always moving. Celeste (Kristos' sister) is another one of our partners who has helped bring in financing to the company on top of other things and is like family to me. I love her dearly. Jeremy Snyder handles all post for almost all projects. And then we have a group of wonderful producing partners we have worked with on various projects, including Anthony Aquilino, Wendy Riche, Nadine Aronson, my little brother Derrell, Eric and Sainty Nelsen, Chrystal Ayers, Jared Safier, the Associated Television team and many more. As far as Carol (Hedgepeth) goes, I like to say that she's half of my functioning brain. She's on top of everything and is a real life Wonder Woman. I don't know what we'd do without her. Kristos, Carol and I are on the grind every day, around the clock. And we're very happy doing what we're doing. We truly love the team we've assembled.
You are both Executive Producers and then make the dynamic switch to director/writer (Gregori) and actor (Kristos). How do handle that so easily?
K: I appreciate you saying it looks easy- it's good to know we give off that impression, ha-ha. I guess it comes down to the ability to mentally switch gears. My work as an Executive takes place primarily in the developmental, pre-production, and post production stages. During production (shooting) my exec hat is almost all the way off to allow room for my craft as an actor, so I can fully focus on my performance. Gregori and I have a great team we can trust to run production for us while we get into our creative mind frames. This is a unanimous decision made by Gregori and the producing team, as it's much more important for the project that he focuses on directing and I focus on my performance rather than being unable to focus. Of course, there are the occasional fires that we do actually need to step aside and deal with as the main producers, but for the most part I'm able to focus on my role during the shoot, and I'm very grateful for that. Once the shoot wraps, I switch gears again and it's time to get creative behind the scenes.
G: It's actually not easy at all for me. I think people are used to coming to me for answers, and I agree with Kristos in saying that we put together a wonderful team because we did, but there are times I have to be in overload in order to make sure the job is getting done. I look forward to the day I can just put on my creative hat and not have to focus on anything else during principle photography but the directing and/or writing, but that's not the case and a little difficult to do right now, even having such a dynamic team, partly, because I am the only one with the answer to some important questions, and partly because I can't help but want to be involved in every aspect of production. That's sort of what happens when you serve as the Executive Producer, Director, Writer, and Casting Director. I'm grateful that I have the gift of multi-tasking.
There have been 7 Emmy® nominations and 4 wins for THE BAY. Every time you see those Golden Angels, how do you feel?
K: Well most of all, I feel gratitude, deep gratitude, arguably the best feeling to exist. The sight of them affirms we're on the right track, so yeah, I steal glances at them often. I think about the humble beginnings; the times we were at our wit's end yet stayed with our dream paths, never lost hope no matter how ridiculous things might have looked, kept on with nonlinear ways to make things happen. It's a deep feeling of validation for the leaps of faith which were taken out of sheer courage, even seemingly stupidity, which most people just don't understand. I hope our success serves as inspiration for anyone who might feel like they aren't good enough for their dreams. That said, I feel like we're only just getting started, but the Emmy's® speak volumes. They serve as a retrospective salute to the idea that no mistakes have been made about the idea following the heart. They keep me inspired and wanting to move forward with even more excitement than before. Both literally and figuratively speaking, they're my angels; they're my guardian angels in terms of doing what I love.
G: The sight of those beautiful golden angels keeps me extremely grateful and feeling very blessed. I've wanted an Emmy® since I was a kid and at one point it was the only award I cared to have, so to see multiple Emmy's® in my living room is surreal at times and I never take it for granted. Hard work and perseverance does pay off, and to be able to share the Emmy® with our producing team is invaluable. It's the true definition of a dream come true. I say the more the merrier (smiling his magnetic smile), truly, truly, grateful.
During the filming of Season 3, of "The Bay" over the last few months the international press (Daily Mail one of the largest news outlets in the world) was sneaking photos from across the beach literally. What is that like? Do you have to change how you go 'out' like to the grocery store or run errands now?
K: I've been getting recognized lately but anything crazy or unbearable has yet to happen. Looking forward I guess (laughs). I wear sweats a lot and tend to look a bit like a bum going into the supermarket so maybe that's already enough contrast to how my characters usually look to be recognized as quick, who knows. Nonetheless, at this point, moments of being recognized feel more like supportive nudges about my progress, so I appreciate them.
G: Interesting enough living in LA, I think everyone is used to seeing or running into celebrities, who are bigger and a lot more famous than we are so we definitely don't have to change how we look when going to the grocery store. We do have to be on the lookout of running into someone we know because we've worked on multiples projects and have created somewhat of a name for ourselves and the world of TV and film. It's also a much different experience when we go to a state like Oklahoma or Wisconsin where television personas aren't commonly walking around the streets or seen at the Supermarket. I think it's when we travel to those places that we really feel the fan response. And overall, the fans are what keep us going. To see our show covered in the media, or to open up a magazine while waiting on line at the grocery store and see your face in it... any coverage on our show never gets old, and again it's something I'm very grateful for. I'm also grateful for our director of Publicity and Marketing of THE BAY, David Sperber and our PR team who do everything they can to get the word out there for the show. They're doing a wonderful job.
"The Bay" has gone from internet series to a hit on Amazon Prime that has over 54 million subscribers to their programming, at any time of the day or night all around world people can watch "The Bay" with a click of a button. Did you ever think it would be this successful?
K: Part of me is very surprised because I know how difficult it can be to get traction on any project or make a success out of a series. I hear it all the time from my peers so I feel very fortunate. The other part of me isn't all that surprised because we put a lot of hard work into fine tuning the quality of the show from pre to post in order to be sure it's a well done project. Gregori does a great job and we have a great team. And Wendy (Riche), also Executive Producer, is a joy and honor to be working closely with.
G: As I mentioned, I'm very appreciative to our loyal fans, and for the success the series has received thus far, but to be honest I'm never fully satisfied with the viewership. I think that helps keep the show relevant and also progressing. If you want more viewership, you work harder to keep up with the times and to keep people entertained so they want to continue tuning into the show. There's so much content out there, and everybody's attention spans seem to be decreasing. I want The Bay to be a show that everybody remembers, everybody gets hooked on and we're all working very hard every day to create that buzz, that quality show that attracts more viewers. We just have to continue putting out entertaining and quality content that hooks you. (Smiles)
In between seasons 2 and 3 of "The Bay", you both worked on another series "This Just In" for Pop TV, season 1 has ratings of 8.2 out 10 on IMDB, which is fabulous, and the series has been applauded by viewers and critics everywhere. How does that feel to have two (2) hit series at the same time?
K: It feels amazing. Having both the viewers and critics express their nods of approval isn't common and I'll cherish it. After putting a lot of work into something, the best thing you can hope for is for it to be appreciated and respected. Things are always a hit or miss, but as long as you know you did your best then you should feel good about it. It could be the sincere passion we have for what we do which shines through in the details. Maybe it's the good vibe we try to maintain at the company so the work comes out of excited people. Either way I know how fortunate and lucky we are to be in a position where two shows are a hit back to back. It's an amazing feeling to see your work getting a good response
G: THIS JUST IN has been compared to and called the modern version of Saved by the Bell, which I like. It's so much fun and so different from anything else I've ever directed or produced! It's great to see the show on billboards as we drive through Hollywood Blvd. or have my children and nieces and nephews calling me to tell me how it's their new favorite show. I always said I wanted to produce something my kids could watch so getting involved with TJI was a blessing, and it really helps how well it's been received by fans and the media. Again, something I'm very grateful for.
Gregori, what do you like most about working with Kristos as an Actor?
The fact that he WILL deliver, he's passionate about acting and the roles he's playing, I'd go as far as saying more so than almost any other actor I've ever worked with. He's a chameleon so can transform into any part he plays. He's loyal and dedicated and a strong gifted actor and it doesn't hurt how easy he is on the eyes. I trust him. We trust each other so it makes me feel comfortable and safe when he's cast in a project we're working on. There's never a concern that he won't deliver. He's a winner, it's in his nature and he'll always make me proud. I love him very much and tell him often how grateful I am to have him. He didn't win the Emmy® this year by chance, he won it because he's one of the hardest working actors in town! He's dedicated to his craft and is going places. I can't wait to see him win his Academy Award ® someday, very soon.
Kristos what do you like most about working with Gregori as a Director/Writer?
There's nothing like trust when it comes to working with someone, and Gregori and I have a ton of it. We've been close friends for so long he's like my big brother, and we've established a good symbiotic workflow where we know what to expect from each other and how to communicate efficiently almost anytime. We have solid producer synergy off set, as bounce boards to one another, and a great actor/ director synergy on set. As a director he's not only great to begin with, but what I really appreciate is he's open minded to my ideas. He goes through the options with me in a generous way, and then we just figure out the best performance together via his notes and all. Took a while for him to respect my opinions like that but we've had success from it and we truly put our minds together now. I'll get a scene that's black and white, and with his guidance I'm able to fill in the colors and dynamics. As a director in general, I respect how he's direct and gets to the point without confusing actors. He understand the importance of not using knives to express himself in his work, which allows for a more comfortable and respectful flow to be maintained, which better leads to creative greatness altogether. I also respect how he sets the tone for a calm set and everyone tends to appreciate it and respects it.
The Bay Season 3 is loaded with wonderful television stars that fans around the world have followed for years what is like to have so much talent and experience on the set in one place and how do you decide who to cast?
K: It's an honor and pleasure to be working with such well respected, talented, and better yet, genuinely kind stars. Truly a gift and we've all become like family, which I cherish. Gregori does most of the casting, and always has the final say. I help him with making the decisions, as a bounce board, balancing out the options, considering everything including how right they are for the part, their acting chops, appeal, popularity, and last but not least we make it a practice to gage an actor's level of kindness or integrity, as it tends to determine how it'll be working with them. I'm grateful about every star we've worked with so far.
G: Casting is one of my favorite things. Fortunately, I have wonderful working relationships with lots of actors and that's where I pull from first when making a casting decision when given that opportunity. I almost always hire actors I know and can trust and it makes my job easier. To be honest, it's rare that I would cast someone who I auditioned. Most of the time, I cast based on my overall knowledge of their work. Every once in a while I'll cast an actor who was a childhood favorite of mine, so it feels like being a kid in the candy shop. The occasions that I meet an actor through the audition process and cast them (E.g. Karrueche Tran) simply based on their audition performance that's always a plus too. But all the factors that Kristos mentioned are at play at all times.
What can we expect to see come out of LANY Entertainment this year 2017?
K: I can't tell you how excited I am for this year. Great plans, all I gotta do is stay alive through them and all will be good. A few updates would be THIS JUST IN getting cool reviews including being compared to Saved by the Bell, and THE BAY breaking the record for the most nominated show in ISA history, pretty stoked. I'm also proud to say we got the green light on a cool new TV pilot. We actually just wrapped. What a shoot that was. I can't yet disclose details but its set in modern day, the concept is a lot of fun, and I've always been a fan of the network it's being brought to. We've partnered with another larger production company who actually took the show to us, and I'm grateful to have been cast as a series regular. Other than the above, Season 3 of THE BAY will be airing this year, late spring. I have some intimate scenes with my wonderful co-star Karrueche and some intense ones with my dudes Chad (Duell) and (Eric Nelsen). A lot goes down this season. Furthermore, we're in the early stages of development on a secret new project at LANY which you should hear more about later in the year. We're thankful to be busy.
G: As Kristos mentioned we can't disclose too much info just yet, but I'm excited about season 3 of THE BAY as well, and the TV release of THIS JUST IN. The new pilot was a lot of fun and I'm very happy how it turned out. Kristos serves as a producer and series regular and I serve as the director, co-executive producer, and one of the writers. I literally got to cast some of my closest friends in this pilot so that was a blast. Fingers crossed the network likes the show and we go to season. And yes, we're also in development on several new projects that we can't really mention but are very excited about. More news coming soon! 2017 is starting off to be a wonderful year and I am so grateful!
Kristos Andrews is the first actor ever to win the Emmy® for Outstanding Actor in a Digital Series, he is also the youngest producer ever nominated for an Emmy® ("The Bay" in 2012), and only the third person (first man) to win Daytime Emmy's for both acting and producing (Francesca James All My Children and Ellen Wheeler Another World, All My Children, Guiding Light, and Mary Beth Evans THE BAY, Days of Our Lives are the others).
Gregori Martin had the idea of THE BAY in his head since the age of 7. He watched the iconic Wendy Riche (new Exec Producer of THE BAY, former Multiple Emmy® winning producer of General Hospital and Port Charles) on stage at the Emmy's and said he'd be up on that stage accepting that award someday. He's done it twice thus far. He has also beat Spielberg's record, directing more feature films by the age of 30.
Last week "THE BAY" received a record breaking 21 Indie Series Award Nominations! http://www.indieseriesawards.com/
Calling all HuffPost superfans!
Sign up for membership to become a founding member and help shape HuffPost's next chapter
This post was published on the now-closed HuffPost Contributor platform. Contributors control their own work and posted freely to our site. If you need to flag this entry as abusive,
send us an email
.