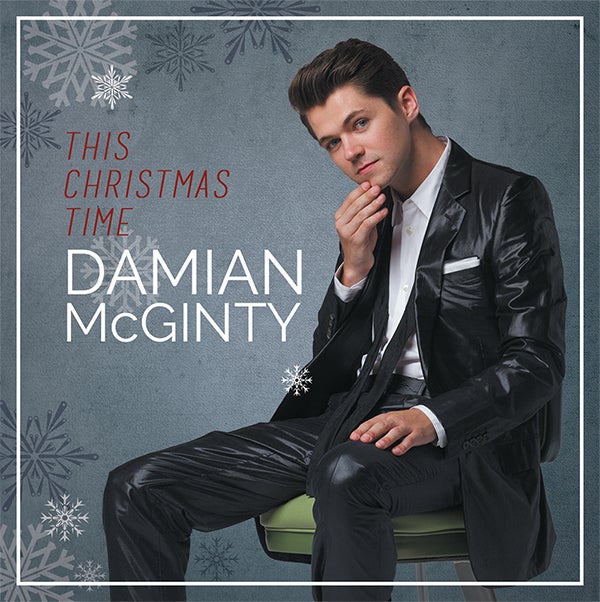 My favorite Irish singer and actor, Damian McGinty of Celtic Thunder and Glee fame, has a new album out! Damian McGinty: This Christmas Time features ten songs, including two originals Damian wrote that are already proving to be hits with his fans. The album definitely tops my all-time favorite Christmas CDs list.
I had the chance to chat with Damian recently about the album, touring, and more. Thank you, Damian, for your time!
Pam Stucky: As you know, I recently did a Q&A with Grammy-nominated producer Warren Huart, who produced your album. Tell me about working with him? It seems you two have a real synergy together. How important is that in creating an album, and in what ways does it affect the end result?
Damian McGinty: Warren has been incredible throughout this entire experience. From the very first day I met him, he understood me as an artist. He knew exactly where I was in my career, and what I wanted to achieve with this record. Having a producer that gets all of that is hard to find, and is priceless. We originally worked on some material for another project next year, and once the Christmas record concept begun, there was only one producer I wanted for that. I was delighted Warren wanted to come on board. We did rough vocals in April before I toured Australia in May. When I was in Australia, Warren built a lot of the tracks, and then we did the master vocals in June before Warren mixed the record. He has been crucial in the entire process and I've absolutely loved working with him.
PS: This is your first full-length album, coming four years after your eponymous EP. What were some of the differences between making your EP and making this album?
DMcG: The EP I made was more experimental than it was serious. I wanted to try something I'd never done before, and it had much more of a pop feel to it than the new record. I was very surprised by the success of it; it was very humbling. It made me want to develop myself as an artist, and create a sound. That takes years. You can't all of a sudden release a record after a few months of work. This [This Christmas Time] is my first full length album, and I've had a 10-year career. I want to do myself justice, and know what I'm putting out is a product I can be proud of. Once its out there, it's out there forever. So the time and thought put into this album was much more than the EP. And the budget was naturally much bigger. This project was a big undertaking, huge. And it has taken over my life this year, but I'm delighted with the final product.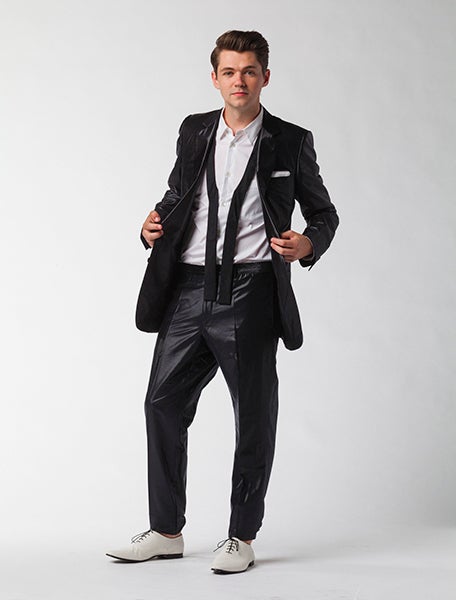 PS: In his Q&A Warren gave us a breakdown of the steps to creating an album. From start to finish, how long did This Christmas Time take to create?
DMcG: Honestly, all year. The work has not stopped. I sat down in January and looked at concepts, ideas, funding, etc. This is an independent record, so it's not as simple as saying "Lets make a record." It takes thought and the business behind it is months of work in itself, before the recording process begins. I had to open my own company, lock in the funding, hire the right people for my company. That is a lot of work. And it has been a learning curve. I don't have a degree in business so I'm learning as a I go. And I was writing for the album with my writing partner Tom Harrison, before the album was even confirmed, in February. I had to be ready to go as soon as we confirmed the project, because I was touring in May and four months in the autumn. My schedule allowed little time for error. So we had all of that done by March, locked in the funding, then started recording with Warren in April. We recorded through the end of June, then mixed and mastered in July and August.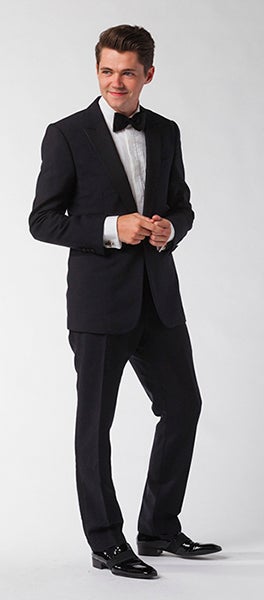 PS: You wrote two songs on this album (along with co-writer Tom Harrison). Writing Christmas songs seems like the ultimate challenge—our traditional favorites are so iconic that to make a dent in that playlist seems almost impossible. And yet your songs are both fantastic. Let's talk first about "Irish Christmas." What sort of mood did you want to convey; what sort of story did you want to tell in "Irish Christmas"?
DMcG: I wanted to tell a story about Ireland. Home. I wanted to try and paint a picture of what that looks like at Christmas time, and capture the feeling. It was tough, because writing Christmas songs can easily get cheesy, or generic. So finding something to make it unique was the challenge. It came out quite easily though, myself and Tom had it written, lyrics melody and arrangement, in the space of four hours. Which is rare.
PS: The other of your original songs on this album is "Will You Dance With Me (This Christmas Time)," from which we get the title of your CD. This song is so catchy I catch myself humming it randomly without even realizing it! What was your inspiration for this song? How long did it take to write this one?
DMcG: I wanted to tell a story about love at all ages during Christmas. This song is about young love, old love, middle-of-the-road love. No matter what the situation, Christmas brings that together in ways that no other season can. That was the inspiration behind it. Again, it was one studio session and Tom and I had it done. We didn't want to complicate these songs, or overthink them. We wanted organic results, and I think we got that.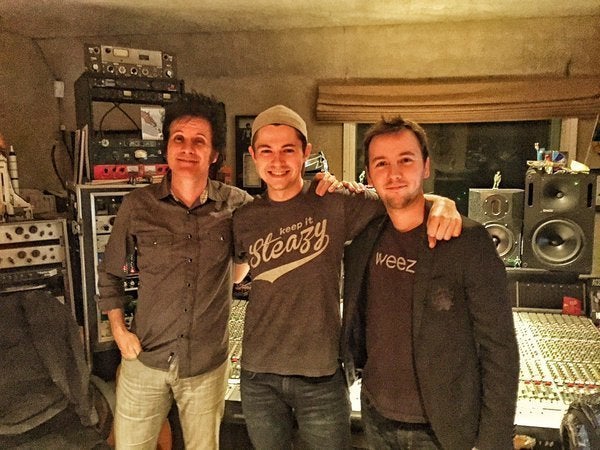 PS: How does one even go about writing a song?
DMcG: Practice. Song writing is a muscle. I started writing when I was 19. The only way to get better is keep writing. The reason I haven't released anything is because it hasn't been good enough. I've only gotten really serious about it in the last two years. I've written close to a hundred songs at this point. I don't believe in the concept of people trying to sprint before they can crawl. So I wanted to get to a point in my career where I'd crafted my performance and singing to a level that I was comfortable moving forward and beginning to write. That takes a lot of time. It doesn't happen overnight; if it does, it won't be right.
PS: How did you decide which other songs to include on the CD?
DMcG: Myself and Warren sat down and spent a few days and picked the setlist. We had to decide which direction to take the album in. We decided we wanted a few big hitters production-wise such as "Christmas (Baby Please Come Home), and we wanted songs stripped back such as "River" and "Hallelujah." It was important to have a good mix. We wanted diversity in the record.
PS: Do you have any favorites on the album?
DMcG: I think, you know, naturally you'd be quite close to your original songs, the ones you've written. I'm quite proud of "Irish Christmas" and "Will You Dance With Me (This Christmas Time)." Outside of that, I guess I like some of them for different reasons. "Christmas (Baby Please Come Home)," I quite like that because of the production. I think Warren has done an incredible job on that and has made the production on that incredible. But I've also always loved the song River, and that was one that I was very passionate about putting on the record and having it stripped back, with just the piano. I think River might be my favorite on the album.
PS: You have a duet on the album, "Last Christmas." What can you tell us about that?
DMcG: Yes, I do. That is actually my girlfriend on the album, Anna Claire Sneed. When we were coming up with the concept and idea of the record, we thought it would be a good idea to do a duet. Naturally, we looked within the business, and our marketing team thought it would be really good to get a big name on there for obvious reasons. But when I actually stopped and looked at it, I thought, you know, I want to do this my way. We've been dating about three years now, and we have fun together more than anything else. We're boyfriend and girlfriend but we're also best friends. So when I sat down and thought about a duet, I thought, Anna Claire's a great singer, and no one really knew that about her, honestly, outside of the people she grew up with. So, looking at the record, I thought, why not do that? I think people would enjoy that. I think people would like the realness to it, instead of getting someone I don't know or who would be completely random who has X amount of follower online, which is honestly the way business is going now. People collaborate for those reasons. I wanted to do something real; I wanted to make something real. That's why I asked Anna Claire, and she was delighted to come on board. I think she killed it. She's incredibly talented. I hope people enjoy that track.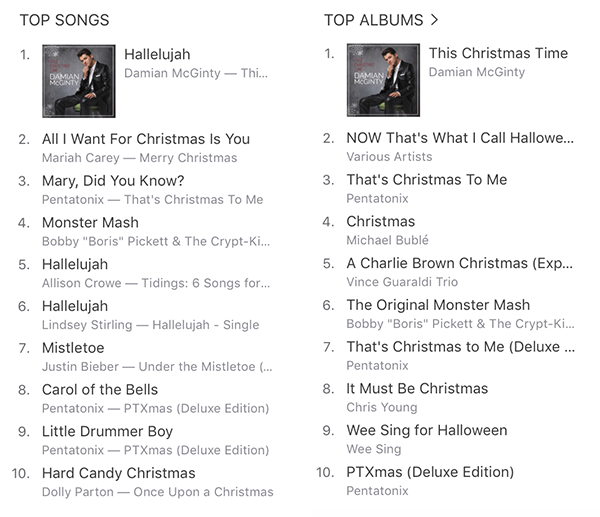 PS: When the CD was released for pre-order on iTunes, Hallelujah was available immediately, and the day you announced it was available on iTunes, Hallelujah went to #1 on the Holiday charts on iTunes. Did you expect that? For those of us unlikely to ever have a song at #1 on any chart, how does that feel?
DMcG: I did not expect that. It's a very strange experience when you make an album and get to the release stage of the cycle. You do all this work creating it, funding it, building it, recording it. And then when you put it out there, you're not in the living room when somebody's playing that song. Or you're not, you know, on the plane with them when somebody's playing that song for the first time. I don't get to experience that. So it's always quite strange, and actually quite underwhelming when the record is released because you're like, "Now what?" When that went number one, that was just a really good moment. Quite bizarre. But as an independent artist, it was nice to see. I don't necessarily judge my work on how it does in the charts; it's more of a creative thing for me. I just want to put good work out, something I'm proud of. If it tops the charts, or does well in the charts, that's a bonus, and it was certainly that way with Hallelujah. I didn't expect that. That was very overwhelming and very uplifting that it went to number one.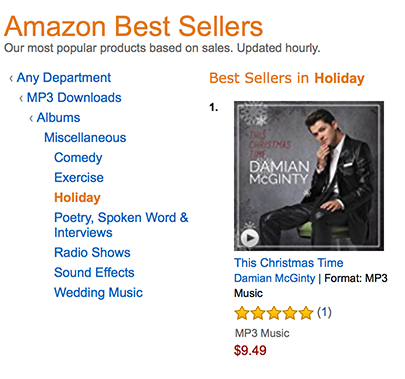 PS: You've mentioned before that you're also working on a CD of original songs. What have you learned from the process of creating This Christmas Time that you can apply to the next CD?
DMcG: Oh! So much! I don't even know where to begin on that. Making a record and doing it right, or at least trying to do it right, the first time around, has been the best learning experience I think I've ever had as an artist. And that's saying a lot. In the nine or ten years I've been doing this I've obviously worked with some big companies, some big shows, been very fortunate to learn so much from so many great people. Starting out the process by myself, having to create a company, having to create the funding, having to get all the right people on board and hire the right people and make it happen, the learning process behind that was phenomenal. Moving forward, it will not necessarily become easier, because creating a project like this is tough. It's not easy. It can be quite draining. It's a lot of hours. It can sort of take over your life, which it sort of has done in the last nine months. So it won't necessarily become easier, but it'll become clearer moving forward, in terms of what I need to do and what needs to get done to create what I want. That certainly is the case with the [upcoming] original album which, as you say, I've been working on for a few years now. That's a whole different baby that we're currently nurturing, and it's getting there.
PS: Will you be touring This Christmas Time? And where can people find out about it?
DMcG: I will be touring This Christmas Time. We are going to be going out in December after the Celtic Thunder tour, and there will be an announcement at the end of this week. I'm excited about that, I'm excited to tell people and get out there with the record. It's going to be a fun experience. It'll kind of be my first time on the road with my own project, so I'm quite excited for it. It's going to be the first time I'm on the road as Damian McGinty. Just like the album, it's a purely independent operation, so running that is challenging in itself, but again, it's great, it's growth, it's how we build the brand and prepare to move forward, so it's exciting.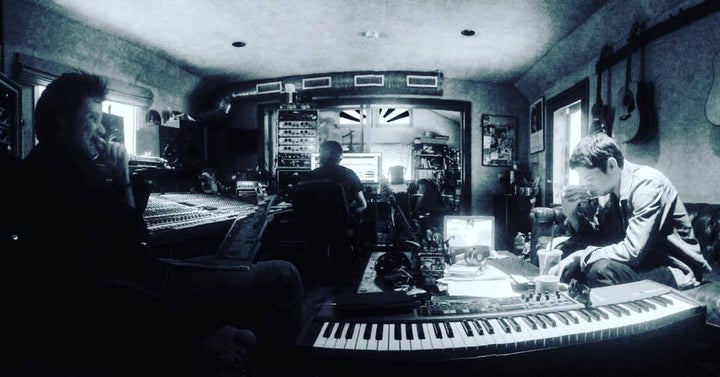 PS: Your This Christmas Time tour will come at the tail end of a 72-city Celtic Thunder tour! This will be your third tour of the year, and that doesn't include the week you performed on the Tranquility Cruise with Holland America. Are you ready for a rest?
DMcG: To be honest, I am ready for a rest. It's very strange, because I do feel ready for a rest but I'm also more excited and more ambitious and driven. I'm more excited than I've ever been. I feel like I'm at a very good period, I'm at a very good age. Which allows me to be fully committed to what I'm trying to achieve. There's a much bigger picture with everything going on. It's not just about making a living; I'm trying to build something long-term, which takes a lot of planning, takes a lot of work, takes a lot of time, takes a lot of patience. But I think when all is said and done the time, work, and patience is really worth it in the long term. This album has me more driven, more excited, more ambitious than I've ever been. I'm excited to get back into the studio in January and get creating. We have a lot of projects next year that I'm excited about. So on the one hand, I am ready for a bit of a rest—it's been the craziest year, probably, of my life—but on the other hand I'm also ready to move on to what's next.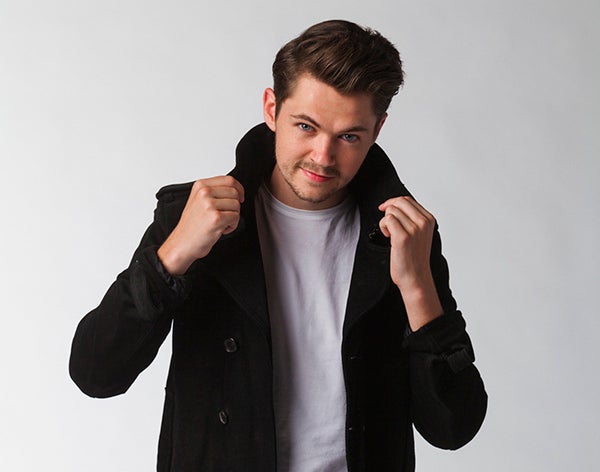 PS: Do you have a preference between touring and creating CDs? What do you love about each? What are the hardest parts of each?
DMcG: That's a very hard question. I really love both of them. They're very different in their own right. The creative process in making a record is a bit more like a 9-to-5 job, if that makes sense. It's a bit more normal. Because basically what you have to do is, every day you go to work, pretty much, where "work" looks like a studio where you're writing and playing instruments and creating melodies and lyrics and all that stuff. So it allows for more of a routine, which is nice. Touring, on the other hand, is incredibly sporadic; you never really know what it's going to throw at you. Your routine is non-existent. This year, we were down in Australia in May, and that was so many flights in the space of thirty days. I crossed the entire world, I went LA to Ireland, Ireland to Australia, four weeks across Australia, back to LA, and was back working on this record. That amount of travel doesn't really allow you any routine. It can be draining. But the great part of touring is you get to see all these places, you get to meet people, you get to perform every night, you get to do what you love. That's worth the travel. Because the travel part can be physically challenging at times.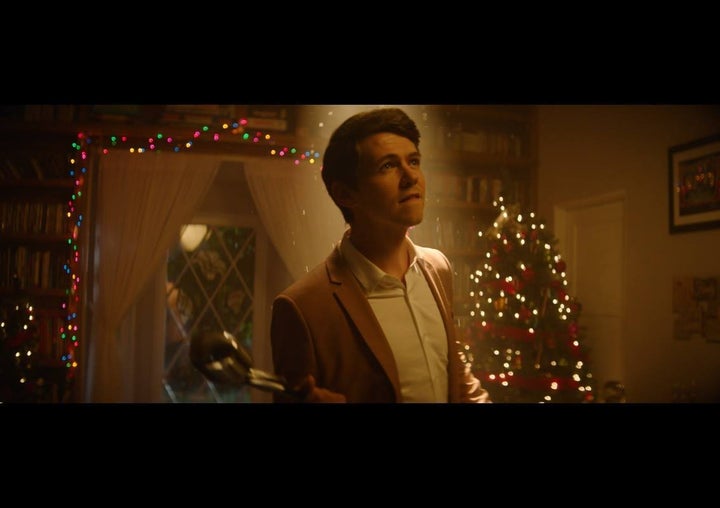 PS: I've heard there's a video coming, too! What can you tell us about that?
DMcG: Yes! We shot the video in August. I finished the record in late July, then flew to Europe for ten days to spend with my family before the release of the record and the tour. We shot the video in the middle of August in LA before I met up with Celtic Thunder again. It's great. It was a great experience. Again, another new experience, another independent one. I had to hire a producer, Julia Hodges, who's a great friend of mine. She's a darling, she's really incredible, and the video wouldn't have happened without her, to be honest. She hired our director, Tommy O'Brien, and we got actresses and actors in the video, which are some of my friends. We shot it over two nights, we did night shoots, which was funny, with friends. We started shooting at 8 p.m. and finished at 7 a.m. because it was Christmas and we were in California, so to create that environment because it had to be dark, because no one really thinks of Christmas and thinks of sunshine. So it was important to create the right atmosphere. I'm excited about it, about seeing the final product. I'm really proud of it. I think people are really going to enjoy it. I hope people enjoy it. It's going to be out there in November sometime.
Somewhere between funny and philosophical lies the truth in Pam Stucky's writing. Pam is the author of several books including the Wishing Rock series (Northern Exposure-esque contemporary fiction, with wit, wisdom and recipes); the Pam on the Map travelogues (traveling the world with wit and wanderlust); and the Balky Point Adventures (YA sci-fi fantasy adventure with wonder and wisdom, a mix of Doctor Who and A Wrinkle in Time). Pam's driving forces are curiosity, the pursuit of happiness, the desire to thrive and the joy in seeing others do the same. Pam is currently working on writing novels and screenplays.
Pam's first YA sci-fi adventure novel, The Universes Inside the Lighthouse, is currently available FREE online, along with thought-provoking and skill-building activities for parents, educators, and students to work on together.
Find out more about Pam and check out her personal manifesto at pamstucky.com
Related
Popular in the Community