Caterer and food stylist Diana Yen's favorite weekday dish is pickled shaved radishes and cucumbers, combined with faro, quinoa or kale, served with a fried egg on top. Her preference for healthy light meals is a result of spending days testing new dishes for the likes of Kinfolk magazine and Design Sponge. Yen's first book A Simple Feast: A Year of Stories and Recipes to Savor and Share was published this spring by Roost Books.
Recently, I had the chance to ask Yen a few questions about her book, what inspires her most and what we can expect from her first textile collection (aprons, market bags, linens and napkins) scheduled to launch early this fall.
Throughout your book, you mention eating locally and within season. What are your favorite tastes of summer?
"Summer is my favorite time to visit the farmer's markets. The stalls are bursting with colorful produce. Baskets of fresh berries, peaches, and cherries are a staple on my kitchen counter. I fell in love with heirloom tomatoes when I moved to New York. There is nothing more beautiful than seeing the rainbow of tomato varieties at the market and selecting the ones that are plump and sweetened by the sunshine. After getting my tomatoes, I usually pick up a ball of fresh burrata cheese at my Italian market. I slice up the juicy tomatoes, burrata, add some basil and drizzle it with olive oil and a scattering of flaky sea salt. I enjoy this simple dish a couple times a week while the tomatoes are at their peak."
Did your family have any food traditions when you were growing up? Have you embraced any of those traditions?
"My family loves eating and cooking communally. One of our favorite meals is Chinese hot pot. You get the freshest produce, noodles, seafood and meat that you can find and cook it in a pot of hot broth together in the middle of the table. The flavors develop over time and you have a delicious soup to drink at the end. I love eating this way because everyone becomes part of the cooking process and you can take the time to enjoy your company.

I love having cooking parties with my friends. Last year for my birthday, I had a pasta party. Everyone brought different toppings and sauces. I made big batches of dough and set out a couple pasta machines and rolling pins. It was really fun to make an assortment of pastas together and try it with all their homemade sauces. It was definitely messy but fun and made the cooking process a shared experience."
In your opinion, what is it about the Brooklyn community that inspires so much creativity?
"I think that a big part of the Brooklyn lifestyle and creative scene is the element of experimenting and doing things yourself. Many of my friends, who range from designers to artists and musicians, happen to also love cooking and enjoy the exploration and satisfaction that comes from making things from scratch. Whether it's baking a loaf of bread of making fresh yogurt in the morning, there's a reward to making it yourself. To me, it doesn't matter if it doesn't come out perfectly; it's almost more charming when homemade food is lopsided or slightly burnt. The act of making things that can be shared is as enjoyable as eating in itself.

The pace is slower when you live in Brooklyn and it can inspire people to spend more time enjoying a simple lifestyle at home. My studio is in the Lower East Side and going back to my lovely home in Brooklyn Heights every day is always such a nice place to unwind."
What inspired the dry goods line? Was it for additional marketing for the book, or something you had in mind for a while?
"I have a background in home product design, so I've been planning to tie home products together with food & lifestyle for a long time now. After having my studio for several years and finishing my book, my aesthetic became much stronger and I realized that the home products I was looking for couldn't be found anywhere. Everything was feeling like a 50's housewife, unisex peasant chic, or West Coast boho. I wanted to make something that can appeal to modern women that love to cook not so much out of duty but out of passion."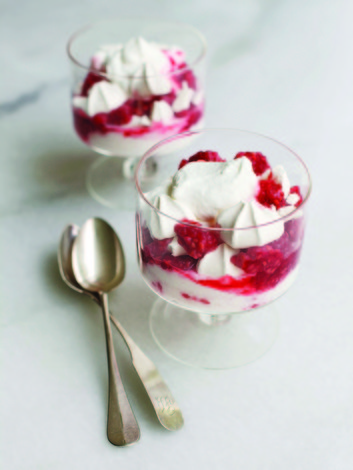 Raspberry Eton Mess from A Simple Feast by Diana Yen, © 2014 by the Jewels of New York Group, LLC. Reprinted by arrangement with Roost Books.
3/4 cup raspberries, plus more for garnish
1 Tablespoon sugar
2 teaspoons sweet Riesling or dessert wine
1 cup cold heavy cream
Three 3-inch store-bought meringues, roughly crumbled
Place the raspberries into a bowl and add the sugar and wine. Crush the berries with the back of a spoon and mix to a jam like texture. Set aside.
In a large bowl using an electric mixer, beat the heavy cream on medium-low speed until soft peaks form.
Fill a dessert glass with a layer of whipped cream, followed by a spoonful of the raspberry-wine mixture and a sprinkling of meringue pieces. Repeat until the glass is full, finishing with a final layer of whipped cream and a few whole berries.