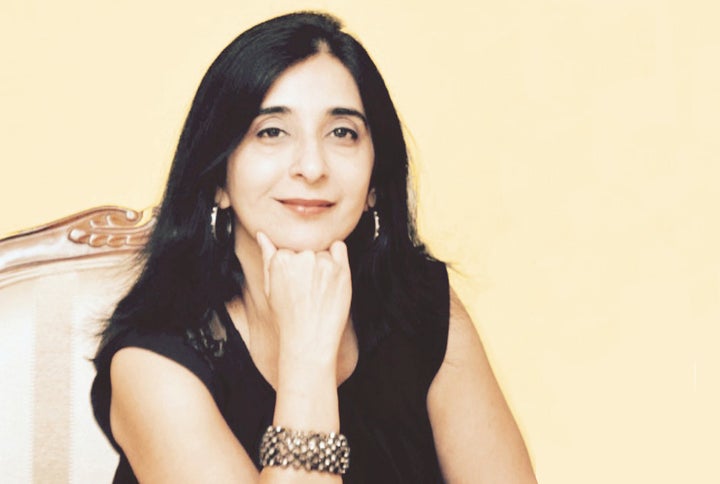 Pooja Krishna is an MBA, Entrepreneur & Business Mentor with 23+ years of business experience. She's a Co-founder at Maroon Oak, a free Career Platform for Women and Founder at Win Thinks Consulting, where she speaks and writes about strategy and brand building. As a K-12 Classroom Mentor, she loves teaching students across the U.S. about Job Skills and Entrepreneurship. Pooja's short stories have been published in the Chicken Soup series of books, though she now blogs more about business and life. She likes to paint, or 'dabble' in acrylics on weekends, but what she's most proud of is her learning mindset. Having picked up how to hula hoop at age forty, she's now pretty proficient - 3,600 spins non-stop! Right now, she's learning - or trying to learn - the Piano, and Kathak, an Indian classical dance. Her mantra: Success is a balancing act - strive for both!
1). Can you tell our readers about your background?
I've lived and worked in 3 different countries over the past two plus decades, after a degree in economics and an MBA. I enjoyed the corporate sector but found it more thrilling to run my own show. Plus, family reasons played a role in the switch too. Running Trading Paces as a day trader for over a decade taught me the value of calculated risks and the need to keep a cool head with it. During that time, I also helped a lot of entrepreneurs, which was an amazing insight into the world of small business. Then about 2 years ago, I co-founded Maroon Oak with a friend, and started Win Thinks, a solo venture.
2). What inspired you to start your (current) business?
Motherhood. It was the motivation to change my professional gears, but it also connected me to numerous other moms - lots of smart, talented women trying to rebuild their careers or recreate new ones. One day my longtime friend Aditi Tandon, a design entrepreneur and mom, and I got talking - why not create a professional community exclusively for women? A platform that connects women with different skills and professional outlooks to each other. Not just to network, but also to sell, collaborate, hire, mentor, even showcase all they do. And so, Maroon Oak was born.
3). Where is your business based?
We are headquartered in New Jersey, but MaroonOak.com is accessible anywhere on the web. A large number of our members are in the North East but we have several as far as California, Oklahoma and other states, even abroad. That's the beauty of being virtual - say, a Graphic artist, PR Pro or an online music teacher can work from anywhere, but they still need to find clients or collaborators who might be located somewhere else. That's exactly where we come in.
4). How did you start your business? What were the first steps you took?
Once we had our initial thoughts, some early advice from a startup mentor helped us. If a business idea has legs, he told us, it should work without any frills or gizmos. So we started out simply - by connecting professionals who didn't know each other and might never have met.
We got one woman a job, helped another find clients, shared referrals with many. As the links grew, we fine-tuned our ideas and built a custom platform online. Today, member profiles are skill and location focused. Members can connect, message and view profiles. They can even share all their web and social links on Maroon Oak, something that even LinkedIn doesn't offer. Plus, they can post opportunities to collaborate, even follow or review others.
5). What has been the most effective way of raising awareness for your business?
We've found that content works great - and not just as the means to an end. We use ours to both inform and inspire, with articles and real stories. Our blog has a faithful following that's grown steadily. Social media has worked for brand awareness, because only a fraction of what we share is promotional - the rest is all about audience needs. And every one of our messages has the logo cleverly placed in, to boost the brand. Our events and workshops have given a human face to the company.
Sure, you can talk about features and freebies, but when you address what your customer truly wants, that's when the best connections happen.
6). What have been your biggest challenges and how did you overcome them?
Scaling up a community to build a big member base has been one of the challenges for us, and we are constantly working to improve that. Our loyal base of customers who genuinely believe in us has helped us there. Another way is by constantly engaging with our Members through advice and visibility. One of our Member Spotlights featured a salary coach and triathlete from Team USA who had just published her new book. Another member who recently launched social media for her wellness business told us how much the article on using Facebook pages helped her.
7). How do you stay focused?
If you love what you do, the fire burns strong. I wake up every day energized by all that we can accomplish for ourselves and others. Being an entrepreneur is completely about self motivation. That said, success is a huge catalyst, whether it's a few big wins or lots of small ones.
Personally, I'm a maniacal planner and I'm getting better at balancing work and my mom life. Yes, something's gotta give - I'm ok not watching TV, but making time for fitness and hobbies is important to me, though sadly not always possible.
8). How do you differentiate your business from the competition?
For starters, Maroon Oak is completely free whereas many women's platforms are not! Also, our focus is virtual because that's the way the future of work is heading. Sure, deals are always made by people but having the digital context is critical - to search, to vet and even to stay connected.
With us, a woman can find the three things her work needs most - answers, connects and visibility. Plus, women are more social. We all want to do business with others but also connect in ways that build trust and friendship.
9). What has been your most effective marketing strategy to grow your business?
A happy customer is your best champion. It's always very exciting for us when a member asks us how she can spread the word about Maroon Oak. We use email to constantly share the work and wins of our members. Video content has also worked well for us - whether it's about people or their stories.
10). What's your best piece of advice for aspiring and new entrepreneurs?
Be at the helm of your ship - keep learning and don't stop. You can be great at your core skills, but unless you understand at least the basics of every aspect of the business, it will be a long uphill ride. A client of ours is a chef whose business almost went under due to cash flow problems, though her creme brûlée was exquisite. We recommended that she upgrade her money skills; she also hired a mom and former finance exec to help out part-time. At Maroon Oak, initially we focused our own efforts on social media to grow traffic, but not a lot on SEO. It was a crucial & costly lesson, but thankfully, we learnt quickly.
11). What's your favorite app, blog, and book? Why?
I'm nuts about productivity so any apps that save time and labor work for me. Plus, iPhone's native News app, social media apps, TED etc. For personal use, my top ones are Kindle and Netflix.
Amongst Blogs, HBR rocks for me - it's the next frontier of business ideas, applicable today. My friend and partner introduced me to The Skimm a while ago, and I'm always looking out for good blogs and articles on parenting.
The book that really inspires me is "Creativity Inc." by Ed Catmull and Amy Wallace - so much to learn but most of all is the proof that innovation can thrive along with great business sense. If ever an organization could tempt me to hang up my entrepreneurial boots, it would be Pixar.
12). What's your favorite business tool or resource? Why?
Collaborative tools are great when you work with teams. We use everything from Google apps to Trello and Slack; even shared calendars. Hootsuite is a lifesaver, given the no. of social media accounts we manage.
13). Who is your business role model? Why?
Too many to count, each for different reasons - there's Jeff Bezos, Indira Nooyi, Richard Branson. But if I had to pick one, it would be Walt Disney. He not only imagined and executed his ideas superbly, ultimately, he also left a legacy that's unparalleled at so many levels.
The more you like yourself, Disney once said, the less you are like anyone else - words to live by, I think.
14). What do you have planned for the next six months?
We want to grow Maroon Oak to a level where the community starts to multiply organically - when an endorsement from each member draws many more. Currently, we are in conversations with partners, to grow our reach into two major metro areas in the mid-west and the south. We also want to create more niche based career content for women. I recently taught a workshop on business planning where many women admitted to finding it tough. But making a Plan is important, so there ought to be ways to make it doable and practical for everyone. HBR talks about moving from customer experience to customer euphoria, and we are on the quest to do exactly that for our audience.
15). How can our readers connect with you?
Reach out to us on the web at MaroonOak.com - join our amazing (free) community of #WomeninCareers. We're also on Facebook, Twitter, Instagram, Pinterest, YouTube, Google+ and LinkedIn as @MaroonOak. I'd love to talk entrepreneurship and brand building at @PoojaKrishna or @WinThinks on Twitter.
Support HuffPost
The Stakes Have Never Been Higher
Related
Popular in the Community