Sarah McCrory is as busy as ever these days. The London-based curator is in charge of Frieze Projects, the program of artists' commissions which takes place annually as part of the high profile Frieze Art Fair, which runs from Oct. 14-17.
What's in store this year? To name a few, the fair's ticket tent will be styled like a mobile phone concept store, spirit mediums will channel the spirits of a number of dead artists, outdoor ashtrays will transform into elegant sculptures, and artist-designed donation boxes will be spread out across the grounds.
In 2009, McCrory and Curator Daniel Baumann acted as an advisor to the Directors and Selection Committee of Frieze Art Fair on the fair's new section Frame, which was inaugurated to give greater representation of galleries under six years old. Twenty-nine international galleries took part in 2009. McCrory took over the role of Curator, Frieze Projects from Neville Wakefield who was curator from 2007-2009. Wakefield continues his portfolio career, including his position as Senior Curator for P.S.1 in New York.
McCrory is known for her support and work with emerging, young and underrepresented artists. In the past she has worked with artists such as Charles Atlas, Nairy Baghramian, Spartacus Chetwynd, Enrico David, Donald Urquhart and Cathy Wilkes. As such, she will also take up a position on the judging panel of the Cartier Award 2010, a major award for emerging artists living outside the UK.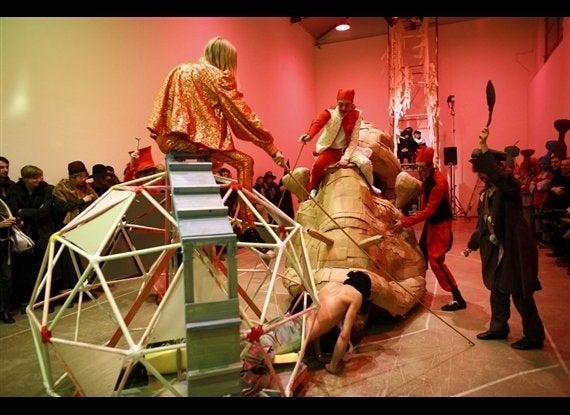 Frieze Art Festival: Preview
MutualArt: What is your vision for this year's Frieze Projects and how did you arrive at that idea?
McCrory: This year's program incorporates an element of performativity, or asks the audience or viewer to have a direct relationship with the work. This came about through a number of routes - firstly from the artists I was speaking to, but more importantly, I had an aversion to creating something static and monumental. I wanted the projects to have an impact on those who saw them and slowly the artists who embraced this sentiment emerged and made sense as a cohesive whole.

You are known for working with emerging artists. What influenced your passion to highlight the works of young and under-represented artists in your general curatorial practice?
Well, I have only been practicing as a curator for five years, and partly my interest in younger or emerging artists has to do with the fact that they are often my peers. For me it's disingenuous and unfulfilling to work with artists who are at a stage where you don't have a dialogue, or any connection with them, and I hope that most artists I begin to work with, at whatever stage, are artists I will work with again in the future. Also, I think it's particularly exciting to work with an artist who hasn't yet had the opportunity to mount a solo show or make a significant project - the results are often more unexpected than if you work with mid career artists whose practice you know well.
How were you able to integrate your interest for emerging art within the space of an established art fair?
Some of the artists I have commissioned I have worked with before. It's interesting as it can be a bone of contention - that I'm working with some artists I already know, but again, this goes back to the ongoing dialogue I was talking about - I'd hope it's a conversation over years rather than one project. There are several artists I am working with who don't have commercial galleries, and this is also refreshing. This is naturally also balanced with a number of artists I am working with for the first time, which is very exciting.
Could you explain some specifics of the Projects?
The projects range from Jeffrey Vallance's panel discussion scheduled alongside Frieze's Talks program with spirit mediums that will channel the spirits of a number of dead artists, including Picasso and Frida Kahlo, to a Spartacus Chetwynd performance with props and chamber orchestra. Gabriel Kuri will redesign the fair's outdoor ashtrays as a series of elegant sculptures, and visitors to the fair will be able to donate money to a number of charities via artist-designed donations boxes, which will be placed throughout the fair. Matthew Darbyshire's redesign of Frieze Art Fair's ticket tent in the style of a mobile phone concept store disrupts an established functioning aspect of the fair.
Have you made any innovative steps from last year's Projects in terms of display or location?
This year we have an outside cinema structure (which will be a solar powered geometric dome). There will be a varied program by Frieze Film artists, a program by Indian curator Shanay Jhaveri, and a program by LUX. Another development is a dedicated Spartacus Chetwynd performance space in the fair, and a number of projects that happen outside the main tent.
Did you come across differences in curating for an art fair versus at a gallery?
The most challenging part has been effectively programming a year's worth of projects to happen in a week. The timing of everything is very complex and I'm lucky enough to work with Sorrel Hershberg who manages the Foundation and has a lot of experience. Another challenging aspect is that, at a gallery the rolling program keeps everything very fresh - at one time you can be working on a lot of different aspects of the curatorial process, but at the moment we are deep in production mode. It's definitely a different experience. However, I also am curating the Frieze Music program with Sam Thorne from frieze magazine, which allows us to indulge our interest in music - that's something new in comparison with working in a gallery.
You were also on the committee for the Cartier Award. Is this your first time being on art prize selection committee? Was there anything that surprised you about the selection process?
I've judged a couple of different art prizes, and it wasn't so different. The panel was comprised of people I really respect and we had a good experience. No rowing or disagreements. The most interesting thing about judging the award was getting to see some great ideas for projects - even those that won't be realized.
What is unique about Frieze art fair?
Well, I'm a fairly seasoned art fair visitor, but I'm also biased! The curated program of Project and Talks has always been the most exciting thing for me. I've been nearly every year since the first and have seen some great projects by the previous curators, Polly Staple and Neville Wakefield, that have been significant moments for the artist. The magnitude of the fair allows for a size of commission that is fairly unprecedented outside of major institutions, and have in turn led to important exhibitions and Turner Prize nominations for the artists involved.
Related
Popular in the Community