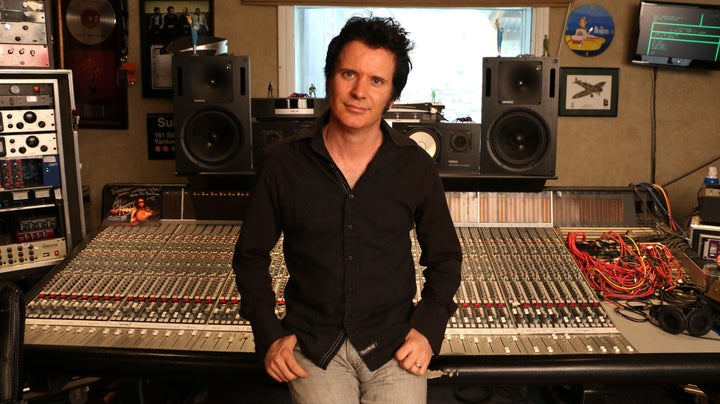 When Irish singer and actor Damian McGinty (from Glee and Celtic Thunder) decided to put out a Christmas album in 2016, one thing was clear: He wanted to bring on a world-class producer to bring the album to life in the best way possible. Enter Warren Huart, a Grammy-nominated producer with incredible energy and passion, and endless talents and skills. Warren and Damian have been working tirelessly since early this year to create This Christmas Time, and the end result is truly gorgeous.
I caught up with Warren recently for a Q&A to discuss his career, his love of music, his passion for helping others, and his work with Damian on This Christmas Time.
Pam Stucky: What first sparked your interest in music?
Warren Huart: When I was really young, about seven, my dad bought me, for Christmas, Queen's A Night At The Opera. My father is a huge classical and jazz fan, and Queen were the only band he thought were worthy! Needless to say that album changed my life. It is still my favourite album!
PS: How, when, and why did you move into producing?
WH: All of the albums I fell in love with at seven years old were production masterpieces, like Queen's A Night At The Opera, ELO's Out Of The Blue, and The Beatles' Revolver! So, years before I discovered girls I discovered music! As I got older and played in bands, even playing with successful artists I knew my real love was the recording and creation of music. The performing I loved, but the recording, for me, was huge!
Above: From Warren's YouTube channel, Warren and Damian McGinty at Warren's studio recording Damian's cover of the Bee Gees' hit "How Deep Is Your Love."
PS: In your role as producer and studio owner, you have a really successful YouTube channel. It's clear that helping and educating others is a passion of yours. Tell me about that: What is your interest in sharing educational videos? What do you get out of it?
WH: Absolutely 100%!! I didn't grow up with any advantages, I didn't have friends or family in the music industry, I didn't go to school for Audio Engineering, and I didn't assist in major studios; everything I learned was by trial and error! So now with the decay of the traditional studio system and the erosion of the roles of Producer/Engineer/Mixer/Songwriter/Musician, all bets are off and anyone who owns even the smallest amount of equipment, like their cell phone or tablet, is able to make music! All you need is creativity! That speaks to me hugely! Almost everyone coming up in the industry mirrors the way I had to come up, so I feel I can help them in so many ways! It's incredibly exciting time!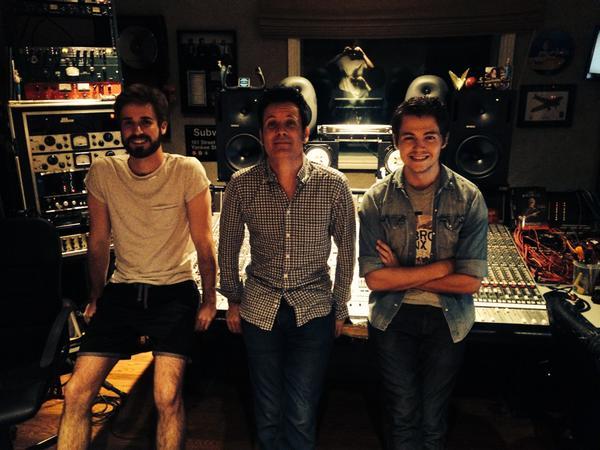 PS: How did you and Damian McGinty meet? What made you want to work with him?
WH: I met Damian through a mutual friend of ours, Gabriel Hugoboom. Gabriel is also a multi-talented artist and songwriter who I have had the privilege to work with. Gabriel brought Damian by one evening and we immediately hit it off. Damian's voice is truly wonderfully unique, and combined with the fact that his work ethic is unparalleled, it was a no-brainer for me when he mentioned he wanted to do a Christmas album! Plus frankly he's a thoroughly lovely guy who you know just wants the best for everyone, a product of great parents!
PS: You two started working on this Christmas CD very early in the year, and I know it's been a long and intricate process. Once you and Damian agreed to work together, what were the first decisions that needed to be made, to create and guide the vision for the CD?
WH: Great question! The most important question, because all great albums are made in preproduction, and we spent quite a few days just running through ideas, choosing the right songs, making sure the key, the arrangement, and the tempo were right. Plus we discussed the shape of the record, how many fully orchestrated songs versus the stripped-down intimate songs. The album had to have an ebb and flow, and Damian was very conscious of the fact that we needed to make something timeless and classic, something he could be proud to stand behind for the rest of his career.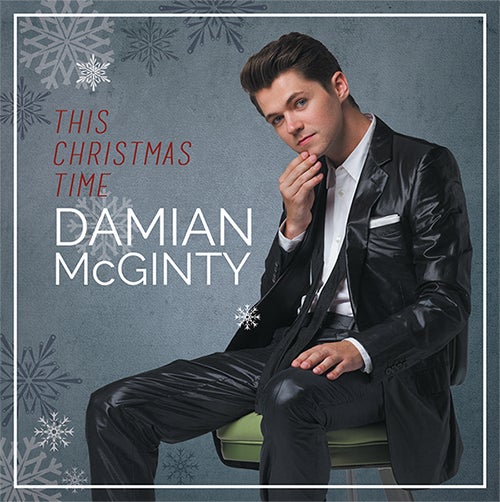 PS: I know this could be a very lengthy answer, but in a nutshell, what are the broad stages of CD production, and what happens in each stage?
WH: The basics of the album for me:
The vocal comes first, and is the priority. So we did a basic piano or acoustic guitar part and then Damian would sing to it and we made sure it felt right on all levels, any adjustments to the key, tempo and arrangements were made then before further instrumentation was laid down. Interestingly a handful of songs Damian felt great singing over just a piano and he sang amazingly and even after additional overdubs those first vocals were still the best ones!
After the basic vocal/piano or vocal/acoustic guitar we would get into overdubs, because I played many of the instruments on the record I would often start with a bass groove against the scratch track, then add more guitars or a very simple piano part, all of this even before drums! When I listen to great Motown tracks I hear everyone playing the song, not parts, the song, so often when tracking on my own I just play instruments in the way I'm inspired to, often doing drums last.
Strings were done by Oliver Kraus, a master, who plays multiple instruments. He would come by and discuss the song with us (he lives the next street over from me in the Canyon!). This was great for the process as Damian was able to discuss his vision as well with a world-class string arranger. These details, however seemingly small, are what take an album to the next level for me! Our piano player was Steve Maggiora. He came by for three or four days and worked with us on the basic tracks, changing the arrangement, the key, and the tempo as the songs developed. Having a player of his talent makes life extremely easy.
Lastly after all overdubs I did rough mixes for Damian to hear. The artist, and only the artist, should hear these, because the artist has to connect with the songs; they have to feel like something the artist can be proud of. Damian gave me great notes and came back to the studio for a few days and we re-sang just a handful of things that he felt he could beat (which if course he did!), and at his suggestion I did a couple of extra overdubs that brought the songs to the next level.
The next step is the mix process. I mixed all of the songs and sent them in their entirety to Damian. He gave me great notes for recalls and we were able to meet just a couple more evenings and finish everything off.
The album is mastered. Mastering is not something I skimp on at all! I use Adam Ayan who is a wonderful Mastering Engineer. His job is to give everything one final listen and apply any small sonic changes that he feels are necessary. These tweaks are Compression, EQ, and Limiting, and although very subtle at times can really do an amazing job to have the album feel cohesive!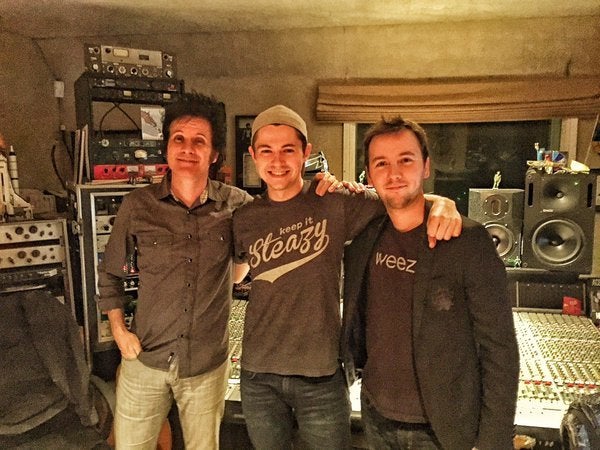 PS: In the CD credits on Damian's CD, your name is everywhere! You're listed as performing on guitar, bass, percussion and drums, mandolin, banjo, backing vocals, as well as producing, engineering, and mixing. Is any of these your favorite—if you could focus on just one, you would—or are you the kind of person who thrives on variety?
WH: I love it all! I'm a guitarist by trade! Bass player secondly, thirdly a piano player and lastly a drummer out of necessity! Playing music is such a joy, I am truly blessed to be able to do it and every time I pick up and instrument and record myself I feel fantastic! I am also blessed to have great musician friends like Ben Potter on drums and Phil Allen who is also an amazing multi-instrumentalist who contributed to the great album! I have a wonderful team of people around me; it really does take a village!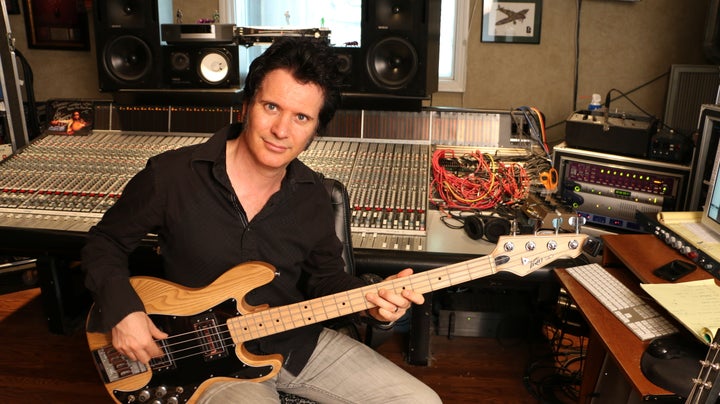 PS: In the CD liner notes, in the choir of "Happy Xmas (War Is Over)" I noticed the names Charlie Huart and Lucy Huart. Are these your kids? How old are they? Are they picking up on your love of music?
WH: Haha yes the kids contributed their voices, my daughter is still very young, under two, so it was more of a murmur! My son, who is nine, loves to drum and has been known to play some rock guitar! But I certainly don't want to push them in any direction. My father is an artist—a painter and a sculptor—and his love of art and music was inspiring. All I can hope is they see the passion I have for great art and they take that use it do what they are passionate about!
PS: Do you have any favorite tracks on This Christmas Time? If so, which and why?
WH: Big question! I love Joni Mitchell so I got chills hearing Damian do "River," and of course "Hallelujah" turned out beautifully! I must say that "Happy Xmas (War is Over)" is a favourite of mine—my good friend Jack Douglas was an engineer on the original John Lennon version and we stayed very true to it. The big band songs were so much fun to do! Dave Ralicke is probably the best horn arranger and player I know, truly gifted, and his work on this album was incredible!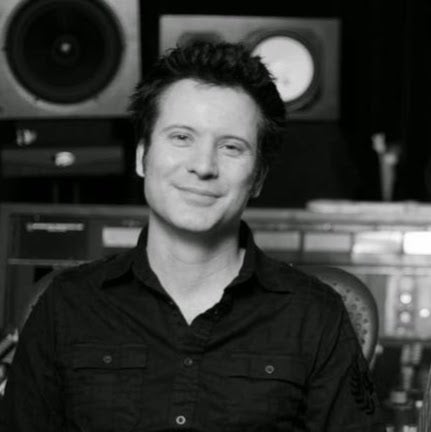 PS: What other projects do you have coming up?
WH: I just finished Cristian Castro's album, his first in seven or eight years, and that was very exciting! I am currently working on multiple projects, a couple of which are very exciting, new artists Little Empire and Sage Humphries, plus I will have mixed a Cheap Trick cover of "She Said" by the Beatles by the time you read this, produced by Jack Douglas and featuring Joe Perry on lead guitar, and I will be working with Calum Scott who is already a big star in the UK.
PS: Where can people find you online?
I loved chatting with Warren! What a positive, kind, dynamic guy! I especially love his attitude toward helping others and paying it forward. Anyone with interest in the music industry should be sure to check out the wealth of information at Warren's YouTube channel.
Warren, thanks so much for your time, and I wish you all the best in the future.
Somewhere between funny and philosophical lies the truth in Pam Stucky's writing. Pam is the author of several books including the Wishing Rock series (Northern Exposure-esque contemporary fiction, with wit, wisdom and recipes); the Pam on the Map travelogues (traveling the world with wit and wanderlust); and the Balky Point Adventures (YA sci-fi fantasy adventure with wonder and wisdom, a mix of Doctor Who and A Wrinkle in Time). Pam's driving forces are curiosity, the pursuit of happiness, the desire to thrive and the joy in seeing others do the same. Pam is currently working on writing novels and screenplays.
Find out more about Pam and check out her personal manifesto at pamstucky.com
Related
Popular in the Community