 Most kids wait until their parents are long dead or hopefully living in an obscure Peruvian village before telling the truth about them publicly.
It was Jack Osbourne's idea to make a movie about his rock-legend father's life and career, but it was his father, Ozzy Osbourne who said, "You can't be nice."
Jack Osborne's life has hardly been an episode of The Waltons. He has grown up surrounded by fame, riches, drugs, violence, bat-carnage, and, of course, his family. It is hard to know which of the aforementioned challenges have affected him the most. But after twenty-nine years, his parents have one of the longest-lasting marriages in show business.
Sharon and Ozzy Osbourne have an utter commitment to the truth, no matter what that might look like. And their willingness to be publicly vulnerable, instead of making them weak, seems to make them invincible. In letting their own son produce this documentary, we are closer to the inner workings of the Osbourne clan than we have ever been.
God Bless Ozzy Osbourne, directed by Mike Fleiss and Mike Piscitelli, takes us from Ozzy 'The Prince of Darkness' Osbourne's early days in Birmingham, England, through his Black Sabbath and solo career, and his phenomenal hit reality television show, to the drug and alcohol abuse and the havoc wreaked on Ozzy and his family. Together, in exceptionally candid interviews, his children and wife paint a picture of their life with Ozzy.
It does not look like the Mona Lisa.
The shock of the film, given that it is produced by a family member, is that it spares no one, least of all its subject. There is a moment in the film, where Ozzy is asked for the year that his daughter Jessica was born. Due to years of drug abuse and the demands of rock stardom, he was an absent father. His inability to answer, and the shame and pain in his face as he looks away from the camera are heart-breaking.
Sitting in front of me, it's hard to believe that Jack has witnessed the levels of excess we know he must have seen. He is soft-spoken, thoughtful, and quite simply, lovely. It's hard not to want to shake his parents' hands and ask them how they did it.
Between writing their own books and letting cameras into their house for a reality series, people think they know everything there is to know about the Osbournes.
But the unflinching gaze of their beloved son offers us something formerly unseen, and completely different.
How do you approach documenting the life of someone like your father, whose off-stage antics are equally spectacular to his life onstage?
The research you do is odd, in that it's normally what you do after your parents die. Going through all the old photos and finding journals and things like that.
I was always calling my mom saying "I found these photos! And police records!" And then she'd have to explain the story.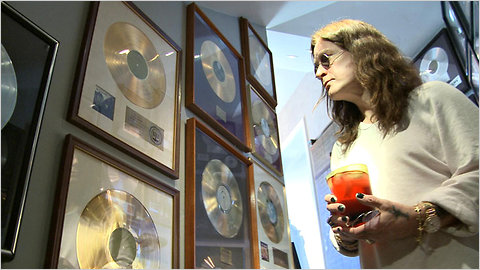 Heavy-Metal legend Ozzy Osbourne. Still image from the documentary.
Your parents have stayed together through thick and thin and everything in between for twenty-nine years. Drug abuse, domestic violence. How do they do it?
I don't know. They never give a straightforward answer either, you know. And in interviews they joke about it. I think it's about loving someone, warts and all.
Have they made marriage seem scarier to you, or less intimidating?
I'm not sure. Marriage will probably happen to me at some point (smiles) and I imagine it will be all right.
They are all you've ever known.
Exactly.
While you were researching the film, did you ever have a moment where you thought, "My God, I can't show that!"?
There was one tape, I don't know who was recording it, and it was an argument between my mom, my dad, and my sister. And it was really bad. We couldn't put it in. It was too dark. (laughter) We chose not to go too deeply into the death of Randy Rhoads, my dad's guitar player and band-mate, because there was a lot of difference between what the public thought happened and what witnesses who were there told us, and they are two big cans of worms.
It seems like Randy's death had a cataclysmic impact on your dad, and on the band.
Yes, it was pretty bad. My dad was tearing up during that part of the film and my mom was as well. It's still a tough one to deal with, and it's 30 years later.
What was it like having your own life recorded by a reality television show? You look different now, have you gone incognito?
Exactly! (laughs) This is my version of glasses with the mustache. There was a time when it really sucked. I don't like having cameras in my house. But the positives outweigh the negatives. I am working in TV and now film for 10 years, so it was a blessing in disguise.
You always seemed like a quieter and more thoughtful person than the situation you were born into. Did you ever feel embarrassed by your dad's antics growing up?
It was actually more my mom. She was always the feisty one when it came down to certain things, and I would end up with my head in my hands!
What did she do?
My mom would get in arguments, all the time, with truck drivers while we were in the car on the way to school and you would just want to sink into the sea and disappear. It was horrible. Things like that. My mother was never one to not say something!
So what is it like to make a film about your father, and as you rightly noted, he's still alive? What was his response to seeing it?
The premiere was the first time he had seen it, and he asked my mom on the way home in the car, "I'm not that bad, am I?"
When I spoke to him yesterday he told me he was flattered that Paul McCartney would sit down for an interview about him. (Ozzy, growing up in the North of England, decided to become a musician after hearing The Beatles' song 'She Loves You') It is mind blowing for him that his childhood idol is in a film about him, talking about him.
Definitely a full circle moment. Why are people still completely preoccupied with your father and the bat? A lot has happened since then.
My dad would love you for saying that. I think people are fascinated because it is and was an original thing. No one had done anything like that, and still to this day, no one else has. I think people hold onto that.
One day, the when your dad is no longer with us, how would you like him to be remembered, what would you like his legacy to be?
One of my directors says that he's probably one of the most iconic figures in rock 'n roll. That's true in the sense that he's the most accessible, you know? People aren't afraid to come up to him and say hello and have a picture, and his fans genuinely love him. With someone like Paul McCartney, he has a certain distance, a certain reserve. You can't go up to him and say, "Sir Paul, high-five!"
(laughs) That is very true. Both of your parents have this belief in complete candor, even and especially if it doesn't make them look good. Why are they so reckless and so brave?
It's actually safer to be honest in this industry.
How do you condense a career that spans decades into 90 minutes?
This is the ultimate challenge. We obviously know how it starts: he was born. He is still alive, so we needed to figure out how we wanted it to end. He's sober, he's touring, and he's doing what he was meant to do. We have to connect the dots to get to our conclusion in the most truthful and entertaining way possible. We decided to focus more on the redemption side of things, because the film is pretty harsh towards my dad, especially the parts with my sister and myself.
Did you include Ozzy's failings as a parent because so many people can relate to being disappointed by their parents, in some way?
Honestly, it was the only way I could get out alive having made this film. If I made a film that said, "Look how great my dad is!" everyone would have responded, "Fuck off!"
Popular in the Community