Last week I attended Crumble, a one-woman play in the kitchen of a private home. Along with 15 random theater enthusiasts, I settled into a stranger's Upper West Side apartment for "site-specific theater" -- a term coined by Laura Hooper and Mark O'Neil, English expatriates in New York. After creating a not-for-profit theater company, MORA Productions, Hooper and O'Neil began advancing productions that hinge on specific venues.
Crumble is a devastating tale about a woman cooking away her misery. Sylvie (played by Hooper) soliloquizes while shuffling around her kitchen; she staves off despair with handfuls of Nutella, which is the only thing we have in common. Halfway into Hooper's performance, the play transforms from dark comedy to darker drama, with mounting tension that is palpable. Site-specific, interactive theater -- as I'm now calling it -- blurs the line between stage and seat.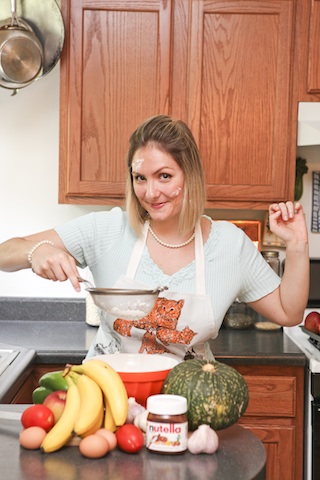 Think watching a play in a random person's home is avant-garde? Consider "Supermarket Shakespeare," one of Hooper and O'Neil's UK creations. Actors perform scenes from Shakespeare in the middle of a supermarket during normal operating hours.
Although I haven't witnessed Romeo and Tybalt crashing into cereal boxes on aisle 4, I've long admired England's pub theater tradition -- one that encourages camaraderie between actor and theatergoer. After performing plays in tiny rooms above pubs, actors chat with audience members over pints of ale. Pub culture cultivates this communal spirit, which is why "interactive" theater works in England.
I've often wondered about corollaries in New York. What do we have besides Sleep No More? This curiosity compelled me to Crumble. After the show, I sat down with Hooper, who filled me in on everything from the goals of site-specific theater to how she unwinds after performing a one-woman play.
Why is Crumble staged in someone's kitchen instead of a traditional theater? Tell me more about your passion (and plans) for site-specific theater.
Crumble was originally staged in a theater, but we shaped it into a site-specific piece to enhance the audience's connection with Sylvie. When they enter her front door, they are in her world. I have specialized in site-specific work for seven years and am still blown away by the strength of relationships forged between characters and theatergoers. Audiences are close enough that you can touch them. I have been hugged, kissed and proposed to while performing... it's a tough life! As for future plans -- Mark and I are developing a new show, and we've been offered an industrial office in Manhattan as performance space. I have also begun writing and look forward to seeing my words come to life!
Why did you and Mark choose Crumble for your first site-specific production in New York?
I fell in love with the character. Sylvie is a gift to play: funny, layered, dark and saucy!
I loved the play's interactive beginning. [Sylvie greets each theatergoer at the door of the apartment. She offers them wine, seats them, and engages them for about 10 minutes, as though they are guests attending a private dinner party.] I have to ask: has anything bizarre happened?
The audience definitely makes the show! People have expressed such creativity and spontaneity by asking questions, and others have really reacted to the play. One woman said it made her question getting married. A grown man once screamed! The most embarrassing incident occurred when my dad saw the show. He got really into character and overwhelmed me with terrible Dad jokes. Luckily, Sylvie has an acerbic wit, so I put him in his place!
How do you prepare for each show?
I cook! And spend time in the kitchen: I have to know my way around. By now, I know Sylvie well, so it doesn't take long to get into character. I just put on my cat apron, and I'm good to go!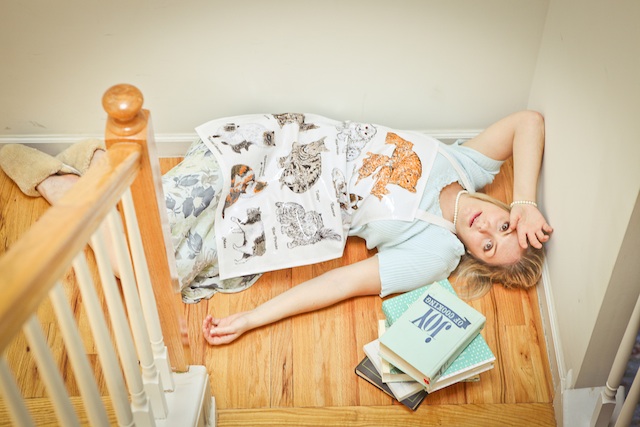 What is the most challenging or exhilarating thing about starring in a one-woman show?
The workload! Mark O'Neil [my MORA Theater partner and Crumble's writer] and I run the theater company ourselves. We're just two unpaid volunteers doing what we can to promote theater. The hours I've spent cooking have also been stressful, and a one-woman performance is daunting, because people's experience rests on my shoulders. But that's also what makes it thrilling, and I love the freedom it allows me as a performer.
How would you describe Sylvie?
She's a dreamer trapped by domesticity who escapes into romantic fiction. Sylvie longs to be loved and appreciated. She's charming, quirky and funny: a quintessential Northern English housewife with a twist. I can't say much more about her emotional turmoil without spoiling the plot of the play.
What similarities, if any, do you share with Sylvie?
I think we share a sense of fun and play, and an appreciation for cooking... though mine isn't as intense as hers. I have more self-confidence, but Sylvie has a more active personal life than I currently do!
The show is extremely dark. How do you offset that gloom in your personal life?
The gloom disappears as soon as I'm out of the pearls and back in my clothes. I typically have a drink and chat with the audience after the show. That always perks me up!
What is next for Crumble?
We're taking the show to Happy Days, the world's first International Samuel Beckett Festival in Enniskillen in Northern Ireland in August. First, I'm taking Crumble to kitchens in England to keep up the momentum. That should satiate people back home who've been dying to know what Sylvie and I have been doing across the pond!
Speaking of -- what do you miss most about England? And love most about New York?
I miss my friends and family in England, but Skype makes contact so easy. I also miss curry and bacon, but I'll get my fix soon... What I love about New York is the attitude -- people are so positive here! You feel like you can achieve anything, or at least give it a go. I love my new friends and the fact that friends from England are willing to visit. If I could merge the two places, I'd be one happy lady!
For further information on Crumble and the MORA Theater, visit MORA's website and Facebook page. Crumble will return to NYC this fall; those interested in hosting the play should contact Laura and Mark through MORA's website.
Related
Popular in the Community