Biases in the workplace have been around forever. Some biases are conscious, while others, not so much. Whether work colleagues are aware of their biases about their coworkers or not, the impact remains the same: biases drive irrational judgments and decision-making about others. This can be a pain to deal with in general, but it presents a significantly greater problem for recruitment and performance in the workplace when left unchecked. And the workplace is only as strong as the employees who make up the workforce, right?
I've been fortunate to work at Ogilvy over the last six years, where diversity and inclusion aren't just buzz words, they are a part of the very fabric of our culture – so much so, we have an entire staff dedicated to ensuring we recruit and retain a racially, ethnically and culturally diverse workforce. We know this not only makes us stronger as an organization, it creates better results for our clients. Hello!
As a woman, I understand the privilege of working in an environment that truly nurtures the diversity of talent from the top down. I also realize there's more work to be done –not just at Ogilvy, but across the spectrum. That's one reason I'm glad that Ogilvy decided to sponsor the Center for Talent Innovation's New Disrupting Bias Report, which was released July 12, 2017. The report uncovered gaps the traditional lens used to view of bias and offered a new outlook on how to disrupt conscious and unconscious biases and improve organizational performance.
I sat down with Ogilvy's Worldwide Chief Diversity & Inclusion Officer, Donna Pedro to get her perspective on the need for the research, as well as her insights on the findings. Below are a few highlights from our discussion: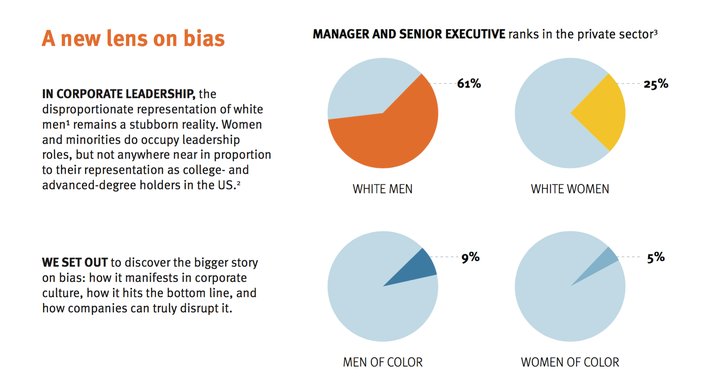 Q1: Describe Ogilvy's philosophy on diversity and inclusion. What makes Ogilvy's approach different than other agencies?
Ogilvy views diversity and inclusion as a change management process. Change doesn't happen overnight, so we annually establish strategic objectives aligned with our business objectives to continually move the needle forward and create an environment where all employees can contribute to their fullest potential.
What has set Ogilvy apart from other advertising and public relations agencies, is our commitment. For many years, Ogilvy was one of only a handful of agencies with dedicated resources, including a staff and budget, allocated solely for diversity and inclusion. The human resources staff doubled in the role of diversity managers as a simple extension of their existing responsibilities at most agencies. Recently we've seen other agencies adopt a similar model for recruiting and retaining a diverse talent pool, but Ogilvy was a true pioneer in the area. Having the forethought and ingenuity to harness and cultivate talent the way our clients structure their businesses gave us a unique advantage in our industry.
Q2: How can bias impact organizations' value/bottom lines? What role does unconscious bias play?
Unconscious bias plays a huge role in recruiting and retaining top talent. What makes us all similar is that we all carry unconscious biases. Some biases are good while others are negative, but they are part of our natural instincts. What's key is to disrupt them – and that starts at the recruitment level and extends through the entire employee life cycle. Whether it's diversity in leadership, in communication, in planning or ideas, it's important to make sure there's a continuous effort to ensure all voices are heard and that everyone has a "seat at the table."
Disrupting unconscious bias should have a positive impact on an organization's bottom line. It is a way to ensure there is diversity of thought at every level – that means hiring people with different life experiences and perspectives based on their primary aspects of diversity, such as age, race, gender, sexual orientation and ability. That way you are hiring the right people and not the same people. Those are the types of experiences clients are looking for today. The real bottom line is that diversity is good for business.
Q3: What challenges does the traditional model for examining bias create? How does the new model change the view of biases?
Looking at the traditional model, we can understand how educating staff about bias can be helpful, but the new model helps us recognize that simply teaching people about bias or offering training isn't enough. We must disrupt those biases in order to truly affect change. Organizations can now look at the new model and use that information to further understand the impact of bias – and more importantly, plot next steps. If we take a step back and consider where there are gaps with the traditional model and recognize new learnings, we increase our chances of hiring the right talent.
Q4: Of the top 3 ways to disrupt bias identified in the report (Diversifying leadership, Lead inclusivity, and Connecting diverse talent to sponsors), what are Ogilvy's areas of strength for disrupting bias and where is there a need for more growth?
First, having diversity in leadership is critical. We hear all the time – most recently in a PR Council study – about how important it is for millennials and people of color to have examples to look up to. Leading inclusively is another important skill that we all need to pay close attention to and ensure all of our leadership staff understand what it actually means to lead inclusively. Finally, sponsorship is, frankly, vital. Ogilvy has several sponsorship programs including our "30 for 30" program where our Worldwide Chairman & CEO, John Seifert handpicked 30 women and personally matched them with personal sponsors to help drive their professional growth. The Center for Talent Innovation also has published research confirming the importance of career sponsorships like these. That program has been very successful. Elevating women at Ogilvy has been an area of tremendous visibility and strength. Yet reaching all of the goals above is lofty, so we still have some work to do with elevating even more people of color (specifically African Americans) to leadership positions.

Q5: Why did Ogilvy think it was important to sponsor the Center for Talent Innovation's bias research?
This was an opportunity for us to get cutting-edge research to help tell us what the next step is. Also, the Center for Talent Innovation is an amazing think tank that is always pushing the envelope with their corporate partners to follow what comes next. You have to keep these ideas relevant and fresh. We now have a workforce that is more than 50 percent millennials. They are our future leaders. We need to guide them in terms of what they need to know and what they need to do. It's important to know how we should engage in honest dialogue around the various aspects of diversity so that everyone has a sense that they are able to contribute and that they are cared about in their organization. Hopefully, that will propel us to become an organization of choice.