Rebecca Rasmussen's second novel Evergreen (Knopf) spans three generations, and first tells the story of Eveline, a young bride. Eveline moves to the wilderness of Minnesota to be with her husband, but stays there alone with her young son Hux when her husband leaves to visit his dying father. Eveline begins to gain her footing in the unfamiliar and difficult landscape. But when a stranger arrives and rapes her, she finds herself pregnant. The baby girl is born, and Eveline decides to give her away.
When Eveline's son Hux grows up, he searches for his lost sister, wanting to find her and make up for what has happened to her, and for the years they have been apart. The novel explores the beauty of the natural world, trauma, loss, and the way that a single choice can affect a family for decades.
In her review of "Evergreen" for BookPage, Trisha Ping writes: "With its quiet beauty, deep compassion and strong emotional pull, Evergreen cements Rasmussen's reputation as one of our most talented new writers."
I spoke with Rebecca Rasmussen about Evergreen.
What drew you to set the novel in the wilderness of the North Woods of Minnesota, and why did you decided to begin the story in 1938?

When I was growing up, pioneer stories and the characters that populated them -- people who broke away from the civilized world and started new lives in the wilderness -- captivated me. In my favorite stories (O Pioneers!, The Song of the Lark, even Little House on the Prairie), people had to band together in order to survive harsh winters, locust storms, fires. Sometimes they had to fall apart. I am deeply interested in the ways environment shapes who we are. At the beginning of Evergreen, Eveline, a young bride, goes into the wilderness with a sundress and a pair of dancing shoes. She tries to look pretty for her new husband. She has no idea what the land will require of her or how it will change her, or if the love she has for her husband will be enough. She has no idea how strong she will become.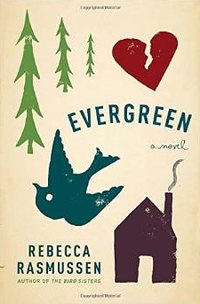 In Evergreen, Eveline's tragic and isolated efforts to forge an existence in the wilderness reminded me of Denis Johnson's novella Train Dreams, as did the story of the little girl raised by wolves that Eveline hears on the radio. Were the themes of Evergreen influenced by Train Dreams?
I have to admit this upfront: I have never read Train Dreams. I know, shame on me! But I have read some other great books over the years that have influenced me greatly. Louise Erdrich, Marilynne Robinson, Carol Shields, and Alice Munro are all writers who have influenced me in a major way. My actual experience in the northwoods, though, shaped this book the most! I have been drawn to nature ever since I was a girl and spent eight wonderful summers at a rustic camp up in northern Wisconsin. The lake was full of leeches, the cabins were overrun with wolf spiders, and because nothing would ever dry there was a pervasive smell of mold. "L'eau de Camp," my mother used to say. But it was also a magical place with towering pines and climax forests, frosty mornings and northern lights, a place where for the first time in my life I felt truly free. I learned how to build fires and navigate canoes through narrow sloughs. I learned how to swim and sail and shoot a rifle. I learned what I could do with my hands. What I could do with my heart. The northwoods is always with me when I sit down to write. That sense of wonder and freedom, those kumbayas.

Evergreen tells the story of three generations of the LeMay family. While linear, the narrative skips many years between sections, jumping from 1938 to 1954 to 1961 to 1972. How and why did you decide to tell the LeMay family's story in this way?
Evergreen wasn't always structured this way. In the first draft, there were only two different parts -- Eveline's and Hux's -- and I ended up feeling like something important was still missing. The story needed to open up. It needed to branch out. It needed to give me at least another year of grief. Naamah, the character who drives much of the action in the novel, didn't have a voice yet. Once I gave her one, there was no glass between us anymore. I kept hearing her calling for her mother. I kept praying she would find a little grace.
Lulu and Eveline are best friends, and both experience pregnancy resulting from rape. But the two women have opposite responses to the prospect of mothering a child that is the result of sexual assault. Why did you choose to show two women reacting so differently to the same situation?
People respond to trauma differently in real life -- I wanted to do justice to survivors. I didn't want to show only one response to trauma and somehow suggest that it was the only way I believed victims should react. All over the world, women are abused every day. In cities. In the country. In the woods. I was interested in telling the stories of two of these women.
When Lulu enters the novel, light enters with her. She's a woman who knows who she is and what she's worth. Eveline doesn't know these things yet. She's a new wife and mother. She's still figuring out if she even belongs in the wilderness. After surviving a difficult winter alone with Emil, Lulu is a welcome guest the day she comes striding up to their cabin wearing a pair of men's trousers and a ratty old fur coat. Lulu is feisty from the start. Unlike Eveline, she always says what she thinks. She's tougher than any of the men in Evergreen put together. She's got a heart the size of the forest. She's hard not to fall in love with, which Eveline quickly does. The women become like sisters. They argue with each other. They laugh at each other. They save each other over and over again no matter what it costs them. In many ways, they are the true soul mates of the novel. If one jumps, the other does, too.
Evergreen explores several facets of motherhood -- mothering a child born of love, mothering or rejecting a child born of rape, and the attempts of a woman who was both motherless and abused to raise a child herself. Could you talk a bit about this exploration?
The women in Evergreen are the heart of this novel -- almost everything that happens depends on them. It's an enormous weight to have to bear and for the most part they bear it gracefully, with great love and compassion. The women in Evergreen are survivors. They've learned, oftentimes through events beyond their control, when to hold on with all they've got and when to let go. They've taught me a great many lessons, one of which is this: the world is still a hard place for women, but we are its lifeblood, we keep not giving up.
REAL LIFE. REAL NEWS. REAL VOICES.
Help us tell more of the stories that matter from voices that too often remain unheard.