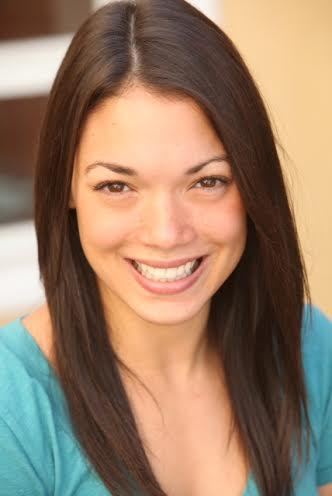 Inspired by a true story: "SIT"
Theatre by the Blind presents an original play about one blind girl's journey through life.
Theatre by the Blind, (TBTB) the country's only theater troupe composed entirely of blind adult actors, provides participants with a constructive and creative forum to confront their challenges while informing the public and changing misconceptions about the capabilities of the blind. TBTB participants create and perform original theatrical works that seek to awaken an appreciation for the artistic contributions of the blind.
As one of the few performing arts organizations providing access to theatre arts for visually impaired students within the greater Los Angeles area, CRE Outreach is unique in its mission. Our work with both the visually impaired as well as at-risk youth seeks to break down the barriers that contribute to the isolation and cultural divide felt by many in these communities.
Inspired by the true story of Theatre by the Blind actress Sheila Walker who also stars, this original play follows Tamara, a young blind girl, as she journeys through a world she cannot see, but choses bravely to explore. Tamara must maneuver around her overprotective father who knows nothing about raising a blind daughter. As she attempts to find her footing, she must decide which outstretched arms to lean on. Her well-meaning teacher and her strong-willed sister both want to help, but is it the help she needs? Can she break away, and what will she discover about herself and the world outside her window?
I recently had the opportunity to speak with the director of Sit, Lindsay Nyman:
At what point were you approached with the opportunity to direct "Sit"?
About three years ago I started volunteering for Theatre By the Blind. After a while I started to assistant direct and write, and eventually became part of the team. I decided to write a play which was a combination of all of the actors' stories after I had interviewed them. I proceeded to make monologues and poems in a way that could help to express and tell their stories artistically. And then one of the stories by Shelia Walker kind of stood out to me, and I proceeded to write a poem about it called "Sit," which was inspired by her childhood and her life. Once I heard it, I couldn't stop thinking about it and there was just so much more I wanted to explore and discuss, and that's when I decided to write this play based on her life and the poem..
Working with actors in general can present its own set of challenges. How have you been able to embrace the challenge of working with actors who are blind?
I approach this play and all of our rehearsals in the same manner I would a production with sighted actors. So all of the stuff that people would think of in terms of method - tapping into emotional and sense memory from their own lives, and developing and bringing the character to life from there - all that basic work is still the same. I have a huge belief that regardless of their challenges and lack of sight, the actors in Theatre By the Blind can still use these principles because we are listening and responding and communicating on stage in a real way, and telling the truth. Regardless of whether you're sighted or blind, a good actor is going to take that approach.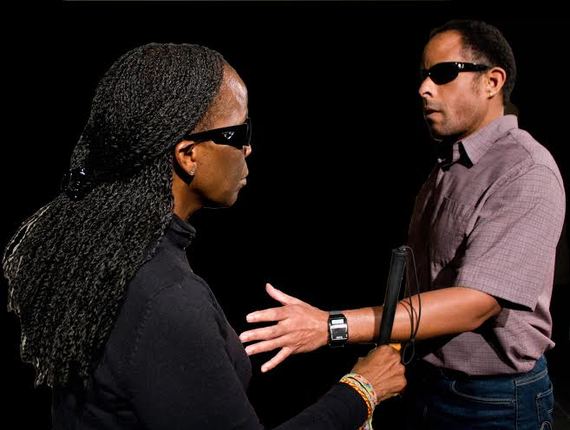 What about those times when technical issues such as blocking have to be addressed-how do you overcome those challenges?
Things can start to get tricky when it comes to blocking. The way we deal with that issue, since I can't yell out "stage right, or upstage, or cheat out" or anything like that, is to use interlocking mats on the stage as a type of floor braille. For example, a mat will lead you on stage, lead you to different landmarks such as a desk, a table, chairs, and other basic set pieces. The actors are able to memorize the location of the mats by feeling with their foot where the hardwood floor ends and the mat begins, enabling them to stay on path. The only way we can make it a safe space for them to move around is to have these mats and use set pieces as land marks so that they can use them to get on, off, and around stage. It frees them up while on stage because for the rest of the day they are either using a cane or having to be guided by their dog.
Can you tell us a bit more about the main character in "Sit"?
The lead character, Tamara, who is played by Shelia Walker (the lady who inspired the play), is the only blind character, but the entire cast is made up of blind actors. The rest of the cast, while blind in real life, are playing sighted characters. So in that way, some of the direction has to be adjusted in terms of eye contact and things like that so that the actors appear to be sighted. But again, I don't hover too much on that because I want it to be a naturalistic, organic process that allows them to listen to their own instincts as actors and as people. So I try not to give to many of the "turn your head now please" type of instructions. There are some times we have to set up the stage a certain way so that they know where they should be looking."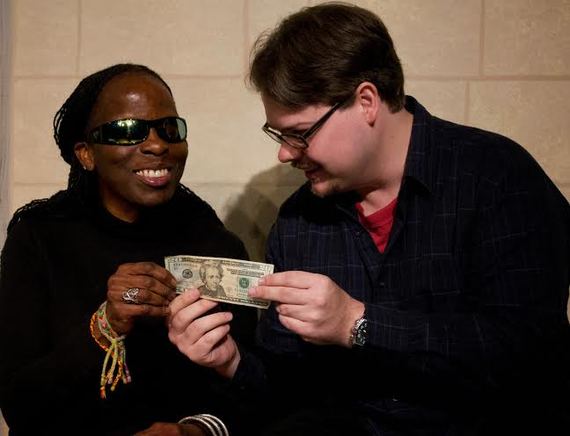 Theatre By the Blind will have three productions this season. Can you tell us a bit about the other two shows, and how long is the run for "Sit"?
"Sit" will run for the last two weekends in February. The next production, called "Walk me Home", will be directed by the man who started our company, Greg Shane. "Beyond Sight" is our third production for this season through CRE Outreach, and will be our first musical that will be directed by Jeremy Aldridge. That play will star one of our Theatre By the Blind actors, Robert Smith, and it deals with issues such as PTSD.
How long have you been interested in the arts?
I have always been interested and involved in the arts. I'm originally from New York, and when I was nine I was in the Broadway national tour of "Ragtime.". I did theatre, film and TV in New York while growing up, and then went to UCLA for theatre, and since then I have become interested in writing, especially comedy, and directing. But I would love to get into film one day. My writing partner and I are currently working on a comedic web series as well. But this, Theatre by the Blind, is by far my biggest passion -- it's huge. I want people to know about it. These actors are so inspiring and inspirational to be around. They are incredible. When you see what theatre is able to do for them, it blows your mind.
Were all of the actors in the cast blind from birth, or did some lose their sight over time?
Some were blind from birth, but a lot of our actors went through recent trauma. One of them was in an abusive relationship, and that is how she lost her sight. She said that he "knocked something loose," and that just tears me up. She overcame that and has continued her path to recovery. Another woman was 18 when she was shot in the face as a result of gang violence. She is now a mother of three who goes all around L.A. as an advocate for the blind, but also gives presentations and speeches and talks about conflict resolution at juvenile halls, camps and schools. And Shelia Walker, the star of the play, is another advocate for the blind who gives talks and presentations. When Shelia first came to the company she was very soft spoken and very shy. As a result of performing and the exercises that we do, such as projection on stage, using your full voice, and breathing, some of the actors have told me they are able to speak up for themselves more, and have been able to find confidence. And I feel that sometimes, by being a different character, they can get outside of themselves, and perhaps look from the outside in. This may allow them to rebuild themselves to a degree after the multitude of traumatic events that they have endured.
As a director of this specific production, what do you want your audience to take with them after seeing "Sit"?
I think I want them to take away the feeling that the human spirit can ultimately win and triumph, regardless of what you're hit with. And while the story itself is about that, just watching the actors on stage is testament to that as well. The fact that they are up there -- I mean, it takes courage to get up on stage, regardless, to assert yourself as a character and stand there. But when you take into consideration what they have been through and the fact that they cannot see who is looking at them, you can appreciate the fact that they are truly letting go. They are, in essence, jumping off a cliff and being super brave. So in watching this process, how they work and how brave they are, I think it could inspire people to say "if they can, I can. Hope is not lost. It is not the end of the world." For many of these actors, it could have been, when you consider what they have been through -- but they chose for it not to be. They have now gone above and beyond by performing in this play and becoming an inspiration for others.
Why is the play called "Sit"?
It's called "Sit" because when Shelia Walker told me about her childhood she told me that she used to have to sit by the window and look out and listen to her siblings play outside. And so she couldn't be one of them, she was in essence a chair. So while they were able to pretend and play like they were prince and princess, all she could be was a chair. And you hear about children with disabilities who may be over-protected or over-sheltered out of a fear that they cannot do what the other kids can do. But here you have these actors who are showing that regardless of a disability or any perceived obstacle, there is still a way to triumph and you can still overcome like anyone else.
Is acting something you still want to pursue?
Yes. I love acting. It's why I wanted to direct... because I wanted to share with these actors the place where I come from. It's hard here in L.A., because so much of acting can be based on appearance. What I think is so cool about this company is the fact that it is the polar opposite of that -- because it has to be! And so it is very liberating in that regard. So many of the issues that we have are visual prejudices such as what you look like or where you came from... that is gone! It's all about getting to the core of what acting and theatre ultimately is -- it's about expressing yourself through telling a story. In this piece it doesn't matter what anyone really looks like!
Headshot picture of Lindsay Nyman by Lindsay Nyman.
All other pictures by Lyssa Samuel for Theatre By the Blind and CRE Outreach.
Calling all HuffPost superfans!
Sign up for membership to become a founding member and help shape HuffPost's next chapter