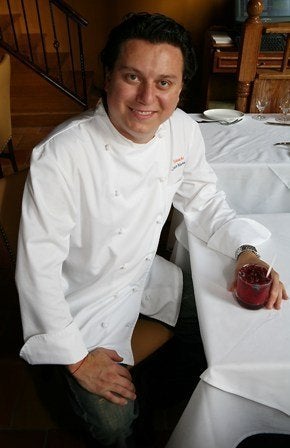 Toloache is the name of a flowering plant used as a love potion in Mexico -- and Chef Julian Medina must put some of it in his food because New Yorkers are head over heels for his contemporary Mexican creations. Toloache is also the name of his Theater District restaurant (his first, which opened in 2007) and Financial District fast-casual taqueria (open since last Chef Julian MedinaDecember). The Mexico City native is also at the helm of Yerba Buena Cocina Latina, with locations in the West Village and Lower East Side. Here, the man who lost to Jose Garces on "Iron Chef" last month by one measly point, dishes on his favorite Mexican restaurants in New York, his Sunday rituals and how to make his famous guacamole.
How did you get your big break?I met Richard Sandoval, and he gave me a job at Maya. We received two stars from The New York Times while I was chef there.
You've definitely come far since then. How do you manage to put in face time at each of your restaurants? I go to Toloache in the morning and head over to Yerba Buena around 3pm. I often return to Toloache for dinner service.
What are a few must-try dishes at your restaurants?At Toloache, I order truffle quesadillas, lobster tacos and veal cheek tacos. At Yerba Buena, I love the pulled pork arepas and hamachi ceviche.
And what about some other top spots for Mexican food in New York?Taco Mix, where I order the tacos al pastor de oreja (ears), and Hecho en Dumbo, where I go for the short rib tacos.
Create a perfect day of eating in New York. Where would you go for breakfast, lunch and dinner?Breakfast would start at home. My wife and I would cook huevos rancheros and scrambled egg taquitos for our daughter. We would have lunch at El Paso on Lexington and 104th. I would order tripe soup and tacos. Dinner would be at Daniel. I would order the tasting menu -- so it would be a surprise.
In just a few words, how would you define yourself as a chef?I use French techniques with Mexican and Latin ingredients.
I understand Sunday is "family day" for you. What does this entail?We love to take our daughter to the Children's Museum of Manhattan to see the Dora exhibit. She runs around wild for a little while and then we take her to lunch at La Caridad on Broadway. We love that it is a Cuban and Chinese restaurant. It has been there for years, and the food is always delicious
What's something most people would be surprised to know about you?I have a wicked sense of humor.
Julian Medina's Guacamole Frutas(serves 4)
Ingredients:2 ripe Mexican Hass avocados1 tbsp sweet onion, diced2 tbsp Granny Smith apples, peeled and diced2 tbsp Asian pear, peeled and diced2 tbsp dried cranberries1 tbsp Thai basil, finely chiffonaded1 tbsp pomegranate seeds1 tbsp jalapeño, seeded and diced1 tsp lime juicekosher salt to taste
Instructions:Place onion, jalapeño, lime juice and salt in a molcajete or bowl. Mix and set aside for a minute. Add apples, pear, dried cranberries and basil. Cut avocados in half and scoop them into bowl. Mash the pulp with the ingredients. Check seasoning and top with pomegranate seeds. Serve with warm corn tortillas or chips.
Popular in the Community