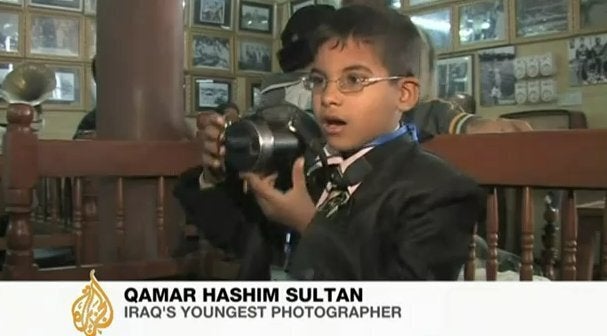 At a time when most of his peers are still struggling to keep their crayons from straying outside the lines of their coloring books, seven-year-old Qamar Hashim Sultan has taken to shooting rich, dramatic landscapes.
Indeed, Iraq's youngest certified professional photographer has become a celebrity in his native land, with many of his photos reportedly displayed in prominent exhibits across Baghdad. Qamar says he began shooting photographs at the age of four, using the equipment of his photojournalist father, Al-Jazeera is reporting.
"When I see something I like, I look at it through my zens, zoom in if it's far away," Qamar says. "As for my height, I'm not short...I can reach." He received his first digital camera from the mayor of Baghdad after the youngster made his way through the security detail to photograph the government official. Still, Qamar's father says his son cannot photograph the city's notorious violence.
Watch video of Qamar Hashim Sultan, via Al-Jazeera, here:
Related
Popular in the Community