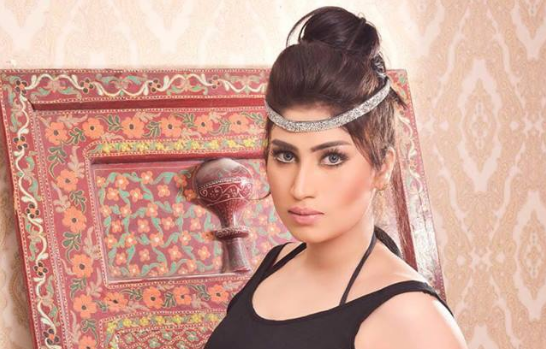 Even in the last few days of her life, while facing death threats for her bold social media posts, Qandeel Baloch wouldn't shut up.
"I believe I am a modern day feminist," Baloch wrote the day before her death. "I believe in equality. I need not to choose what type of women should be. I don't think there is any need to label ourselves just for sake of society. I am just a women with free thoughts free mindset and I LOVE THE WAY I AM."
At only 26, Baloch was Pakistan's most popular internet celebrity and one of the country's most divisive figures. She was a divorcee who openly flaunted her sexuality, posting semi-raunchy photos and videos on her popular Facebook and YouTube pages.
She brimmed with confidence and was a relentless self-promoter, at one point promising to perform a striptease if Pakistan's cricket team won a match against India (they lost). She posted photos with a Muslim cleric where she playfully donned his cap, subtly exposing the hypocrisy of pious men who simultaneously yearned for and condemned her.
Despite living in a rigidly patriarchal society, she refused to be controlled by men ― right up until the day she died at the hands of one. On July 15, her brother Waseem Azeem drugged her and then strangled her to death.
In her death, Baloch has become a symbol of female empowerment. She has been heralded as a "gutsy feminist provocateur." As of Wednesday, almost 4,000 people had signed a petition posted by Action for a Progressive Pakistan, calling for Azeem to be put on trial.
"She was killed because an inordinately fragile, male ego couldn't handle her flame," the petition states. "She was killed because patriarchal structures sustain unequal gender relations with both men and women believing that violence against women is unremarkable, ordinary, and even deserved."
Rafia Zakaria, an attorney and author of The Upstairs Wife: An Intimate History of Pakistan, described Baloch as a rebel.
"She was popular because she was outrageous," she said. "She pushed boundaries in a way that the majority of Pakistani women would not have thought was even possible."
Baloch was not a television or movie star, but she did have the internet. She used the platform available to the masses to express herself without censorship and connect with the public.
"Here was someone very ordinary, using tools available to a lot of people to say, 'I can do what I want, and you can't stop me,'" Zakaria said.
While Baloch was dubbed "Pakistan's Kim Kardashian" because of her penchant for sexy selfies and entrepreneurial acumen, unlike the reality TV star, she did not grow up with money or come from a prestigious family.
Baloch, whose real name is Fauzia Azeem, was born into poverty. In her late teens, she was forced to marry a man she said abused her. After a year and a half, she left him and began her rise to fame, using her talents to grow an impressive social media presence and build a career as a model.
Zakaria said it was unusual to see a woman from a working-class background speaking out so publicly about women's rights. Typically, she said, those conversations came from upper-class Pakistani women ― simply because they were afforded the protection to do so.
If you have armed guards at your house, she explained, it's much easier to challenge the status quo.
Baloch was perceived as a threat to Pakistan's male-dominated society, Zakaria said, because she showed that sexual empowerment was not reserved for the rich and educated, but was something that all women could aspire to.
Her death has reignited scrutiny of so-called honor killings in Pakistan, in which women (mostly) are killed for doing something that shames their family, such as refusing to enter into an arranged marriage, committing adultery, running away from an abusive husband or having premarital sex.
At their root, honor killings are about control, said Anita Weiss, a professor at the University of Oregon who wrote a book about women's rights in Pakistan.
"It's about controlling a woman's mobility and controlling her actions," she said.
In 2015, nearly 1,100 women were killed in "honor killings" in Pakistan. In the majority of cases, the perpetrators were current and former spouses of the victims, and the predominant causes were domestic disputes, alleged illicit relations and exercising the right of choice in marriage. Just like in the U.S., most women were killed with a gun.
In Pakistan, perpetrators of "honor killings" are often able to avoid meaningful punishment, because under the law, if the victim's family forgives the killer or reaches an agreement with them, charges can be dropped.
Weiss said it was sadly a common scenario for a victim's family to decline to punish the killer. They may believe that pursuing a case will bring more disgrace, she explained, or they may have been complicit in the killing themselves.
However, authorities in Pakistan will seek the "maximum punishment" for Azeem, regional police chief Sultan Taimuri told The Associated Press.
"In her death, she has galvanized an entire nation."
Sharmeen Obaid-Chinoy, a Pakistani-Canadian filmmaker who won an Academy Award this year for her documentary on honor killings, celebrated the decision.
"For years now, activists have been asking political parties to pass important legislation that makes it impossible for perpetrators of honor killings to get off scot-free," she said. "With this new law, that will no longer happen, and it will act as a deterrent.

She called Baloch's murder a tipping point.
"She exemplified a fearless woman," she said. "In her death, she has galvanized an entire nation."
Annum Masroor contributed reporting.
______
Melissa Jeltsen covers domestic violence and other issues related to women's health, safety and security. Tips? Feedback? Send an email or follow her on Twitter.
______
Related stories:
Popular in the Community