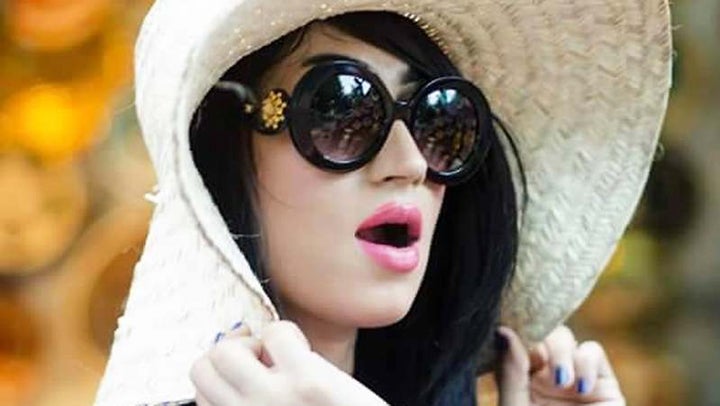 Qandeel Baloch, 26, a model and Pakistan's most popular internet celebrity, was killed on Friday by her brother in probably the country's most high-profile case of "honor killing." Her brother strangled her while she was asleep in the city of Multan.
Ms. Baloch had turned into an overnight national and international sensation because of her elegant use of social media to self-promote her work and message, urging young women to pursue their dreams and ambitions. Ms. Baloch had combined her beauty and bold views with the internet to produce a unique fearless celebrity that generations of Pakistanis had not seen before. She billed herself as a "one-woman army that would fight back no matter how many times I am pushed down."
As soon as the news of Ms. Baloch's slaying spread, more than 800 Pakistani journalists, activists and professionals signed a Change.org petition called "No Country for Bold Women." They described Ms. Baloch as a "rebel, an artist, and a gutsy feminist provocateur who brilliantly exposed the hypocrisies of a patriarchal society dominated by a narrow-minded, self-righteous moral police." The signatories demanded accountability and justice. I signed the petition and invite you to sign it here. 
Baloch was a self-made struggling female artist who refused to be manipulated by male directors and producers in the showbiz industry.
While the whole country talked about Ms. Baloch's shocking killing, Pakistan's Prime Minister Nawaz Sharif has not spoken up against this tragedy yet and this reflects a lack of commitment on his part toward ending the so-called "honor killings" in the country.
Ms. Baloch used every social media platform, including Facebook, Instagram, Twitter and Youtube, to engage millions of her followers. All followers were certainly not fans. She had more detractors than admirers. Men and women with conservative religious views detested her. They called her immoral, shameless and a bad influence on young women. Ms. Baloch was in fact none of the above. She was only a self-made struggling female artist who had refused to be manipulated by male directors and producers in the showbiz industry. She wanted to create her own world. She was rebellious and hated to be dictated to behave in a certain "decent manner."
She found social media as an instant medium to reach out to millions of people without being dependent on established music producers. She posted provocative or "bold" photos on the internet which unsurprisingly generated tremendous opposition in the deeply conservative Muslim nation. Tens of thousands of Pakistani men followed her on Twitter and Instagram that means they all secretly looked at Ms. Baloch's half nude pictures but condemned her in public. Ms. Baloch's paid the price for a society's duplicity.
Masterjee Bumbu, a Pakistani musician, who had recently produced a song on Ms. Baloch, said in an interview with the BBC that Pakistan had a problem with two things: The internet and "badly behaved women." While the government frequently censors the internet, "bad women" generally face death as a punishment for not conforming to societal norms.
Too many women face violence in Pakistan not because they are "immoral" but because men in my country have not sufficiently come forward to fight the battle for more rights and freedom for our women. Today, our women are left at the mercy of what novelist Mohammed Hanif describes as, while referring to the mullahs, the "dirty old men of Pakistan."
While the clergy remains vehemently opposed to any legislation that protects women from violence and promises more rights to women, moderate and liberal Pakistani men have unfortunately left our countrywomen alone to do the fighting for their rights.
Women in Pakistan and elsewhere should not be left alone to fight this long battle for equal rights and opportunities.
According to the Human Rights Commission of Pakistan (HRCP), more than 1,100 women were killed in Pakistan last year, mostly by their own relatives, in the name of honor. These killings have been taking place with absolute impunity for several years and actual numbers could be much higher if such killings in remote areas were also reported.
Women in Pakistan have demonstrated extraordinary courage in recent years by standing up for their rights and to help fellow women. Malala Yousafzai, the teenage education activist, stood up against the Taliban when they were stopping girls from getting education and destroying their schools. Sharmeen Obaid-Chinoy, a two-time Emmy winner documentary moviemaker, used the power of films to tell the stories of women who had faced acid attacks and, more recently, the issue of honor killing. Threatened by the impact of these women's remarkable work, powerful men regularly discredit these woman of change by calling them "foreign agents" who are allegedly motivated to tarnish "our national honor" to please "their western masters."
Women in Pakistan and elsewhere should not be left alone to fight this long battle for equal rights and opportunities. We should not naively hope that one fine morning when we wake up, all of Pakistan's "dirty old men" will have become champions of women's rights. What is needed is more involvement of moderate and liberal men in movements that seek respectful treatment for women. The political leadership, the civil society and the media must not believe that it is only the job of women's rights organizations to fight honor killing or struggle for girls' education. Women's rights are human rights. In Pakistan, we are doing very badly in terms of protecting everyone's rights but one front where the country has been doing extremely poorly is women's rights.
Women should not be required to apologize how they behave, what they wear or who they choose to marry.
Ms. Baloch would probably have lived longer if laws in Pakistan punished men who employ violence toward women. She was a young ambitious woman who would have seen her dreams materialize if men around her respected her personal choices and refrained from judging her. She doesn't owe anyone an apology for her actions. Women should not be required to apologize how they behave, what they wear or who they choose to marry. 
Changing men's behavior in a society like Pakistan's where they treat women as their personal property will take time. But a change seems inevitable. Social media have opened up the Pakistani society for conversations that were unimaginable until the recent past.
For the first time, I frequently see courageous women and men in Pakistan who write on Facebook, for example, "If you think this murder was justified, please unfollow me." That's a strong gesture and a new form of social interaction where people have begun to say that they refuse to subscribe to the extremist, conservative narrative. These conversations are extremely important to save a future Ms. Baloch from losing her life in the name of religion or honor.  
Calling all HuffPost superfans!
Sign up for membership to become a founding member and help shape HuffPost's next chapter
BEFORE YOU GO