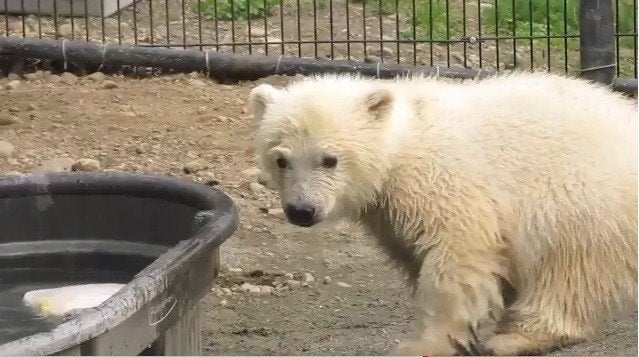 One cub is about to take the ride of her life.
Translated to "Snowflake in Inupiat, Qannik was horribly underweight when she was found in Alaska.
"Our first contact with her was when she arrived here at the Alaska Zoo and she weighed in at about 15 pounds," said Susanne Miller, U.S. Fish and Wildlife biologist. "She's quite small; bears typically in the wild at that time of year are usually more like thirty pounds, so she was quite underweight and kind of weak. She wasn't able for example to stand up very well on her hind legs."
Moving Qannik from Alaska to Kentucky is a challenging project involving officials from the Alaska Zoo, Louisville Zoo, U.S. Fish and Wildlife Service, Association of Zoos and Aquariums, Polar Bears International and UPS, but now that she is back on her feet and a healthy 60-pounds, "Operation Snowflake" is ready to go into full effect.
Qannik will be welcomed to the Louisville Zoo's brand new Glacier Run polar bear habitat, opened just a day before she was found. Experts determined Qannik would receive the best long term care there.
For more, here are a few videos of Qannik the polar bear.
REAL LIFE. REAL NEWS. REAL VOICES.
Help us tell more of the stories that matter from voices that too often remain unheard.