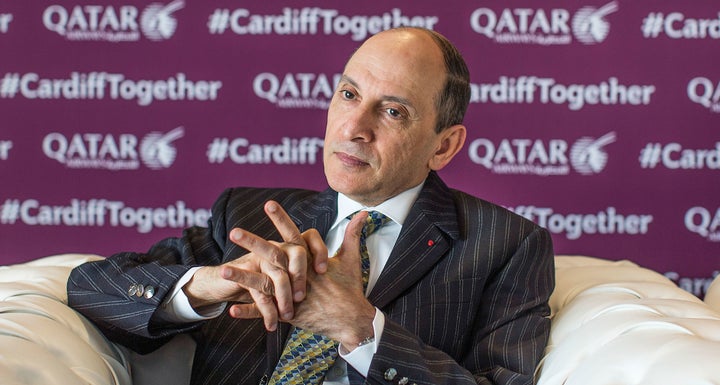 Qatar Airways can't be run by a woman, according to its current CEO, Akbar Al Baker. 
During the International Air Transport Association's annual conference in Sydney on Monday, a reporter asked Al Baker what he plans to do to bring more gender equality to airlines and bring more women into high-level positions, specifically in Middle Eastern airline companies. 
"Well, it's not in Qatar Airways," Al Baker said of gender inequality in aviation, to which the reporter responded: "Well, certainly it's being led by a man?"
"Of course it has to be led by a man. Because it is a very challenging position," Al Baker responded, prompting gasps and groans from the room of reporters. 
Al Baker, who's been the CEO of Qatar Airways since 1997, was named chairman of the IATA's board of governors for a one-year term just moments before his controversial comments. 
Listen to audio of Al Baker's comments below.
Al Baker attempted to clarify his comments in an interview with Bloomberg after the press conference.  
"I was only referring to one individual. I was not referring to the staff in general," he said.
He went on to list the efforts Qatar Airways has made toward gender equality, noting that more than 33 percent of the airline's employees are women and it was the first airline in the Middle East to introduce female pilots. 
"In Qatar we have no differentiation, female have equal opportunity like male... There is no gender inequality in Qatar Airways or in my country," Al Baker said.
When asked if he would be open to having a female CEO, Al Baker responded: "It will be my pleasure to have a female CEO candidate I could develop to become CEO after me."
Al Baker followed up on his Monday comments in a statement to HuffPost Tuesday night. The CEO offered his "heartfelt apologies," adding that Qatar Airways is made "stronger" by its female employees:
I would like to offer my heartfelt apologies for any offence caused by my comment yesterday, which runs counter to my track record of expanding the role of women in leadership throughout the Qatar Airways Group and has been sensationalised by the media. Women comprise almost half (44 percent) of our work force, and the dedication, drive and skill they bring to their jobs tells me that no role is too tough for them, at all levels of the organisation.

Qatar Airways firmly believes in gender equality in the workplace and our airline has been a pioneer in our region in this regard, as the first airline to employ female pilots, as one of the first to train and employ female engineers, and with females represented through to Senior Vice President positions within the airline reporting directly to me.

Qatar Airways is made stronger by its female employees for whom I hold nothing but the highest regard. I support all IATA initiatives to promote the advancement of women in our industry, and I am a strong advocate for these and will continue to be moving forward.
This article has been updated to include Al Baker's statement to HuffPost.
Calling all HuffPost superfans!
Sign up for membership to become a founding member and help shape HuffPost's next chapter