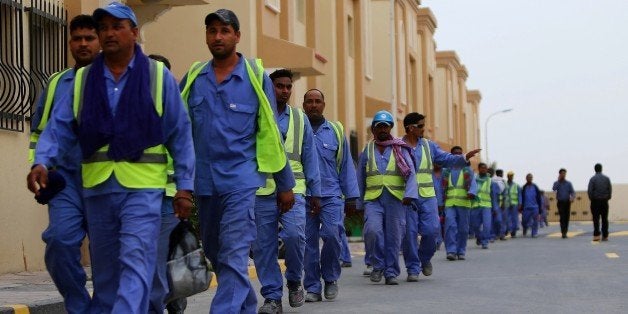 Of the Nepal's 400,000 migrant workers currently working on preparations for Qatar's 2022 World Cup, no more than 500 have been granted leave, the Qatari government claimed, according to a report published Monday by the Guardian.
Nepalese labor minister Tek Bahadur Gurung has hardly been impressed with Qatar's efforts to aid its citizens. He said that while other Nepalese workers in Qatar have been allowed to leave, those working on the World Cup were denied, citing "pressure to complete projects on time."
"They have lost relatives and their homes and are enduring very difficult conditions in Qatar. This is adding to their suffering," he added.
"These are the people who are bringing the World Cup to Qatar. But we are a small, poor country and these powerful [organizations] are not interested in listening to us," said Gurung.
Migrant workers have been the subject of rampant abuse from their Qatari employers, who've been likened to overseers of a modern day slavery operation. Under their "kafala" labor system, workers are tied to their employers for a set period, aren't allowed to change jobs without permission, and may even have their passports confiscated.
South Asian countries have been especially reluctant to speak out against Qatar's treatment of their citizens, because their economic futures are tied to the success of the World Cup. In particular, Nepal's high unemployment has turned foreign jobs in Qatar into an economic necessity. The Guardian reported that an estimated $4 billion is sent home by ex-pats every year, accounting for 20 percent of Nepal's GDP.
Gurung noted that his "people need the jobs and Nepal needs the money more than ever," but said enough is enough. "We have to help them and cannot stay silent any longer."
Gurung is planning to meet with Qatar's labour minister, Abdullah bin Saleh al-Khulaifi, next month to discuss labor reform. Qatar has boasted recently improved housing for workers, but this latest news show there is much improvement left to go.
Calling all HuffPost superfans!
Sign up for membership to become a founding member and help shape HuffPost's next chapter