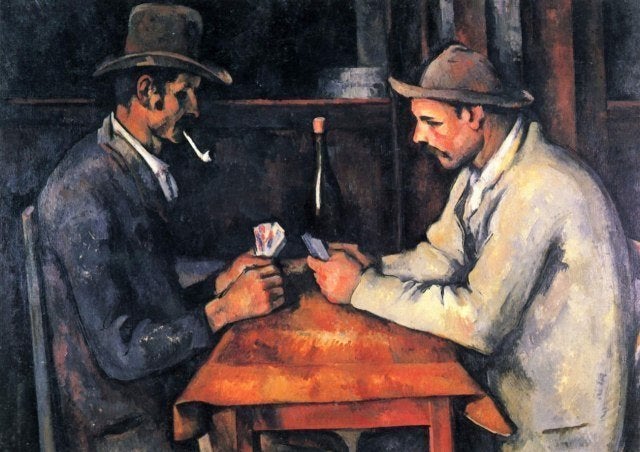 Hold onto your hats ladies and gentlemen, the art world has a new record holder for most expensive piece of artwork. The royal family of Qatar reportedly purchased Paul Cezanne's "The Card Players" in 2011. Preferring to go through brokered buys rather than competing on the auction circuit, the royal family has slowly been collecting high-profile works of art in an effort to turn Qatar into a world-class cultural center.
Beating the previous record of Jackson Pollock's "Number 5 1948" which sold for $140M, the royal family paid a whopping $250M for one of Cezanne's "The Card Players." The sale of the painting and which collection it will join has not been officially announced though Vanity Fair broke the story yesterday.
Is it worth the money? Cezanne is credited with being a huge influence on Cubism and subsequent art movements, of which "The Card Players" is a prime example. Though $250M seems a little exorbitant for anything, Victor Wiener, a fine-art appraiser cannot underplay the piece's cultural significance. "But you take any art-history course, and a Card Players is likely in it. It's a major, major image," Weiner told VF; "its sale has been rumored. Now, everyone will use this price as a point of departure: it changes the whole art-market structure."
What do you think, readers? Is $250 a fair price for the Post-Impressionist painters work?
REAL LIFE. REAL NEWS. REAL VOICES.
Help us tell more of the stories that matter from voices that too often remain unheard.
BEFORE YOU GO