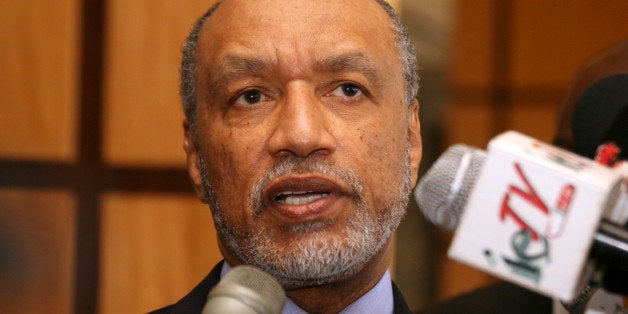 Qatar's 2022 World Cup is promising to be a rare example of a mega sporting event that leaves a legacy of social, political and economic change -- but not in the way the Gulf state's ruling family had imagined.
Controversy about Qatar's successful bid coupled with world soccer body FIFA's failure to seriously tackle corruption in soccer governance in its own house as well as its regional federations, prominent among which the Asian Football Confederation (AFC), led to this week's unveiling of indictments against 14 senior current and past soccer FIFA executives and sports businessmen.
The scandal goes to the heart of not only financial corruption but also the enabling environment of political corruption rooted in the political sway of political forces often aligned with autocratic governments like those of the Middle East within FIFA, the AFC and the Olympic Council of Asia.
The scandal is compounded by mounting criticism of Qatar's controversial labor regime and the Gulf state's failure to so far make good on lofty reform promises. That has not only prompted global corporations who sponsor FIFA to speak out but also sparked discussion on the ethical responsibility of corporate sponsors embarrassed by what crusading journalist Andrew Jennings termed a criminal organization.
Given resistance to change within FIFA as well as several regional soccer bodies like the AFC, only three stakeholders had the potential of shaking soccer governance's tree: the judiciary, fans and corporate sponsors. Prosecutors in the US and Switzerland took the lead this week.
The US Department of Justice had a legal base with the presence on US soil of the Miami-based Confederation of North, Central America and Caribbean Association Football (CONCACAF) -- virtually all those indicted hail from the Americas -- the involvement of a prominent US national, the fact that potentially illicit US dollar payments were processed through US banks, and the legislative and judicial infrastructure capable of taking on a global investigation.
By contrast, fans with the exception of a few demonstrations and statements primarily in Britain and Scotland were largely apathetic to what was a far-from-my-bed show in the stratosphere of soccer while corporate sponsors also took a lead in recent weeks with sharp statements criticizing controversial labor conditions in Qatar.
The corporates were joined this week by former and present international players who in a letter demanded that Qatar abolish its controversial kafala system or sponsorship system that puts workers at the mercy of their employers. The letter asserted that those working on the 2022 World Cup were being "held hostage on the world's biggest building site"
The combination of legal action in the United States and Switzerland coupled with corporate unrest should give Qatar reason for concern. The threat to Qatar's retaining its hosting rights is multi-fold and has increased substantially with the legal proceedings. The legal proceedings also threaten with the focus on sports rights companies to shine a spotlight on companies' cozy commercial relationships with soccer governance bodies that various regional federations, first and foremost among which the AFC, have sought to maintain at whatever cost.
While the US investigation appears to be initial focused on events in the Americas and the 2010 World Cup in South Africa, it is also looking at the 2011 FIFA presidential election that sparked the downfall of Mr. Bin Hammam. That election is closely tied to the Qatari bid and together with the FIFA vote in favor of Russia, the focus of the Swiss criminal proceedings.
Former FIFA executive committee Chuck Blazer, who has already pleaded guilty and is cooperating with US authorities, played an important role in bringing down Mr. Bin Hammam. Mr. Blazer allegedly sat next to Mr. Bin Hammam during the December 2, 2010 FIFA executive committee meeting that voted in favor of Qatar and watched the Qatari tick off a list of names of those voting for the Gulf state. The assertion was that Mr. Bin Hammam's list included the names of those whom he had bought.
Similarly, the sons of disgraced soccer executive, Jack Warner, Darry and Daryan Warner a former FIFA executive committee member and Bin Hammam associate, have followed Mr. Blazer in working with US authorities. Jack Warner, one of the 14 indicted executives, turned himself in to police in Trinidad and Tobago on Wednesday night local time.
Mr. Warner was instrumental in Mr. Bin Hammam's campaigns for both the Qatar World Cup and the FIFA presidency. Mr. Warner resigned from FIFA in 2011 to avoid legal proceedings by the soccer body. Mr. Warner warned at the time that he would bring the house down on FIFA after he released an email from FIFA general secretary Jerome Valcke asserting that the Qatar World Cup had been bought.
While the US and Swiss proceedings focus on financial corruption, they are unlikely to tackle the equally serious problem of political corruption resulting from the close association of soccer and political corruption that often served as an enabler for illicit financial dealings and are at the heart of FIFA's Qatar and Russia-related scandals, the Bin Hammam affair and the AFC scandals the group is seeking to suppress.
This blog together with the Malay Mail sparked the suspension earlier this month of AFC general secretary Dato Alex Soosay pending investigation into allegations that he attempted to have documents hidden or destroyed related to multiple potentially illegal payments as well as the group's corporate dealings.
AFC president Sheikh Salman Bin Ebrahim Al Khalifa, a member of the Bahraini ruling family that in 2011 brutally crushed a popular revolt during which some 150 athletes and sports executives were arrested. They included on Sheikh Salman's watch as head of the Bahrain Football Association national soccer team players who were reportedly tortured. Sheikh Salman failed to stand up for his players or address the allegations against him.
Sheikh Salman has further gone out of his way to bury an independent audit that disclosed massive financial shenanigans within the AFC and raised serious questions about the group's $1 billion master rights agreement with Singapore-based World Sports Group. (WSG). WSG's legal effort to force this author to disclose sources failed in 2014 with a damning Singapore Supreme Court ruling against it.
The US and Swiss legal proceedings put the Qatari World Cup bid in the spotlight. Recent revelations by The Sunday Times leave little doubt about corruption in the Qatari bid. But to be fair, Qatar and Russia played the game the way it is played in FIFA. England lost its 2018 World Cup bid for the simple reason that it insisted on walking a straight and ethically and legally correct line.
As a result, depriving Qatar of its hosting rights without also tackling Russia and more importantly radically reforming FIFA and soccer governance worldwide to root out a culture of financial and political corruption would turn the Gulf state into a scapegoat. Moreover, the question is, what is the most favorable result of the legal proceedings: uprooting a deep-rooted culture, enabling sporting mega events to be vehicles of change or punitive retribution?
While Qatar scrambles to counter potential fallout from the legal proceedings, it is certain to feel pressure to act swiftly to address concerns about the working and living conditions of workers, including those involved in World Cup-related construction projects. Migrant workers constitute the majority of Qatar's population.
To Qatar's credit, it stands out since winning its World Cup hosting rights as the only Gulf state to engage with its critics in a part of the world that incarcerates or bars entry to those who don't tow the autocrats' line. Qatar has in recent weeks been under fire for failing to make good on lofty promises and cracking down on its critics as well as foreign media reporting on labour and World Cup-related issues.
Qatar's engagement was a first step in the kind of change the 2022 World Cup can spark. So is the fact that corporate sponsors are rethinking what it means to grant financial support.
"What are brands Adidas, Gazprom, Hyundai, Kia, McDonald's, Budweiser, Coca-Cola and Visa to do over allegations of improper conduct in working conditions at the 2022 World Cup building sites in Qatar?... A brand's moral compass is being tested here and whilst many brands had commented last year, most notably Adidas who's association with FIFA extends to 2030, issued statements alongside Sony... As consumers we can influence and help brands recognise and understand that as global citizens our expectation is that we'd at least like them to demonstrate that they care and lead by example," said David Todaro, writing in Branding Magazine.
James M. Dorsey is a senior fellow at the S. Rajaratnam School of International Studies as Nanyang Technological University in Singapore, co-director of the Institute of Fan Culture of the University of Würzburg and the author of the blog, The Turbulent World of Middle East Soccer, and a forthcoming book with the same title.
Popular in the Community