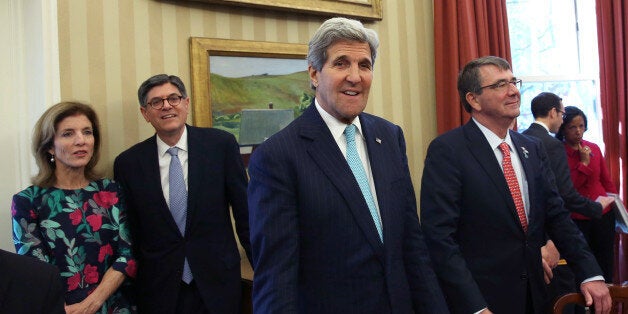 Amid intense negotiations with Iran about Tehran's controversial nuclear program, Secretary of State John Kerry outlined a blueprint for the agency's future.
"Nowadays this pace is not unusual; it's the norm. It's typical and it underscores the need for efficiency, for sound planning, and for an institution that adapts to the times," Kerry told reporters.
In addition to reviewing past policies, the document outlines several focus areas for the State Department in the years to come, including a strong commitment to curb climate change.
"The State Department and America will set an example for the world to follow toward a healthier, safer planet," Kerry wrote in an op-ed published in The Hill coinciding with the release of the review.
Describing climate change as "a threat to our national security" and a "top priority," the review calls for integrating global warming into all of America's diplomacy and development efforts. "I raise the urgency of this subject constantly with my counterparts, just as our ambassadors are instructed to do with foreign ministers," Kerry said Tuesday.
Other focus areas for the Department and the U.S. Agency for International Development are countering violent extremism, promoting democracy and enhancing economic growth. Kerry and Special Representative for the QDDR Tom Perriello also stressed they would prioritize outreach to non-state actors such as faith and business leaders, and increase the use of data for conflict prevention.
"I want a department that is open to new and better and different ways of doing things," Kerry concluded.
The United States is currently one of the largest greenhouse gas polluters in the world, but President Barack Obama has vowed to take action to combat global warming while he is in office. Just last month, the White House unveiled an ambitious plan to curb greenhouse gas emissions in the United States by a third in the next decade.
Tuesday's report is the second-ever review of its kind, Kerry said. Hillary Clinton brought about the initiative while serving as Secretary of State.
CNN notes that this year's review is far shorter than the 2010 version published under Clinton.
"By design the QDDR does not attempt to include everything," Kerry said. "There is a difference between a blueprint and an encyclopedia."
REAL LIFE. REAL NEWS. REAL VOICES.
Help us tell more of the stories that matter from voices that too often remain unheard.