Since the early 90s, GLBTQ film festivals in Philadelphia, under various names, built a huge local audience of queer cinefiles and celebrated diversity and community. Not to mention proving an impressive midsummer tourist draw. Qfest Philly was shut down in 2013, but is back now as the rebranded qFLIX Philadelphia under the organizing skills of veteran festival producers Thom Cardwell and James Duggan.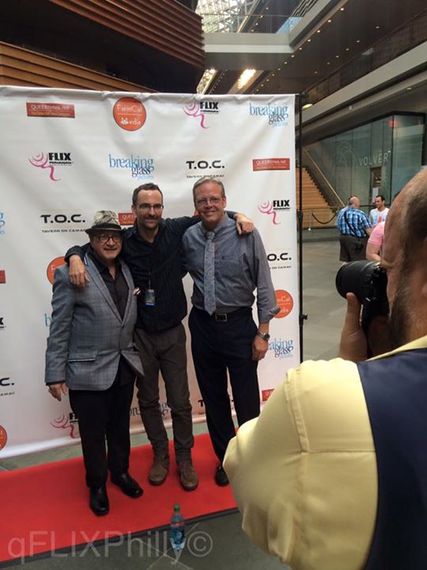 qFLIX Philly producers Thom Cardwell & James Duggan with director Joseph Graham at qFLIX opener (ph: courtesy qFLIX)
This year the festival is a paired down but deep field representation of GLBTQ cinema from around the world and in the US. Cardwell said that his team will "rejuvenate qFLIX Philadelphia as an LGBTQ film festival for the community in the tri-state area and the city. I don't think that there's ever too much arts and cultural to entertain, enjoy and enrich our lives."

The new festival kicked off July 7 with a screening of Joseph Graham's atmospheric and intimate drama Beautiful Something which is set in Philadelphia. Cardwell introduced the film to an all but sold out crowd at the Perelman Theater in the Kimmel Center. "This is after all the arts and cultural center of the city," The other new venues for qFLIX are the Prince Music Theater and the Caplan Theater on the 17th floor of the Terra Building on Broad St.
Graham was also on hand to talk about his film for a talk-back with the audience. "When one of the producers, Kelly Burkhardt, suggested that we shoot the film in Philly, I couldn't get here fast enough. We wanted to show Philly in a way that hasn't been seen on screen. It so great that the festival is back...there is nothing like celebrating our stories together," Graham said.
The film's cast and crew were also in the house, talking with audiences and posing for publicity photos in the Kimmel lobby. The next day Cardwell was organizing the many volunteers who keep everything running smoothly. He observed that there has been "a graying of the audiences" and that festivals have in fact disappeared in the US and abroad, for a variety of reasons, but they are a vital platform especially of GLBTQ themed films by and for gay audiences.
Cardwell said qFLIX will focus on bringing back the loyal audience base and be part of 'new media' tie-in social media, "to attract millennials," who are used to Netflix and instant viewing formats. "We want to develop the new festival with new media and add that dimension to qFLIX," Cardwell said.
On opening night they were testing out the digital audience film rating system accessed on everyone's mobile, which replaces the paper ballots of previous festivals.
This year the festival is shorter and with a smaller but well chosen, diverse list of films. "We have a submission process and we knew we wanted to have some world premieres. Distributors reached out. Many have had longstanding relations with the GLBTQ festivals here. Distributors have reached out. Many who have had longstanding relationships with the gay festivals here over the years. And we had a volunteer screening committee," Cardwell explained. He stressed that this year's selection focused on 'indie' films with "a capital 'I'," Cardwell noted.
Many films, especially from other countries, receive vital exposure on festival circuits. One such film is Ugandan activist-director Kamoga Hassa's documentary Outed: The Painful Reality. The festival created a fundraiser to cover Hassa's travel expenses so he present the world premiere of his movie at qFLIX. The documentary is about antigay hatred and violence in Uganda and the true story of John Alex Kigozi who was outed in the country's tabloids and targeted by the government.
"The two foreign guests we have are from the furthest distance we have ever had," Cardwell noted. The previous festivals in Philadelphia were considered among the best organized and most supported in the industry. GLBTQ stars and mainstream Hollywood actors attended screening of gay themed films and the festivals featured a forum for indie filmmakers to introduce their films and interact with audiences and distributors.
"We have a submission process, a screening committee and we targets some films because we wanted world premieres. distributors reached out. Many who have had longstanding relationships with LBGTQ festivals," Cardwell explained.
Cardwell and Duggan have also attracted previous festivals legion of volunteers and media specialists who have donated their professional skills and time to organize the new festival. Cardwell says that it is the loyal audiences that will make the new festival thrive. "What if you produce a festival and nobody came? So they're greatly appreciated and are the cornerstone of why the festival is continuing," Cardwell assured.

qFLIX Philadelphia 2015 ~ runs July 7-12~ For a complete listing of festival schedule, venues & events go to www.qFLIXphilly.com
Calling all HuffPost superfans!
Sign up for membership to become a founding member and help shape HuffPost's next chapter