ST. LOUIS -- A woman who captivated an audience at the White House earlier this month with her story of spending years in and out of jails in St. Louis County due to unpaid debts nearly had to spend Christmas in a homeless shelter with her daughter.
Qiana Williams, a 37-year-old longtime resident of St. Louis County, traveled to Washington, D.C., in early December to speak at a White House event calling attention to excessive fines and fees and their often devastating impact on middle- and low-income citizens. She talked about how the broken network of municipal courts in St. Louis County had effectively derailed her life, turning a series of traffic tickets into an obstacle that has closed her off from much of society. She urged federal government officials to be more aggressive in combating the systemic constitutional violations that exist "on such a mass scale" in St. Louis County municipal courts.
The shooting death of 18-year-old Michael Brown in Ferguson, Missouri, last August was a flashpoint for tensions between police and the communities they served in St. Louis County. Those tensions had been building for years, in large part because of the way officials were using and abusing the courts to fund the area's many small municipalities. Residents subjected to the system called it "out of control," "inhumane," "crazy," "racist," "unprofessional" and "sickening." But many municipalities considered it a helpful revenue stream.
Advocates at ArchCity Defenders, a nonprofit organization that represents Williams and many low-income residents like her, say that WIlliams' story shows the need for real change in St. Louis County, where dozens of municipal governments in small cities have relied on revenue from fines and fees to stay afloat. While the Justice Department is reportedly nearing a settlement with Ferguson following an in-depth investigation into the profit-driven policing practices in the city, there are plenty of nearby municipalities with similar problems. Some cities are even fighting a new Missouri law limiting the percentage of a city's budget that can come from traffic fines and fees.
Civil rights attorneys like ArchCity's Thomas Harvey want part-time prosecutors, judges and city officials to be held accountable for unconstitutional practices that have devastated lives. They want civil rights prosecutions. Stephanie Lummus, an attorney at ArchCity, said that clerks in the municipal courts often don't even know that people aren't allowed to be locked up simply because they're poor.
"I walk into courts every night," Lummus said, "and there are hundreds and hundreds of people who are sitting there I wish I could help."
Williams' story shows how individuals can get locked into a cycle. Traffic tickets she couldn't pay led to missed court dates, warrants, additional fees and license suspensions, which in turn led to more tickets and fines and fees she couldn't pay. Those outstanding warrants over unpaid fees kept her from getting a job: Nobody wants to hire someone with outstanding warrants, even if those warrants are simply for unpaid debts.
In the past two decades, Williams has spent over four months in total sitting behind bars because of tickets she couldn't pay. Three weeks in Pine Lawn, Missouri. Two weeks in Arnold, a city some 18 miles away. She called the conditions in the jails "deplorable." One year, Williams even had to spend Christmas behind bars. "This has been my life for the past 20 years," she said.
"My daughter suffered the most by having her parent taken away from her at any given day," Williams said at the White House event. "Christmas, New Year's, all of the nights I spent in jail because I didn't have the resources to pay the traffic tickets that I incurred over my life." Williams described staying in an "8-by-5 cell, shoulder to shoulder with about eight other women." There was no toilet. "You have to beg to use the bathroom," she said.
Just a few weeks after the White House visit, Williams and her daughter were living in a homeless shelter. In an interview shortly before Christmas, Williams said she felt her story "was received very well" in D.C.
"I've been through so much," she said. "I tried to share my story and the length of my story, and how long it's been that I've been dealing with these issues that affected my progress in this society, and how it affects my children."
Williams had been planning to move into an apartment earlier this month, but the premises failed a Section 8 inspection. A vanity was loose, a handrail needed to be secured and the gas wasn't turned on. Lummus scrambled to get the issues fixed and the apartment re-inspected, and Williams and her daughter were able to move into their place on Christmas Eve.
Harvey said that Williams' story shows how the practices of St. Louis County's municipal courts have lifelong consequences, making it difficult for residents to obtain housing, keep a job or raise children once they get caught in the web of bureaucracy.
"If people treated this issue with the urgency it merited," Harvey said, "there'd be an army of DOJ lawyers stationed in St. Louis County and throughout the country, monitoring the illegal activities of these courts, cutting off funding to the towns and preparing federal prosecutions."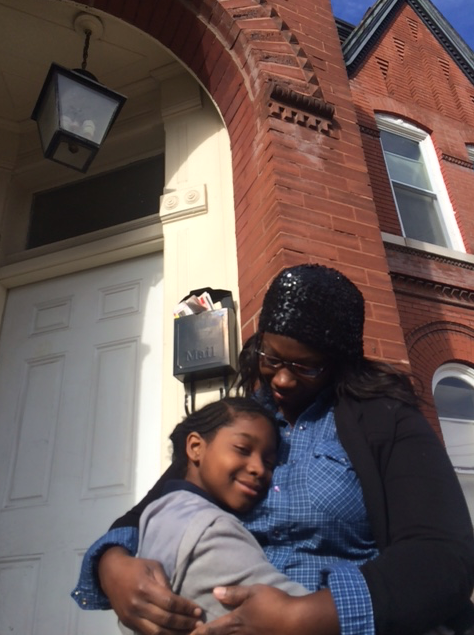 The Supreme Court has repeatedly ruled that incarcerating someone because they are too poor to pay court fines or fees is a violation of the U.S. Constitution. In 1983, the Supreme Court said that judges had to make an inquiry into ability to pay, and that only people who had the financial ability to pay but "willfully" chose not to do so could be incarcerated.
But modern-day debtors' prisons have remained. While lawyers have noticed some encouraging changes in St. Louis County since the issue gained national attention following Brown's death last year, they say there's still a lot more work to be done.
"They don't realize how much money that they're asking for," Lummus said of the courts. "They don't realize how compounded the issue is. If you only make $8 an hour, $300 can be a lot of money."
Williams now has her driver's license reinstated and has no warrants out, and ArchCity Defenders is helping her straighten out any outstanding legal issues. "At this point I don't have any warrants, but I am still suffering from not having been able to fully participate in my society," Williams says.
One of Williams' arrests took place in 2013, when she was just 12 credits away from earning her associate degree in speech communications at St. Louis Community College. Williams was arrested on an outstanding warrant related to unpaid traffic tickets. She spent three weeks in jail. When she returned to school, she found it difficult to catch up on the work she'd missed. She said she "really lost a lot mentally" from the incident.
"I wasn't able to finish my education," Williams said. "I would be the first person in my family to have done so."
Mariah Stewart reported from St. Louis. Ryan J. Reilly reported from Washington.
Calling all HuffPost superfans!
Sign up for membership to become a founding member and help shape HuffPost's next chapter