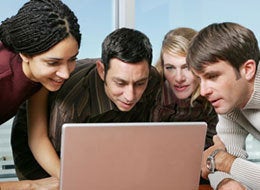 Twitter is so ten minutes ago. Now there's Qik - an application that allows you to stream live video from your cell phone directly to the web or your Facebook account or to another phone. Don't have a video camera as part of your phone? No worries, the downloaded software turns your ordinary camera phone into a cam corder while simultaneously broadcasting whatever you're doing or looking at, to the world.
Admittedly, these are early days for Qik. Not all phones support it. I tried to download it to my 3G iPhone, but it turns out I have to "jailbreak" my phone before I can proceed. Not being the adventurous type when it comes to tech devices, I searched in vain for Qik in the iPhone Apps store. Soon, I've been told. But if you do have a supported phone, then it's a matter of a few clicks and away you go.
The implications are mind boggling. Think political rallies, weather events, live births, slow deaths - all of these and more will be instantly available with a helpful Google map to show you exactly where the video is being streamed from, thanks to inbuilt GPS capabilities of most phones. We are heading for an unedited, unmediated, live view of everyone and everything, inside and out, whether we like it or not. We're going to have to get used to a Truman Show-type existence where we will both star and direct our own as-it-happens video show.
So what about safeguards? The Qik terms of service helpfully point out that it reserves the right to remove "material that is unlawful, obscene, defamatory, libelous, threatening, pornographic, harassing, hateful, racially or ethnically offensive, or encourages conduct that would be considered a criminal offense, give rise to civil liability, violate any law, or is otherwise inappropriate". And do this instantaneously? Unlikely. However, they do have a Report Abuse button under each submission. It will be interesting to see how quickly they can respond when large amounts of live videos come flooding in.
And how about kids? They are, after all, the early adopters of all things mobile. Parents have bought their teens and tweens mobile phones in their millions to keep in touch with them and, in some cases, track where they are at any given time. Do they realize they've just handed them a mobile production unit for live television? Will this take sexting and cyberbullying to a new and more challenging level?
And, consumer beware the costs of all this streaming content. There will be a new round of sticker shock as folk receive their monthly bills and see that those exciting videos they sent from their Grand Canyon rafting trip have cost them an arm and a leg.
Will the carriers be able to cope with the bandwidth demands? Will schools know how to handle kids live streaming from the playground (or locker rooms)? How about bosses being secretly broadcast by their employees from private meetings? Or recently arrested detainees sending out damning evidence of their treatment within a squad car as we watch live from our living rooms?
Who knows. All we do know is that the future just got a little closer. And you can see it live at qik.com. As their strap line so succinctly says: "See what happens".

Calling all HuffPost superfans!
Sign up for membership to become a founding member and help shape HuffPost's next chapter