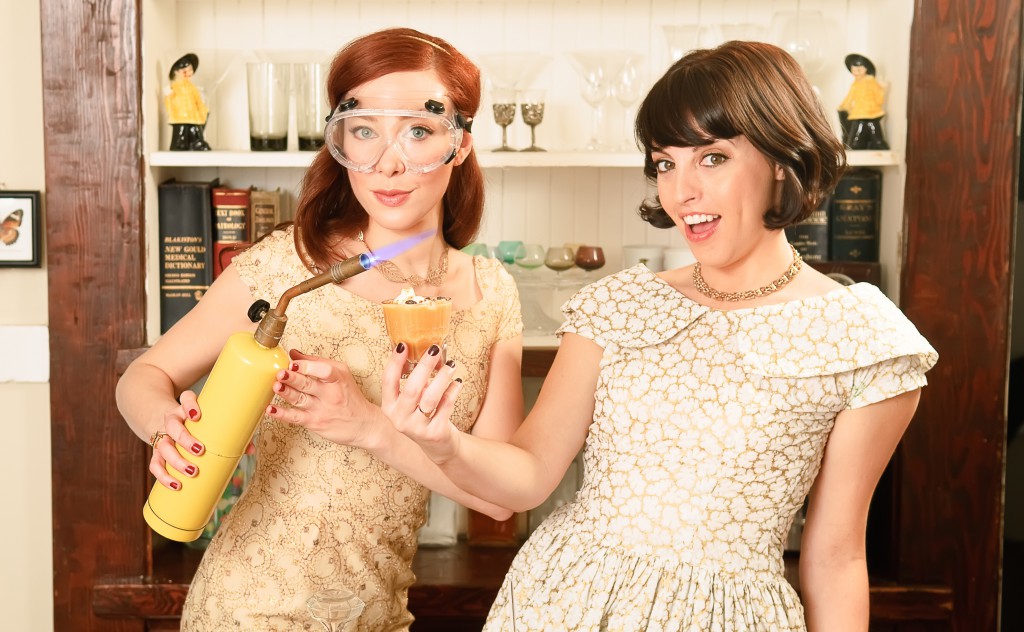 photo: Shane Redsar
My latest obsession is a hilariously charming new show on the Cooking Channel called Tripping Out With Alie & Georgia about the traveling food and drink adventures of Los-Angeles based best friends Alie Ward and Georgia Hardstark. The first season has just finished airing and I'd like to use this space to beg the folks at Cooking Channel for a second. And a third. And a fourth... Seriously. If you haven't seen the show, look it up. It'll make your day.
I recently tracked down the classy ladies themselves and got them to answer a bunch of questions because that's what I do here and it is awesome. Check it:
Where are you two now and what are you up to?
Currently we're at a cafe, sprawled out on two side-by-side matching leather club chairs, both tapping on our MacBooks and wearing identical ballet flats. We're like two weird old dogs from the same litter.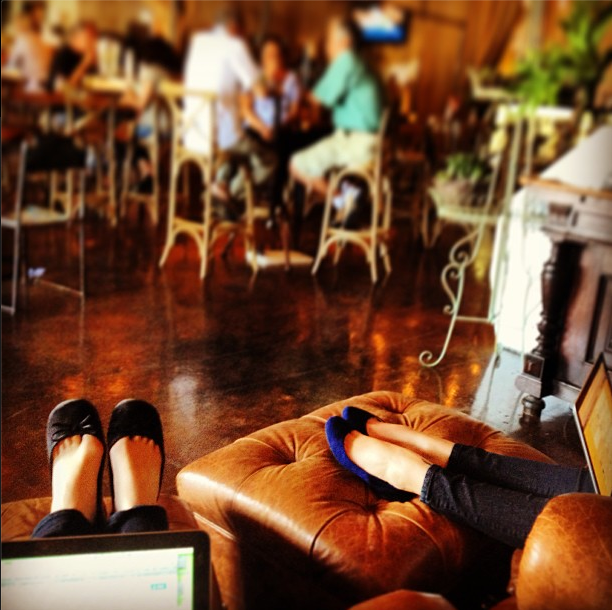 photo courtesy of Alie & Georgia
Thanks for photographing it! Congratulations on a great first season! The show is utterly brilliant. How did the concept come about?
We'd always dreamed of having a travel show, as does most of the human population, probably. We started with one cocktail how-to video that went viral (The McNuggetini), then went on to make almost 50 web videos for Scripps/Food Network featuring original cocktails and our 12 year old boy sense of humor. We got to travel as contributors for Cooking Channel's TV show Unique Sweets and then gradually convinced the network to let us roam the country eating stuff on our own show.
What were you two doing prior to McNuggettini rocketed you to fame and belovedness?
Alie was an overworked, underpaid, over-anxious journalist at the L.A. Times, and Georgia was a receptionist and a food blogger on the side. And by "on the side" we mean "when she was at her day job as a receptionist."
The chemistry between the two of you is remarkable. How long have you known each other? Is it true that you met as a result of one catching the other peeing in a bush outside a bar?
Why thanks. We've said before that we're two girls sharing one semi-functioning brain. But we became fast friends because we happen to have the same dark, dirty sense of humor, and just enough confidence to have very little shame in social situations. Hence: the bush. Hence: the immediate friendship. We've been friends since about 2007, and have been working together since 2009. Our friendship sometimes intimidates the dudes we date, as there's just no way anyone will ever know us as well as we know each other. We've seen each other through our lowest, sobbing, barfing moments and there's no way a dude can penetrate that, try as he might.
What was the best moment in the making of Season 1? Do you have a favorite episode?
Alie's favorite moment may have been dog sledding in Alaska. There's a weird rush of having 12 happy animals pulling you along, smiling and yapping. We didn't expect it to be full of such -- pardon the pun -- unbridled excitement. It felt like being a dog and just going batshit crazy with joy jumping through snow on this staggeringly beautiful snowy landscape. Georgia still can't get over that the very first scene that was filmed for the show was tightrope walking 20 feet up without a net or a harness at the Absinthe show in Las Vegas. If that had gone wrong, there would have been no show.
I like the California desert one. The mud baths kinda turned me on and the freeballing Guru guy was mind-blowing...
Alie is still traumatized by the smell of that shit-vat. Never. Again. And as for the laughing yogi: you put that guy in the desert and he's a guru. You put him at a bus stop and he's a lunatic. Also if two girls in a gross mud bath turns you on, you may want to consult a professional.
Ha! The Alaska episode was great as well. I so long to party at the Salty Dawg Saloon...
The Salty Dawg is no joke. You'll bro down with so many scraggle-bearded mariners and trust us, if you're a girl you'll have seamen all over you.
Will there be a Season 2? I demand a Season 2.
So do we. We're keeping all 20 of our collective fingers crossed. We're honestly really proud of the way the show turned out and we think -- we hope -- we'll be back.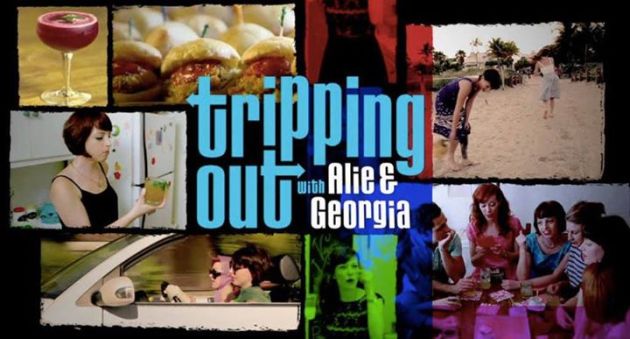 I love that Giada DiLaurentiis is one of your Executive Producers. How did you all come to work together?
We'd signed a development deal with her longtime producers, the Emmy-laden Anne and Dan Fox, and we'd shot a seven-minute sizzle reel with them. Giada (who is a total badass and comes from a long legacy of media giants) saw it and wanted on as an executive producer. Our show is the first production out of her new company, Linguine Pictures, which she formed this year with Anne and Dan Fox. If Giada would have favorited one of our tweets 2 years ago, we would have lost our marbles with excitement. So having her as a producer and huge supporter is just mindblowing to us.
What was up with the Giada doppelgänger in Vegas? Did you guys just freak when you saw her?
Dude. That was Giada. Take a moment. Absorb that. (And yes she flew in for that and yes that was a borrowed cocktail waitress halter-dress uniform. She's amazing.)
Ha! I totally fell for it. But I'm not the brightest one, so...You also have a podcast, which I checked it out. Not for the children, that! How frequently do you do those?
It depends on how much we're traveling, but we like to release a few episodes a month. We record in Alie's apartment in a pillow fort or, more recently, in a 6 foot tipi she built and erects in her living room for the sake of intimacy. We ask slumber party centric questions to our guests, most of whom are comedian/writer/awesome friends of ours, and we've found that you get better secrets out of a guest when everyone's crammed into a fort-like hideout.
OK, so some of your fans submitted questions on twitter for me to ask, so here goes:
@DaveHisaka and many men want to know if you are single?
Yep. We're both single. And no, we're not secretly dating each other.
@STephTBrooks and many women want to know where you shop for your amazing vintage clothing
There's a hidden vintage warehouse we go to first as soon as we get greenlit for a project. We can't tell you the name, but it's in downtown L.A. right near Chinatown and a historic park. No boys allowed. No dressing rooms. You drop trou in the middle of this warehouse and run around trying on cocktail dresses and gowns and fairy princess get-ups and it's amazing.
@HannahRoseJosi asks if you have any tips for making an "insane pillow fort"?
Tie strings to the corners of the blankets and then tie those strings to lamps or sconces or doorknobs! Also, Alie drafted up full plans on how to make a tipi out of some dowels and a painter's dropcloth. We need to Pinterest that shizzle and share it with the masses.
@mdamore4 asks: You each get to pick one "desert Island" album. What is it?
Alie would pick Girl Talk's All Day because if you're alone on an island you might as well dance around like a jerk. And it's one album but almost 400 samples; that's a lot of bang for one's desert-island buck. Georgia would pick David Bowie's "The Rise and Fall of Ziggy Stardust and the Spiders from Mars because it's just epically awesome and gives her chills every time she hears it.
@CleverKylee asks how you pick the destinations for your road trips?
We think of places we've always wanted to go, then we ask Cooking Channel nicely and they say yes and then we freak out that this is our job.
@lydia_012 asks if you get a second season, where would you want to go AND wants to know your favorite books & movies?
Alie wants to go to Detroit, because she's spent a lot of time there visiting friends and family, but hasn't been back in a decade. The rise and fall and rebirth of the city -- plus the insanely gorgeous architecture -- would make for a great episode. Also: lightning bugs and thunderstorms are the best. Georgia would love to explore the deep south and stuff her face with authentic barbeque and swat at mosquitoes. She also wants to go to Georgia if only to buy a ton of souvenirs with her name on them.
And finally, @DelRayTaco asks "Fish Tacos -- grilled or fried?"
Fried. Duh.
Popular in the Community