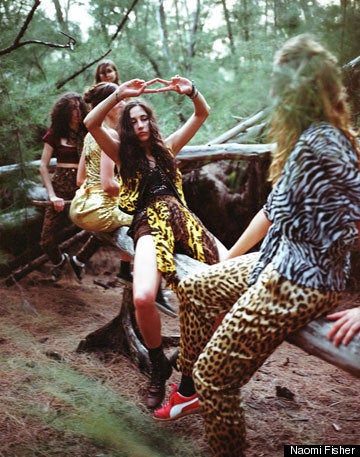 QQ1 with Naomi Fisher by Timothy Hull
Naomi Fisher is an artist based in Miami, Florida. She has exhibited widely in the past decade and has been a unique and clear voice not only on the Miami scene, but internationally as well. Her work vacillates between photography, video, and performance. However, she also utilizes the mediums of drawing and painting to posit her work into a surreal and dream-like milieu. This interview is the first of a series of Quick Questions (QQ) with contemporary artists.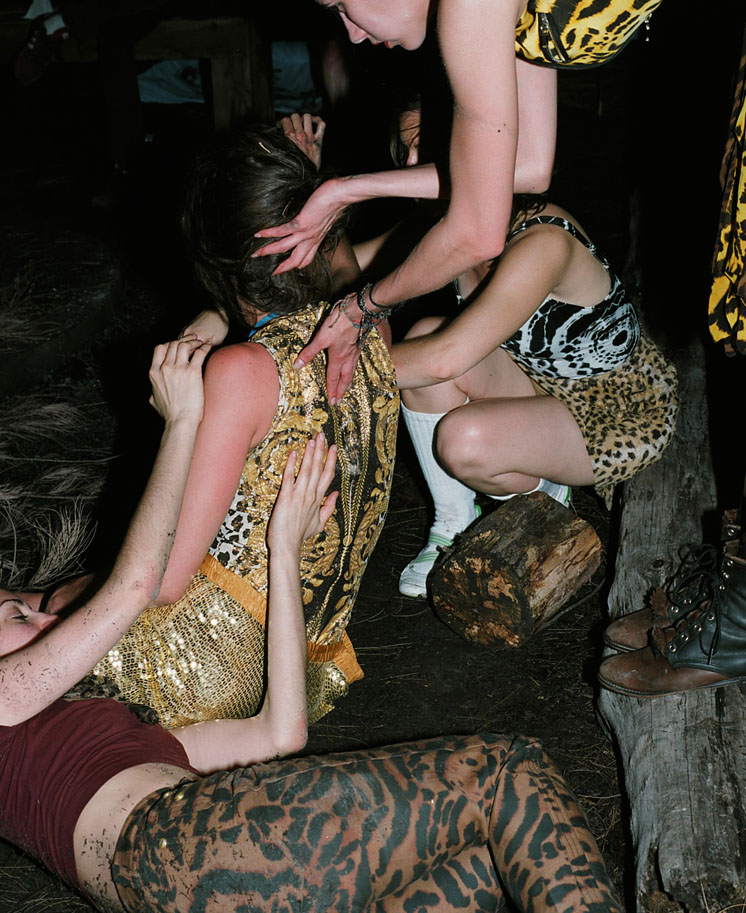 Hold Her Up
2009
c-print, edition of 3
49.5 x 40 inches, Ed. 1/3

Timothy Hull: Can you say something about what you're working on right now?
Naomi Fisher: I am in the early phase of editing MYAKKA, a video piece that is a semi-narrative film linking performance documentation from situations I staged while living for 13 days in log cabins in an area filled with palms and oaks dripping in Spanish Moss. It follows a transformative journey of a woman who leaves her home for the woods...
I worked with five amazing actors/dancers/performers to create this -- it's the largest team effort I have spearheaded to date, and is leading to a larger performance/video project that will happen as part of a residency project I am doing in early 2011 at Vizcaya Museum and Gardens.

HULL: Tell me about an aspect of your work so subtle that most people fail to recognize it.
FISHER: I have no idea. I am totally stumped by this question. I feel like people give such limited feedback to the actual maker of an artwork that I really don't know what is actually thought of my work.
In a less subtle way, I know some viewers have been intimidated by my work, seeing it as violent or dark. I have had instances where museums have specifically asked for work that doesn't show nakedness or explicit violence. Yet there is no full nudity in my work, and no actual violence. The energy in some pieces have bred the assumption that there is.
My work comes from a complex view of feminism that often gets misinterpreted. I explore the body as a humorously abject site, and see women's relationship with the world as transformative and optimistic, although sometimes needing a coat of warpaint to brave through the shit.
Mostly on the Ground
2009
watercolor, ink and acrylic on primed paper
33 3/4 x 26 1/4 in.
HULL: How do you explain your art and career to unwitting relatives at Thanksgiving?
FISHER: Ha! I say I make photographs, paintings, and videos involving women in the landscape. If they want to know more, I try to talk about how women are often associated with mother nature, but I think all genders are equally isolated from nature in the modern world... I explain how I come from a feminist perspective and am fascinated by interpretations of primitivism in modern art and how that point of view is still such a part of how society looks at the "other." There is humor, perceived violence, and beauty in my work, and I embrace the contradictions that all of these things bring up.
Fortunately, my family is pretty open and understanding. I am visiting them next week in Washington State and we are going to drive up to Vancouver to see the ethnographic museum's collection of Native American Art. My family is very open to ideas, but sometimes it is difficult for them to understand how some things can be considered art. But then again, when I brought my botanist/wood turner dad to the De La Cruz Collection in Miami, his favorite works were Guyton Walker and Seth Price... I think he liked it more because of the interesting ways they use materials, rather than for their use of appropriation and the degradation of meaning...

HULL: What artist -- living or dead -- do you presently find most inspiring and why?
Fisher: Chris Kraus. I found her books in a challenging period of my life, and her deeply perceptive and critical wit was an inspiration. I love how she merges lived experience with philosophy, art theory, and events in the larger world, and crosses mediums through film, curating, and writing. She is a total force.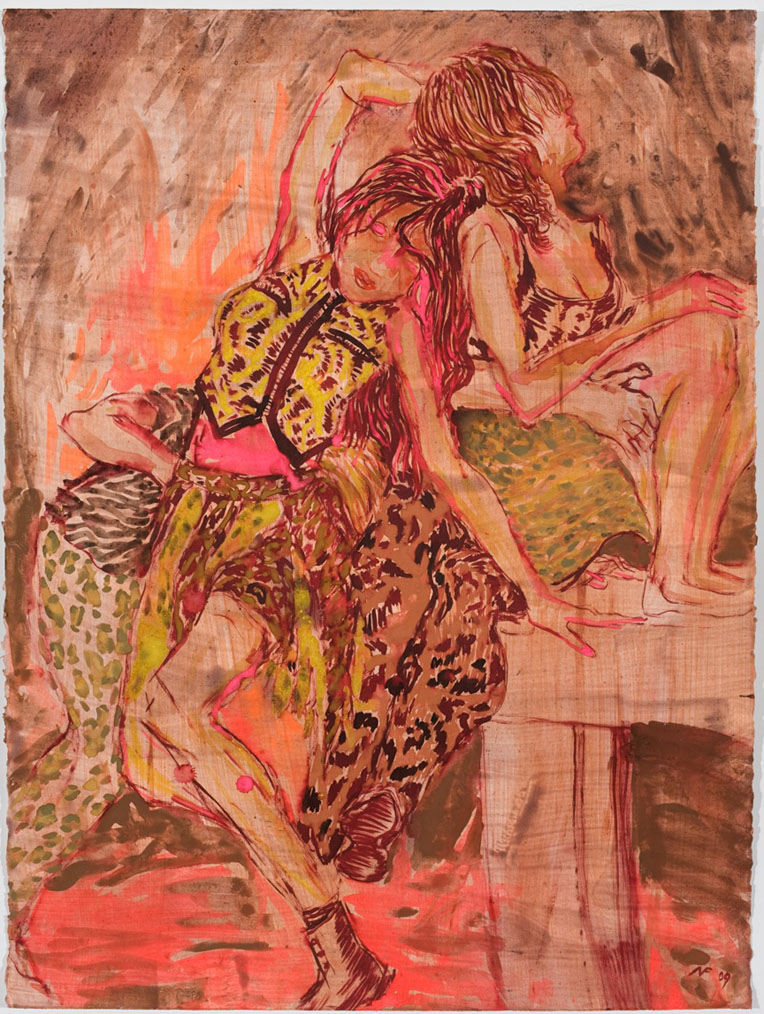 Act Like A Cheetah, How,How?
2009
watercolor and acrylic on primed paper
33 3/4x 26 1/4 in


Related
Popular in the Community