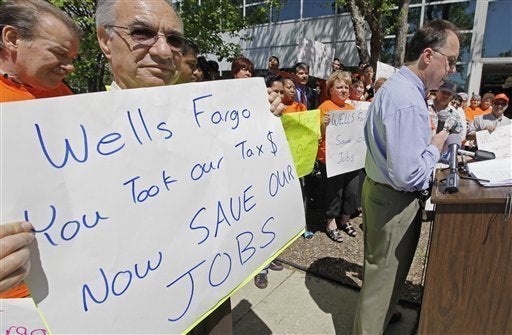 Labor activists are hoping they can do for the 100 employees of the Quad City Die Casting factory in Illinois what they did for workers at Hartmarx Corporation and Republic Windows and Doors: Wring concessions from bailed-out banks by making a ruckus.
The Moline manufacturer of engine parts told its employees that they'll be out of work come July 12. The company is declining to comment to the press, but the union is pointing its finger squarely at Wells Fargo, which it says recently refused to continue extending credit.
"In May Wells Fargo decided to no longer continue financing for the company," said Leah Fried, an organizer with the United Electrical, Radio, and Machine Workers (UE), the union that represents most of the Quad City factory's employees. Fried said that orders for parts had dropped off with the recession and the company will need tens of thousands in financing to continue day to day operations. But, she added, the factory has not lost any of its customers, and orders surged with news that plant would close. She said that Quad City is not in default on any of its loans.
Fried said Wells Fargo is being stingy about extending credit because the bank is eager to improve its capital situation and pay back the $25 billion bailout it received from the Troubled Asset Relief Program.
"They want to get out from under the TARP money because they want to get out from the scrutiny," Fried told the Huffington Post. "They're hoarding."
Wells Fargo declined to comment, referring the Huffington Post to a statement it gave the American Banker for a July 2 article titled "Stunts May Be Silly, But They're Serious for Banks."
"We empathize with the employees affected by Quad City Die Casting's decision to close its plant," Wells Fargo spokeswoman Kathryn Ellis said. "We work with our customers who are having financial difficulties as prudently as we can. Our goal is for them to be able to succeed financially and stay in business. We cannot comment further on this particular situation because our customer relationships are confidential."
On Tuesday, the union filed charges against Quad City with the National Labor Relations Board over benefits allegedly owed workers. "The company informed employees that Wells Fargo would not approve the expenditure of owed vacation pay," said a statement from the union. "In addition, they have refused to comply with a 2% wage increase due the employees under their legally binding collective bargaining agreement, pay a floating holiday, and they have eliminated health insurance coverage."
The union is planning a protest at a Wells Fargo branch on Thursday, July 9. According to a statement, the event "will dramatize the fact that Wells Fargo is a roadblock to economic recovery with a bold action" in Rock Island, Ill.
As the American Banker article noted, dramatic protests have had serious consequences for banks lately. In December, laid-off UE workers at Republic Windows and Doors in Chicago staged sit-ins that won national attention and got Bank of America and JPMorgan Chase to lend money for severance pay.
More recently, the Hartmarx Corporation emerged from bankruptcy with a new owner committed to keeping most of the 4,000 jobs at the Chicago area suit-maker. Wells Fargo, Hartmarx's main creditor, had opposed the sale. Several elected officials denounced the bank and threw their support behind the workers. They were members of the Service Employees International Union, which pressed Wells Fargo to support the deal.
Leah Fried said there are four companies interested in purchasing Quad City Die Casting.
"It's very similar to Hartmarx," Fried said. "The bank needs to do what's best for the community. It's really a question of the bank cooperating with a sale."
Bill Visnic, an engine expert and a senior editor for AutoObserver, told the Huffington Post it's hard to know what's really going on between Quad City and Wells Fargo because so few details about Quad City's financial situation have been made public. But he's siding with the union anyway, citing "bailout fatigue." The $700 billion financial industry rescue, after all, was supposed to get credit flowing to businesses.
"These big banks that got enormous bailouts for just showing up," Visnic said, "and there are these ongoing concerns here that basically sort of need a hand -- they seem to be viable businesses -- and now these very institutions that themselves said they needed these huge fortunes to keep going are strangling these very entities that they're supposed to be helping."
Popular in the Community