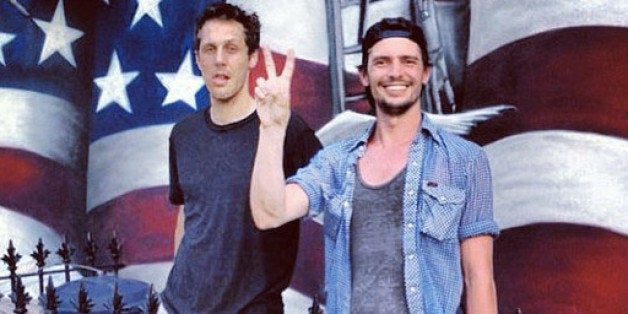 "I wanna bail, dude. We've already spent way too much money, and I'm not into her," Eric said.
"Really? But her tattoos are awesome. Did you see the dragon eating a fish on her shoulder?" replied Kevin. "Come on, one more drink. I want to make out with this guy."
It was 10:30 on a Monday night, and we had met Kyle and Jen (not their real names) on the Lower East Side for drag-king bingo. The date started out like most of our quad dates had before, with us: "Nice to meet you!" And them: "Um, we've never done this before."
Now, we'll pause here because we know what you're thinking: What's a quad date? And why would anyone want to go on one?
Well, hello. Hi. We are Kevin and Eric. We're in our early 30s. We live in Brooklyn. We're actors, and we've been best friends for nearly a decade. Kevin (gay) looks like a poor man's Paul Rudd, while Eric (str8) fancies himself a Daniel Day Lewis type. Though, these days, his ugly beard makes him look more like a guy from Ice Road Truckers.
People are often confused by our sexual identities. And by "confused" we mean, guys tend to flirt with Eric. It's an easy mistake since he has the softer features, fine wisps of chest hair and wears a side tote like the best of them. Gals tend to go for Kevin as he actually listens, asks them questions and has a really cool story about playing water polo in college.
We're also extremely co-dependent. Some people have described our relationship as "unhealthy" and in need of "a break." But we just tend to think of ourselves as friends with benefits. Benefits like shared bank accounts, vacations, metro cards, groceries, Facebook passwords and that faded jean jacket. We're also each others' emergency contacts. Well, at least Kevin has listed Eric as his. We're not quite sure who Eric has listed.
This is why we quad date, which is really just dating other duos -- a girl and her gay best friend -- but the word "quad" is more fun. Put it this way, it's like going to the movies with your best friend: You can whisper to each other during the show, and then analyze it after.
It all started around this time last year. We were having a drunken heart-to-heart about the sad state of singledom in New York City. Online dating was annoying; hooking up in bars just wasn't cutting it. Then Eric -- drunk -- suggested something brilliant.
"Hey, what if we started an OkCupid profile together?"
"Like, the two of us, but one picture, one bio?" Kevin asked.

"Yeah," said Eric without looking up from his Instagram.
"I love it," said Kevin (gay), who took it upon himself to start their joint account that night.
At the time, we didn't think much of it. We'd never heard of two guys dating together and didn't think it had much appeal. We were wrong. Within a week, we were inundated with messages.
Over the next six or seven or 12 months -- we can't quite remember -- we dated dozens of duos. Our motto? Say yes to everyone. We wanted to cultivate a super-positive online dating experience. But, as we'd soon find out, saying yes to everyone would pose problems. You see, we aren't the kind of guys who hook up with just anyone. We're choosey-ish. And we have little (no) leeway with our finances.
Which brings us back to the story of Kyle and Jen. The momentum was finally picking up; Eric was actually starting to enjoy himself. We headed to Williamsburg to watch one of our favorite performers, Reverend Vince Anderson and his Love Choir, make great music in the back room at Union Pool. Things heated up for both of us. Kevin had kissed Kyle a few dozen times, and had even scored an outside-of-the-pants, penis-to-penis touch. Eric also managed to board the make out train. Things couldn't get better. Until they didn't.
No one looks good under diner lights at 4 a.m., especially the lights at Kellogg's Diner on Metropolitan. Our quad date was entering the final stages, and we'd spent about $100 each. We were eager to wrap things up. Unfortunately, our dates weren't yet ready to throw in their towels. They had other intentions.
Kevin: "Sorry, I've got a big something tomorrow to do."
Jen: "Eric, are you busy tomorrow?"
And then they were gone, out of our lives forever. Well, until Kevin called Kyle a few weeks later when he needed a place to stay and didn't even sleep with him. But that's another story (#blueballs).
All in all, we spent a ton of money and made out with more people than is healthy. Thankfully we have really strong immune systems. (Though Eric gets slightly congested during the changes of the seasons. You know how it is. #allergies).
But are we still dating? Yes. Are we still spending money we don't have? ☹ Does Eric want to stop, but Kevin won't allow him? ☺
Besties webseries... loosely based on our real dates! But with more penises and co-dependency.
Popular in the Community