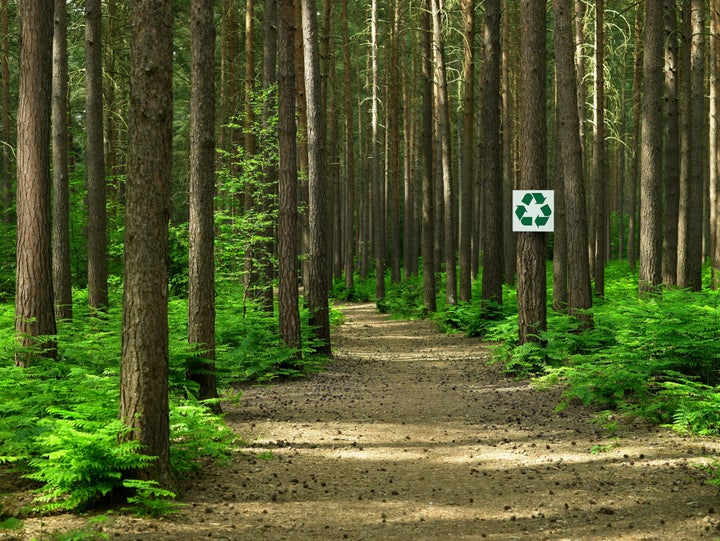 When most people hear of Quakers and social action, they think of nineteenth-century abolitionists, the early advocates of women's suffrage, or maybe the anti-war movement. Now, after decades of not being in the news much, American Quakers are applying their tradition of non-violent action to environmental issues, focusing on the link between peace, justice, and care of the earth.
Because Quakerism is a decentralized faith, Quakers don't have a common doctrine or creed, though the belief that there is "that of God in everyone" undergirds many Quaker traditions, such as opposition to war and concern for the least powerful. In recent years, a number of Quaker writers and organizations have argued that these core values and the future of our planet are threatened by an economic system that encourages people to consume increasingly scarce natural resources, resulting in environmental devastation, economic inequality, and wars for oil. The alternative they propose is living in "right relationship," which means radically changing both our individual behavior and social structures so that our way of life honors all of God's creation.
"We draw on a Quaker legacy of passion for doing the right thing and going inward to discover what the right thing is," explains the website of the Earth Quaker Action Team, which grew out of a gathering in the summer of 2009 where many Quakers felt that God was calling them to engage more vigorously with these issues. "We are people who recycle and re-use, who drive hybrids and bicycles, who take buses and shorter showers, and at the same time know that the sum of individual actions cannot make up for the destructive decisions taken by large structures. We realize we must turn to the power of collective action."
EQAT is focusing on the issue of mountaintop removal, a process that is devastating for the environment and provides far fewer jobs than traditional coal mining while precluding the development of job-producing wind farms. In traditionally poor Appalachia, the connection between environmental and economic exploitation is clear. Furthermore, because coal is a major contributor to global warming, mountaintop removal has both local and global ramifications.
In order to put pressure on the coal companies, EQAT is targeting the largest U.S. financer of mountaintop removal, PNC Bank, which has nineteenth-century Quaker roots and today touts its "green" construction policies. After meeting with PNC leaders several months ago and engaging in a public education campaign, EQAT organized a sit-in at a D.C. branch on September 27 as part of a larger day of protest against mountaintop removal organized by the group Appalachia Rising. Of the hundred people who helped close the branch for the day, four were arrested, including George Lakey.
Lakey, a Quaker whose political activism and arrest record date back to the Civil Rights movement, said that the surprise of this action was how spiritually deep it became: "There we were in the PNC Bank near the White House, sitting on the marble floor of the lobby around a mound of dirt representing a mountaintop, sharing transcendent moments from our experience in nature. Two of the students were committing civil disobedience for the first time. One later reported it was 'like church,' another that it was 'transformative.'"
While enthusiasm for this kind of action is growing, getting arrested is not the only strategy being employed by Quakers (also known as Friends). In Philadelphia, there is a series of events scheduled around October 10, the global day of climate action organized by author Bill McKibben and his organization 350.org. Friends Center, home to several Quaker organizations and one of the city's greenest buildings, is hosting a "Festival and Work Party" in conjunction with Greenpeace and the Sierra Club. Other groups, including many that are faith-based, are organizing events in almost every country on earth.
In preparation for October 10, one Philadelphia Friends meeting (or congregation) hosted a weatherization workshop to train volunteers to teach others how to caulk their windows, seal their doors, and take advantage of more ambitious, free weatherization services for those who are income-eligible. Such workshops will be ongoing, focusing on low-income neighborhoods under the auspices of the Energy Coordinating Agency. Though a secular organization, ECA has a Quaker director and several Quaker volunteers, including Hollister Knowlton, who notes, "We see this as a win-win project. It's hands-on work with our poorest neighbors that builds relationships, helps them save money and make their homes more comfortable, while actually lowering CO emissions."
Michael Gagné serves as the EcoJustice Organizer for Philadelphia Yearly Meeting, which represents Quakers in eastern Pennsylvania, southern New Jersey, eastern Maryland, and Delaware. His position grew out of the same sense of calling that launched the Earth Quaker Action Team. Gagné observes, "It seems that a growing number of Friends around the country and around the world are grappling with fundamental questions about what 'right relationship' demands of us. Even more exciting for me is the growing number of Friends who are actively and sometimes courageously living into their answers."
Related
Popular in the Community