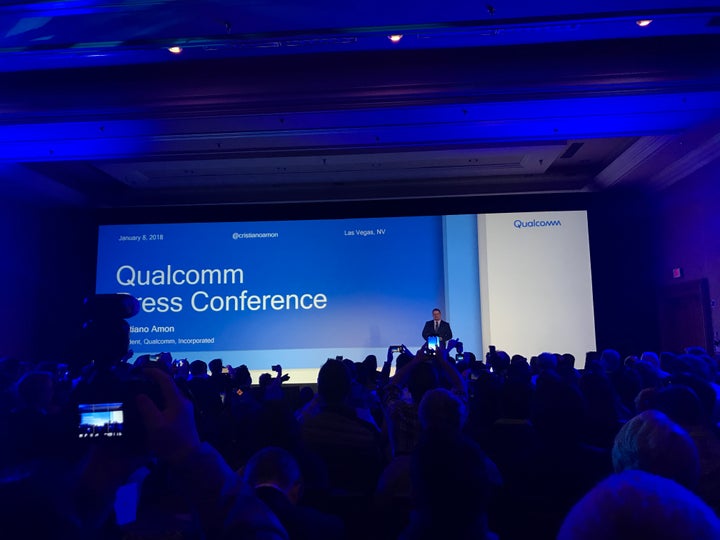 CES is upon us again, and before it even officially opened its doors today, it had a few surprises in store for the hundreds of analysts, journalists, and tech influencers invited to attend a very busy pre-show day of briefings and press conferences. As analysts who focus on the impact of tech on business and society, we tend to focus on substance over flash. Shiny new tech is fun, and we love it, but our priority is to look for big shifts in tech - the kinds of shifts that help us see where things are actually going, how fast or slowly they're getting there, who is moving pieces on the board and who isn't, and so on. That pre-show day of briefings is usually a pretty good place to get your bearings and get a good handle on what kinds of plays tech movers and shakers are betting on for the coming year and beyond.
One briefing and press conference combination that stands out enough to be worthy of mention is Qualcomm's - the San Diego-based semi-conductor and connectivity leader. As their name suggests (Qualcomm is short for Quality Communications), they are probably known better for their mobile solutions and IP (that help just about every mobile device on the planet connect to cellular service) than for their IoT, automotive, smart home, and industrial solutions and IP. If this week's pre-show announcements were any indication, that may be about to change. This year, Qualcomm shared the progress it has been making in becoming a meaningful ecosystem partner to sectors adjacent to mobile. This will probably require a deeper dive at some point, but for now, let's keep these announcements simple so you can appreciate how Qualcomm is setting up its chess board for the foreseeable future. Here are the items that caught our eye:
RF Front End design: Samsung, Google, HTC, LG and Sony have all picked Qualcomm's modem to antennae design. Outside of Apple, this represents most of the biggest market holders in mobile devices in the world. For reference the RF front-end SAM (serviceable addressable opportunity) should be about $20B in 2020, so this is a pretty big win. (For comparison, core mobile is about $32B.)
Smart speakers, smart devices, and AI: Amazon, Google and Microsoft have all chosen Qualcomm Technology to provide DSP and other critical capabilities to Smart Speakers and AI powered devices that are seeing rapid market growth.
Automotive and connected vehicles: You may not realize this, but pretty much every major automaker is currently utilizing Qualcomm for automobile connectivity. On Monday, we learned that Jaguar Land Rover and Honda have chosen Qualcomm to provide telematics and infotainment solutions for some of their 2018 flagship vehicles. For reference, the automotive sector could become a $16B opportunity for Qualcomm by 2020.
PCs: Always-connected PCs are here, with their gigabit LTE modems, 20+ hours of autonomous battery life, and hundreds of hours of connected standby, and Qualcomm's Snapdragon chipsets are what's under the hood. We already reported on the models being released by HP and Asus before the holidays, and now, Lenovo is entering the space with its new Miix 630 2-in-1 laptop. This mobile compute category could grow to a $7B opportunity for Qualcomm inside of 24 months.
Qualcomm announced that they did more than 1 Billion dollars in revenue in FY '17 in the IoT space consisting of its wearables, robots, connected cameras, industrial IoT, home entertainment, home automation and voice based technologies. Overall, Qualcomm's serviceable addressable opportunity could add up to 150 Billion dollars by 2020, with adjacent areas accounting for 77 billion of that. ($43B in IoT and security, $16B in automotive, $11B in networking, and $7B in mobile compute.)
Qualcomm is leading the way in a key aspect of wearable tech design: power consumption. Specifically, delivering power savings so that our wireless devices will last a lot longer between charges. The announcements on Monday touched on new reference designs that will deliver a 65% reduction in power consumptions for wearable audio devices (versus current best-in-market results). This is great news, and a big deal, as wearable headsets and earpieces are becoming the norms for communication on mobile devices.
Qualcomm confirmed that they hold the #1 market share for Global Wi-Fi, and for Wi-Fi in the enterprise and home. Qualcomm also leads the way with the fast-growing mesh network. Their technologies are also being embedded into the emerging Plume products being rolled out by carriers like Comcast.
Right out of the gate, one of the winners of the CES pre-show day this year was Qualcomm. It was great to see the important strides that Qualcomm is making beyond their core chip and licensing businesses. We believe that this was an especially important message for Qualcomm to deliver, given how much time financial analysts and media have spent focusing on Qualcomm's disputes with Apple, challenges from regulators, and the acquisition of European IoT giant, NXP. These announcements helped showcase the degree to which Qualcomm is not dependent on Apple to grow and generate healthy revenues.
Regarding Broadcom's interest in acquiring Qualcomm, which we believe would be a disaster, these announcements also help clarify just how off the mark Broadcom's offer was. Qualcomm is uniquely positioned beyond their core business to capitalize on mega trends like edge, IoT, connected vehicles and smart cities, all of which are hot topics at this year's CES. More on that soon.
Consider yourselves briefed.
Stay tuned for more findings from this year's CES.
Popular in the Community