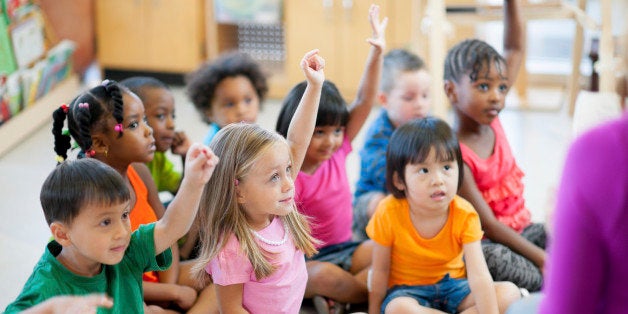 Today's 20-somethings are having fewer babies than any generation in U.S. history. One big reason is that raising children is expensive. In the Granite State, the average annual cost for an infant in a full-time child care facility is almost $12,000. For young parents struggling to make ends meet, that's a staggering expense. Many millennials want to start a family, but they're concerned that costs might be out of reach.

Recently at the Center for American Progress, a Washington think tank, I helped to launch the group's aptly titled "Within Reach" campaign, which aims to make quality child care and pre-kindergarten affordable for today's young parents. I raised three daughters and have seven grandchildren, so I know firsthand that working parents can be fully productive members of the workforce only when they know their children are receiving quality day care.

As governor of New Hampshire, attending my first National Governors Association meeting in 1997, I was struck by a presentation on children's brain development. We were shown a graph illustrating that the pace of a child's brain growth, concentrated in the earliest years, is inversely proportional to the distribution of our public investments in young people, which are concentrated in the later years. Meanwhile, in New Hampshire, we found that businesses were losing tens of millions of dollars a year as a result of child-care-related absenteeism, and that 25 percent of workers were forced to change jobs or switch to part-time work because they couldn't find satisfactory child care.

Most elected leaders on both sides of the aisle understand that investments in early childhood education offer big returns. Research shows that children who attend high‐quality preschool programs are less likely to be held back in school, to engage in criminal activity, or to utilize the social safety net later in life. They are more likely to graduate from high school and have higher earnings as adults. As a Democratic governor, I worked with a Republican legislature to dramatically expand public kindergarten, opening the door for an additional 25,000 children in our state.

I am pleased that Congress has included one of my top priorities, expanded funding for early childhood education, in the Every Student Succeeds Act, new legislation reforming K-12 public education. In addition, I am working hard to modernize the Child and Dependent Care Tax Credit, which provides a tax credit for a portion of child care expenses. Reforms that I have introduced would increase the amount eligible for the credit, index it to inflation, and make the credit fully refundable for lower-income families that do not owe federal income tax.

Let's be clear what we mean by high-quality child care and early learning. Quality care requires trained, qualified providers operating in safe, well-equipped facilities. It means not only numeracy and literacy, but a nutritious diet and nurturing staff members. And it means rich exposure to words and language, especially for children being raised in poverty.

It is critically important that we address the "30 million word gap." University of Kansas researchers spent time in the homes of 42 families from various socio-economic backgrounds to assess the ways in which daily exchanges between a parent and child shape language and vocabulary development. The researchers found sharp disparities among income groups, including the shocking fact that children from high-income families are exposed to an estimated 30 million more words than children from families on public assistance. Follow-up studies showed that these differences in language exposure have lasting effects on a child's performance later in life.

If we expect education to be the great equalizer, then it's not good enough to start at the college level, or the elementary and secondary levels, or even at the kindergarten level. We need to start in children's earliest years. In fact, we need to start before they are born, with proper nutrition and prenatal care.
Granite Staters have a unique opportunity to spotlight access to quality child care and early learning as a priority issue in the 2016 presidential campaign. Some candidates have already offered robust proposals to achieve universal preschool. As we meet with the candidates and ask questions at campaign events, let's demand that every candidate offer a credible plan to advance this important national priority.
Popular in the Community