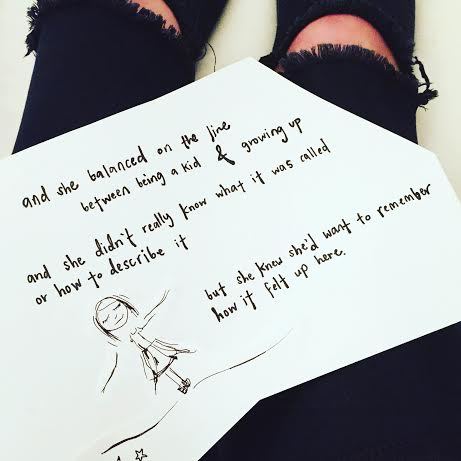 We realize that we are all going through something similar that we can't quite put into words. We fear the unknown yet don't fully embrace the known. We make plans for the future, dreaming of a world filled with perfectly delivered answers.
We straddle between the young and the old. We seek answers that no one seems to know, clinging onto advice from people we admire hoping to hear words that we desire. We reminisce the days of adjusting the antenna to see Kenan and Kel or countdown with Carson Daly at TRL.
We used to go to the library to get lost in a world of letters printed on actual pages, traveling from Severus Snape to Lemony Snicket to Nancy Drew. We once plugged in the phone line to the PC, patiently waiting for the connection to go through. We splurge on physical magazines, grasping the print generation we once knew. We see the kids with their smartphones and wonder what it's like to grow up in an interconnected world. We grew up in a world of 2D and now live in 3D while younger kids obsess about 1D.
We watch as our friends fall forward in life. We try our best to listen, learn and discover - yet feel like we are not doing enough. We share stories of first dates gone wrong, often lost between a world of swipes and in-person creepers.
We learn to live with loss and to be alone. We find out that life is incredibly short - one day everything seems fine and the next day our world shatters into a million pieces. We learn to rebuild ourselves, to see the world in a new lens while desperately holding onto the memories we once shared.
We discover that growing up isn't as simple as we had once wished. We try to document every bit of our lives with snaps that disappear into the air, barely remembering the instagrams we took months ago here and there.
We strive for independence yet seek attachment to our digital devices. We have so much at our fingertips yet so little to permanently grasp onto. We are quietly lost in all the noise.
We are not sure if we're fully grown up yet. We are somewhere in between, happily dancing between the moments, soaking it all in and hoping that this feeling will never escape. We want to grow up and we don't want to age. We run blindly towards the sun, hoping that that's the way we've always hoped to run, questioning our decisions each step of the way, feeling like we are closer to finding our calling each day.
We are a draft on its way to being published -- soon to be discovered in the universe.
We are a work in progress.