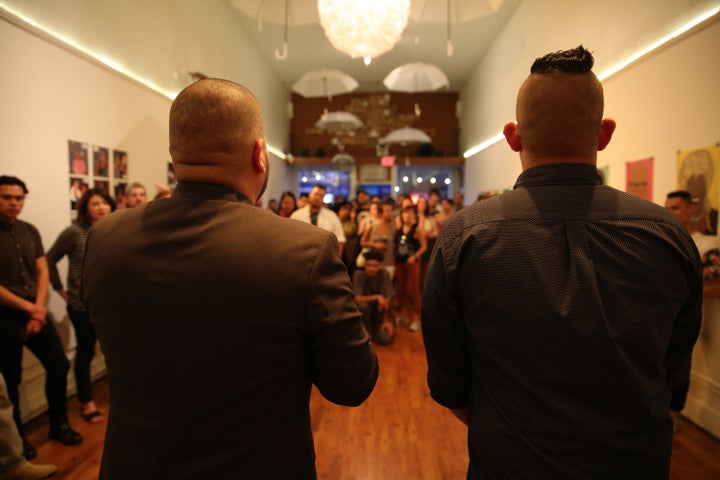 When my friend Vanessa Camarena-Arredondo, executive director of Oakland's Studio Grand, pitched me and my friend Chucha Marquez the idea of curating a pride-theme show, we immediately knew that we had to use this opportunity to honor the lives we lost during last year's Orlando shooting at Pulse Nightclub. As Chucha and I we were thinking of titles for the show, I offered we use the name I'd titled a series that was inspired right after the June tragedy: Que Siga La Fiesta.
In these sets of graphic illustrations, my goal was to honor our brown and black migrant, queer and trans community by capturing their resilience and beauty while dancing, drinking and just having a great time in their local gay bars or clubs. The reason why I was inspired to capture these moments was because right after the Pulse attack, the national media flocked the Orlando area to cover the tragedy and I was reminded of the constant danger that we as queer and trans people of color must deal with on the daily. That was, of course, their job. But after confronting the sadness that came with this tragic loss, it dawned on me that it took the death of 49 black and brown for our stories to count. It took tragedy to see the stories of people who looked like me and my friends to be in the conscience of straight (and gay) white America.
"It took tragedy to see the stories of people who looked like me and my friends to be in the conscience of straight (and gay) white America."
I turned to my art to deal with this anger. As I traveled the country doing lectures, workshops and curating art shows in various college campuses, there was always a group of brown and black queers who wanted to take me to their spot. A spot where they could dance, have a drink and call their own. From crowded clubs in the Castro and smoky bars in El Paso with Mexico as a backyard to POC-themed nights in New York, I got to experience and document these spaces by taking photos of old and new friends that captured a time where they were not dealing with the racist, homophobic and transphobic bullshit that this society throws at us as queer and trans people of color. I'd then sit in airports, bus and train stations and create the illustrations that eventually became "Que Siga La Fiesta: Queer and Trans People of Color Club Takeover."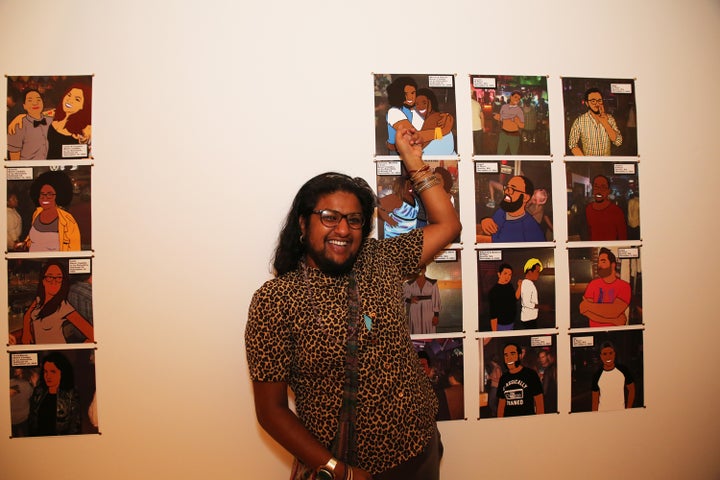 The week leading to the opening of the show was hectic. With the help of close friends, we painted a temporary mural that paid homage to those who came before us and who used nightclubs as a refuge to be themselves. Painted in the mural was Jose Sarria, who was the first openly gay man to run for office and a fixture at San Francisco's The Black Cat Bar; Marsha P. Johnson, who was an icon of the Stonewall riots; Brenda Lee Marquez, who lost her life the night of the shooting at Pulse Nightclub; and Dorian Corey, who guided us through the ball scene vernacular in the documentary Paris Is Burning. My friend Chucha created portraits of artists and performers that included RuPaul, San Cha, Juan Gabriel and Persia.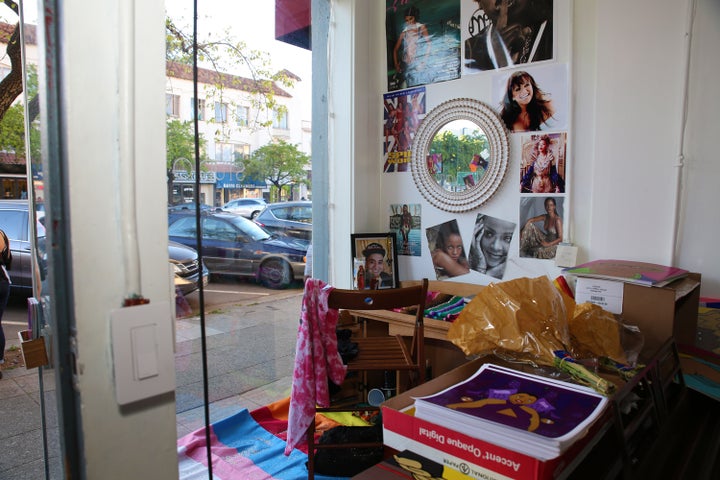 Another aspect of the show was a small installation we had in the corner of the gallery that faced the street. In this installation, Chucha and I wanted to recreate a young queer's room. We filled one side of the wall with some of our favorite divas: Beyonce, Lil' Kim, Jenni Rivera and Rihanna. There was a small zarape-covered dresser with some of the essentials: cologne, empty bag of hot Cheetos, booze and an old Mexican consular identification. There was also a portrait of one of Chucha's friend, who left this world around the time of the Pulse tragedy. You see, if you're a lucky young queer, you'll get a room of your own where you can be free to be yourself. If you grew up poor like me and your room was a small laundry room in a one-bedroom home, you made the best out of it and decorated its walls with Spice Girls' lollypop wrappers (it was the '90s). But the biggest goal of this installation was a sort of moment of silence for those 49 lives we lost. For most of them, the last thing they saw was their room. The place where they got dolled up, maybe pre-gamed and joked with their friends. A ritual that queers and trans folks across this country do right before going out and having a fun night. It was our way to honor them by celebrating this ritual.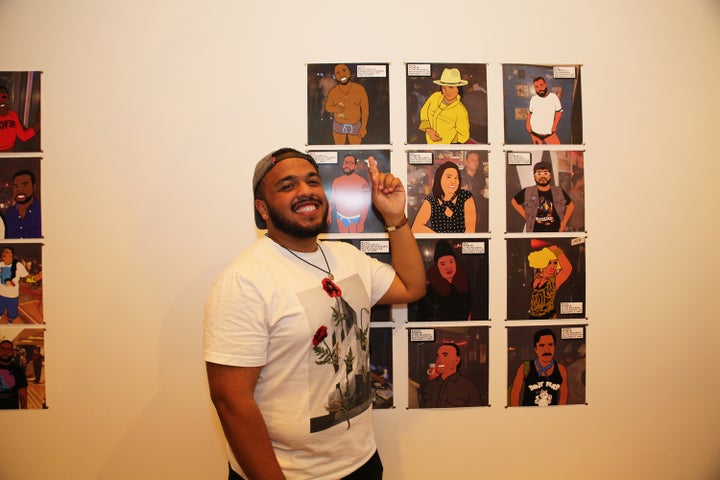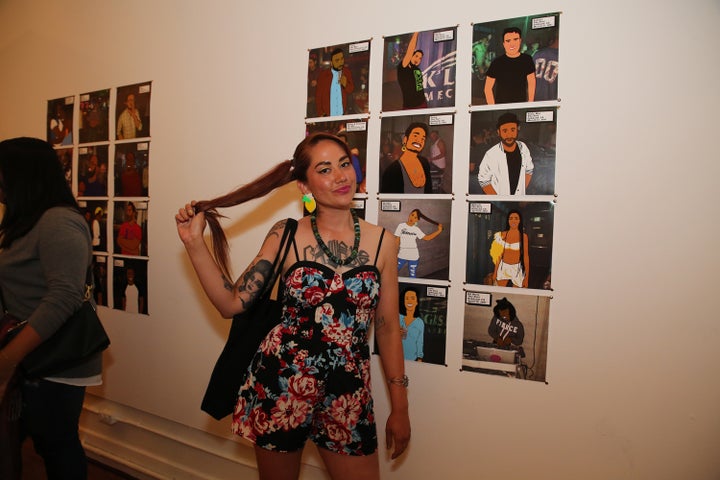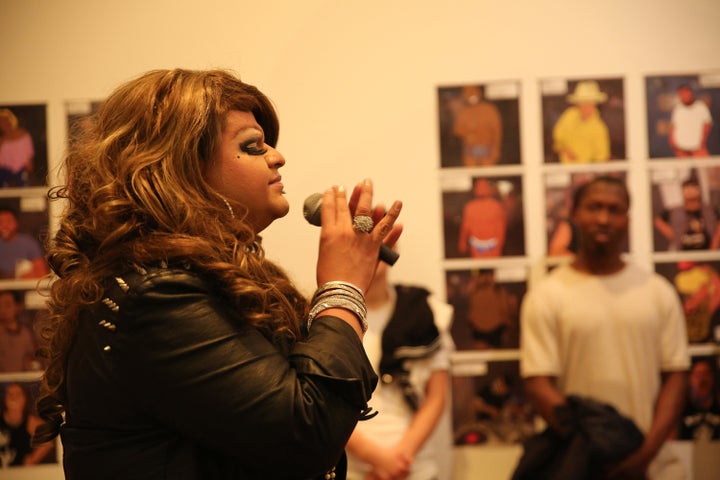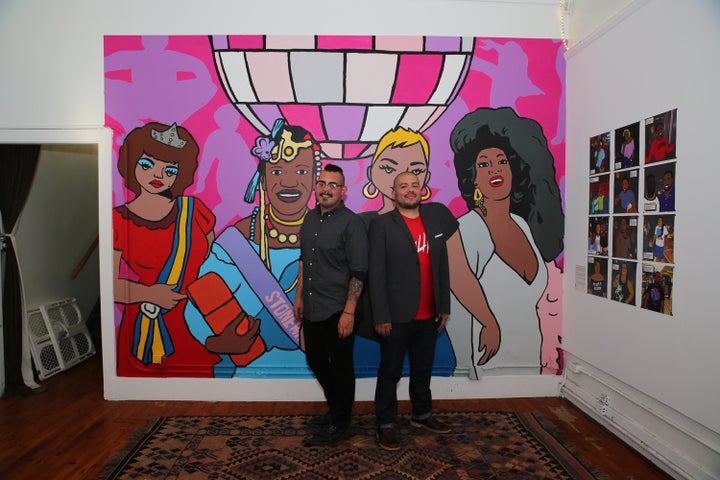 When we opened the show on May 20, the Oakland gallery slowly began to fill with a bunch of familiar queer and trans faces whom I'd illustrated. Seeing them so excited and taking selfies next to their portraits assured me that art is indeed the tool we can turn to in times of crisis and loss.
Que Siga La Fiesta will be up until June 25th at Studio Grand in Oakland, CA.