We will rock you... with trivia.
Freddie Mercury's birthday is today, Sept. 5, and if he were still alive he would have turned 68 years old. Considered one of the greatest singers of all time, despite having no formal vocal training, Mercury regularly put more than should have been expected into performances.
For the recording of "The Show Must Go On," Mercury was nearing his last days of his battle with AIDS-related bronchopneumonia. The band wasn't sure if he'd be able to accomplish the vocals, but Mercury swigged some vodka, said, "I'll fucking do it, darling," and legendarily pulled it off in one take. True royalty. Here's five things you didn't know about Mercury and Queen.
1. Queen wasn't going to release "Another One Bites the Dust" as a single until Michael Jackson convinced them. It became the most successful single of their career.
The song was written by bassist John Deacon. Multiple members have confirmed that Michael Jackson convinced the band to make it a single, with Brian May explaining that Michael came to them after a show during the Game Tour and told the band they were "mad" if they didn't release it.
Apparently a roadie may have also made this suggestion, but the band just wasn't into the idea until it came from Jackson. Drummer Roger Taylor even remembers saying, "That will never be a hit."
The song ended up selling over seven million copies to become their most successful single.
Later on in both their careers, Freddie Mercury and Michael Jackson intended to release a collaborative album, but Mercury walked out on the sessions when Jackson insisted on bringing a llama into the studio.
2. Despite the popular song's lyrics, Freddie Mercury didn't like riding bicycles.
In the song, "Bicycle Race," Freddie Mercury claims, "I want to ride my bicycle. I want to ride it where I like." This apparently isn't true. Guitarist for the band, Brian May, claimed the song isn't "autobiographical" and said:
As I remember ... he actually wasn't very keen on riding his bicycle (if he even had one!) -- he preferred being driven in a Rolls Royce! But he created a character in the song, and this character can say what he wants, and he can ride his bicycle where he likes!
May also pointed out that this means the line "And I don't like Star Wars" is completely false as "Freddie liked Star Wars a lot." Mercury even rode on Darth Vader's shoulders during shows!
3. Freddie Mercury referred to Queen as "the bitchiest band on earth."
In an interview from 1974 with Melody Maker, right as Queen was starting to truly take off, Freddie Mercury claimed the band had its quarrels:
We tend to work well under pressure. But do we row? Oh my dear, we're the bitchiest band on earth. You'll have to spend a couple of days with us. We're at each other's throats. But if we didn't disagree, we'd just be yes-men, and we do get the cream in the end.
Mercury seemingly had a thing with being under pressure, and released a song about just that with David Bowie in 1981.
4. Guitarist Brian May built his iconic guitar from scratch as a teenager.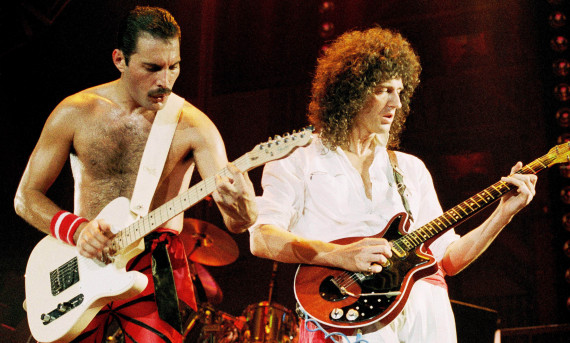 Brian May is a pretty incredible person. Besides being one of the greatest guitarists ever, May also has a PhD in astrophysics, co-authored two scientific articles while Queen was at its height, is now a strategic advisor for the Sentinel Mission and way back when built a guitar from scraps that'd last him a lifetime. May tells the story on his guitar website:
I designed an instrument from scratch ... The result, after two years of spare-time work, exclusively with hand tools, was the instrument I now call my "Red Special" -- or the "Old Lady" -- the guitar which has been a part of me through 30 years of live concerts and studio work with Queen, all around the world.
5. Freddie Mercury once dressed Princess Diana as a man and took her clubbing. Nobody recognized her.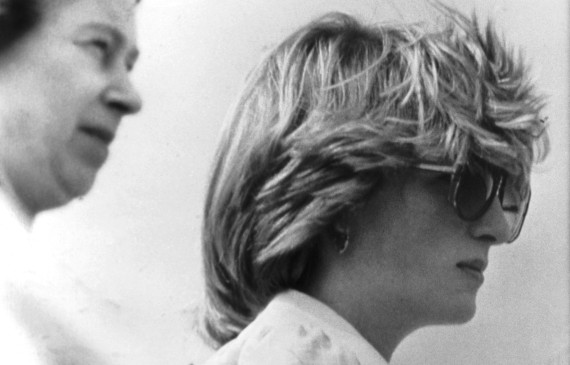 Maybe this is just Freddie Mercury-related, but comedian Cleo Rocos writes in her book, "The Power of Positive Drinking," about a night she hung out with Princess Diana, Kenny Everett and Mercury. Watching "The Golden Girls," they lowered the volume and acted out a more lewd plotline with Princess Diana as Dorothy and Mercury as Sophia. After that fun ended, Mercury mentioned to Princess Diana that the three of them were going to a notorious gay bar called Vauxhall Tavern in London. Princess Diana insisted on coming despite pleads from Everett and Rocos. Mercury said, "Go on, let the girl have some fun. Can you imagine?"
Princess Diana ended up disguising herself as a "rather eccentrically dressed gay male model." Nobody recognized her as she ordered a white wine and a beer. The princess and Mercury apparently giggled like "naughty school children."
To the champion of the world. (1946 - 1991)
All images Getty unless otherwise noted.
Calling all HuffPost superfans!
Sign up for membership to become a founding member and help shape HuffPost's next chapter
BEFORE YOU GO
PHOTO GALLERY
Hungarian Rhapsody