 Sean Moran is an actor, writer and producer with such titles to his name asGrease,Grey's Anatomy,The West Wing andER, to name just a few. His newest project brings his skills to the Internet in a Web series calledQueen Dad, which he is taking to Indiegogo for financing. I sat down with Sean, the star ofQueen Dad, to get the details on his newest queer project.
A.J. Walkley: Tell me about Queen Dad. Where did the idea come from?
Sean Moran: My writing partner Don and I always write best from truth, so this came from an ember of the truth: My best buddy in high school came home one day furious that his dad was leaving the family "for another fucking dude," as he put it -- the beginning of an idea I carried for years. Don and I kicked it around, had actually placed the character in a sitcom, then decided on the new-media format, and the character of Monty was born: a regular guy, a plumber, a drag performer with a homophobe for a son; a modern-day family we see more and more each day as more men and women who have flirted with the idea of bisexuality have actually come out as gay (although I really feel that all folks are bisexual and are swayed one way or the other for family, religious or professional reasons).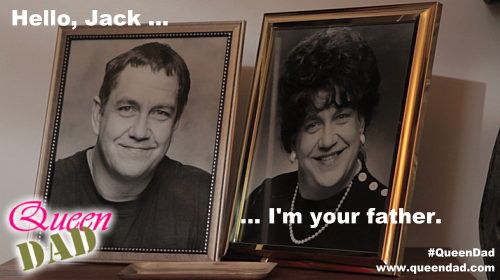 Walkley: What do you hope to accomplish with this Web series?
Moran: First of all, to entertain, to make a product of quality that can change a few minds along the way. Interestingly enough, having a young crew from Vermont, we have even raised a few brows and challenged the perception of a regular ol' guy, a plumber, who dons a dress and six-inch heels at night as being kind of normal.
Walkley: Are there any potential issues with the subject matter of the series that you foresee?
Moran: We have tried to troubleshoot along the way, approaching GLAAD of L.A. to view the pilot script before we shot any footage. We wanted it to ring true and not to offend. We had some hardcore "gays" who felt we mixed it up with too many women in our drag club scenes... and of course the use of the word "fag" (which is used only once by the son when he first meets the father). Rightly so, we equate it with the "N" word. Also the bisexual story line: I was insistent that it be a real big story line, because in real life it happens all the time! Now, I can't tip the end of the first season by letting you know if it's happily ever after, but it's reality-based. We have been called on that too. Come on, does a man marry a woman for a long time then just switch? No, they don't just switch! This is a process in a person's life -- two lives if he or she is married -- that they live with all their lives.
Walkley: Why have you chosen to crowdfund this project?
Moran: We paid for the pilot ourselves -- every caterer, location, costume, prop, light, and, yes, salary! As producers, Don and I were adamant in paying every single person, cast and crew alike, something for their work. Not what they are worth, but something. Being in this business for 35 years professionally, carrying three union cards since 1977, I have often done things for free and on spec, and we just decided never to do the project if we couldn't pay. So we did the pilot, paid everyone, received a good chunk for the remaining episodes from a fan, and we are going the crowdfunding route for the rest, looking to those who want to be a part of a quality piece of work.
Walkley: What kinds of rewards are associated with donating to Queen Dad?
Moran: We have photos, T-shirts, tote bags and DVDs of the entire season. For the bigger donors we put them or their company names in a scene and even have three guest star spots -- a scene with the leads in one of the episodes. We spent some money on these, but it is worth every penny, and of course just knowing you are part of a little slice of Hollywood history.
Walkley: Why should people contribute?
Moran: I believe the message is important; it's not all fluff. It's not about pretty people living in a fantasy land of a sitcom; it's a real-life situation with authentic people: the chubby plumber who works in your house; the kid who hitches across the States to meet the dad he's never met, only to find out they don't know one another at all and must learn to compromise; a man who loses his wife and finds the attraction of another man possible. Just like life.
Walkley: Well, I, for one, think there is definitely room for more queer series in film, on TV and online. This definitely sounds like a fantastic project, and I personally cannot wait to watch! Are there any last words you'd like to leave readers with?
Moran: As artists we often suffer for the work, but six-inch, black-leather stilettos? Come to Indiegogo and find out just how well I mastered that!
Popular in the Community