NEW YORK ― Queen Latifah is all about using her success to lend a helping hand to women and minorities in the entertainment business.
The musician and actress discussed the need for diversity in entertainment and advertising during a panel for Tina Brown's Women in the World Summit on Thursday afternoon. Latfiah was joined by moderator Katie Couric, advertising executive Madonna Badger, Chief Brand Officer of AT&T Fiona Carter and Chief Brand Officer for P&G Marc Pritchard.
After breaking through as a rap artist, Latifah said she began to realize the stark sexism so many women face in the music industry.
"When you get to a record company and you realize that you're not getting the same marketing dollars as your male counterparts in the same business — you're already fighting," she said. "You're fighting, number one, to be a female rapper. You're fighting to get the same dollars and marketing that your male counterparts would get, an uphill battle. I was always fighting from the beginning, so getting in a comfortable position to fight was no big deal — let's go, who want it?"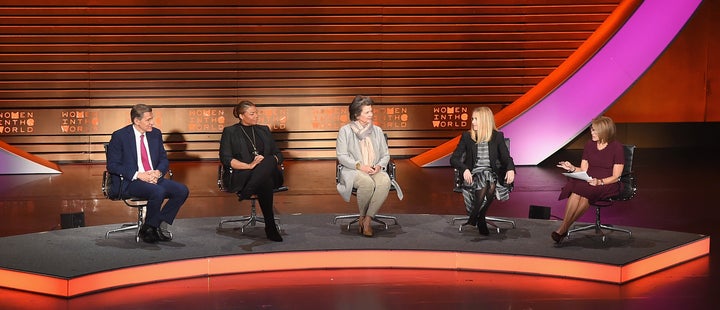 Once Latifah got into a position of power, she realized she needed to represent the underserved communities she used to be a part of. This time, it was through her influence as an executive producer.
"I could make a movie like Beauty Shop, that shows a woman just trying to become a successful beautician against all odds and employ other people," she said. "Each one of these things is an opportunity to make change, and it doesn't have to be huge but each little step and choosing to show that image of a woman trying to make it with a young child and being able to go against all odds and be able to pull it off, those are the women I know and their story needs to be told."
Toward the end of the panel, Latifah asked the audience to also remember our young boys when it comes to fighting sexism across industries.
"We have to think about our young men and we have to think about some of the pressures we're putting on them," she said. "It is about women and the power that we have and what we deserve, but we also have to think about the images we're putting out there for our young men. And some of our grown men are apparently still boys and they need to get the proper re-education about how to look at women."
Watch the full 30-minute panel below.