In 1990, the year I came to New York with my shiny, all-but-useless B.A. in theatre, posters were wheat-pasted all over downtown with a huge black and white photographic image of a broad, beautiful, but most definitely lived-in female face and four huge letters: L, E, A and R.
The posters, I wasn't quite sure what for, were so arresting: those limpid eyes, deeply humanistic, but with a steeliness that commanded and deserved attention and those giant letters referencing that Mount Everest of play and role. I would be damned but I would find out what this was all about. And so I discovered a ground-breaking avant-garde theatre company; what would become a legendary gender-bending adaptation of Shakespeare's King Lear; and an amazing and unique actress who eventually I would come to know for a spell as a colleague and a bit of a mentor during my own salad days pursuing a life in the theatuh.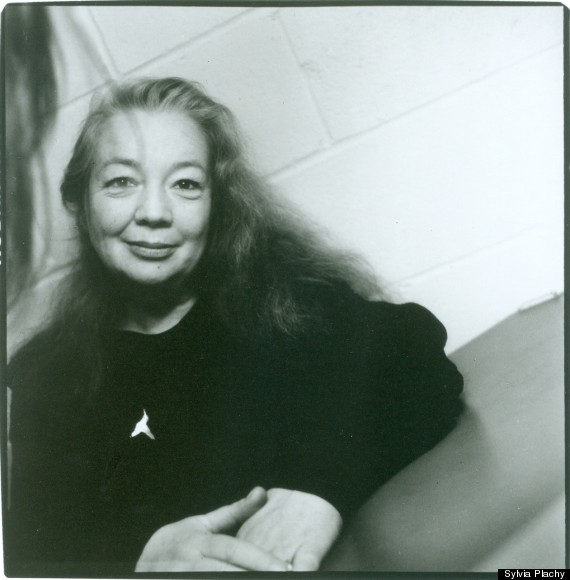 Photo by Sylvia Plachy, courtesy of New York Theatre Workshop
This was Ruth Maleczech, the gifted, New York theatre actress who passed away this week at 74. No dilettante or passerby, she was one of the high priestesses of purity in acting as a craft and a calling.
And while I did my time in the downtown theatre scene, but eventually found another path in life, I've never forgotten not only the warmth and generosity of this actor's actor, but the lesson of what was a total, uncompromising and joyous life's commitment to pure art and performance.
Ruth was the artistic partner of another legend, the director and writer Lee Breuer, (who adapted and directed, Lear, the production the posters were advertising), They had met studying theatre at UCLA in the fifties and together with another extraordinary artistic pairing, director JoAnne Akalaitis and composer Philip Glass, as well as the late English actor, David Warrilow, founded the developmental theatre company Mabou Mines in 1970.
Mabou Mines would go the distance, premiering a full quiver of unique and mesmerizing productions over following decades that were more than cutting edge, replete as they were with humor, passion and a fierce intelligence. Ruth was the doyenne-in-residence, part Zen master, part den mother and all heart. In 1984, her half of the two-handed Franz Xaver Kroetz play Through the Leaves, (translated by Roger Downey and directed by Akalaitis), with Frederick Neumann, who died last year, earned her a Village Voice OBIE award and the Best Performer Award at the Montreal Festival des Ameriques in a raw and arrestingly sexual performance that set a high bar for what an actor is willing to expose of herself without glamour or protective armature.
But it was her Lear -- that high-water mark that all established male actors aspire to in the way that young, untested bucks of the stage salivate over Hamlet -- that she will be most remembered for. Adapted by Breuer with all the roles' genders flipped and set in Georgia in 1957, the production and Ruth were savaged in the reviews. According to Alisa Solomon, the show's dramaturg, in her essay in Women in American Theatre published by Theatre Communications Group, Ruth was undaunted by the critics, saying:
I was the person who wanted to do it, but it wasn't so much that I wanted to do the play -- I wanted to do the language. I wanted to say those words. To have the right to say those words. Playing this part takes everything you've got and even a bit of what you don't. The notion that a mere human being can ever do this play is a bit of a stretch. We got the worst reviews of any play Mabou Mines ever did. And I got the worst of all. That's something I am very proud of.
It's one of those performances that grow and deepen in one's memory. Whatever flaws or cracks were evident at the time have been smoothed out and what remains is the impression made by sheer force of character. I remember Ruth's performance as sweet like molasses and brittle like rock candy. Her Lear was profane, desperate and terribly sad. A woman's deep understanding of inevitability and pain suffused the stage like the pervading odor of wilting flowers in a vase.
When I was that callow and hopeful young man in his twenties, working at New York Theatre Workshop -- another of Ruth's long-term and productive theatrical homes and communities -- and hoping to be something, a writer!, Ruth was my Secret Santa one December and gave me a copy of Rilke's Letters to Young Poet, a terribly kind gift and a gesture of confidence that I will always treasure.
Yale's Robert Brustein, for his part, in Letters to a Young Actor, discussed the tensions between a calling and a profession and said, "I know of few people, Ruth Maleczech of Mabou Mines, having steadfastly refused to join Equity," -- the professional actor's union -- "is one exception, who actually choose to be freelance Off-Broadway actors."
That was Ruth: uncompromising, nervy, relentless, but with a heart as big as Manhattan. She did it her way, and everyone in the theatre respected her choices and her artistic excellence, and will now cherish her memory with deep and lasting affection.
Calling all HuffPost superfans!
Sign up for membership to become a founding member and help shape HuffPost's next chapter