"I find it really cool when people have this artist persona they can put on," admits singer Tove Lo. "They can go out and act like this other person; I can't pull that off...I can't censor myself."
For the Swedish chanteuse, it's all or nothing when it comes to writing music. Her recently released, perfectly-crafted full-length debut Queen of the Clouds is packed with confessional, occasionally wrenching lyrics disguised as sing-along choruses and infectious pop.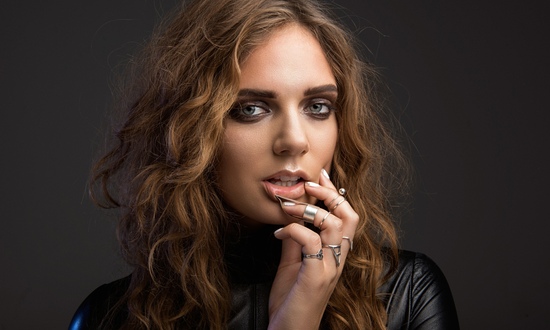 "I challenge myself to sing things I probably wouldn't say," stated Tove Lo during a recent telephone interview, "I wouldn't talk about it as much as I sing about it. I have a weird need to put it all out there for people."
Take for example, Tove Lo's wildly successful first single "Habits (Stay High)." Currently resting within the U.S. Top 5, the song describes in gritty detail her struggles after ending a particularly tumultuous break-up.
"It was very dramatic and passionate all the way through, until I finally fucked up and hurt him really bad," Tove Lo said of the relationship inspiring the song. "I had a really tough time getting over it. I tried the way I thought was best, which was to go out, partying, being really stupid."
Needless to say, that didn't work out well either, she said. It took sitting down and putting pen to paper to move past the experience. "I had to write a song about it," Tove shared. "Then I got better."
Sharing her pain is paying off, it seems. Audiences and radio programmers around the world are clamoring for more. "Habits" hit No. 1 in the United Kingdom, and increasingly seems poised for a repeat performance in the U.S. It's already racked up more than 32 million views on YouTube.
"It's been a dream -- and the kind of dream you never even thought would happen," she recounted. "When you look at your dreams when you're a teenager, it's like 'Oh, I want to make my own record.' So to now think I'm even in the Top 20 on Billboard...It's hard for me to even grasp. It feels so big."
As the track inches closer to the summit of the Billboard "Hot 100," the artist's profile continues to rise. Tove Lo is slated to open for Katy Perry during the Australian leg of the pop superstar's global tour in December. She says the experience is likely to be "one of the biggest things" she'll do this year -- maybe ever.
"To stand on such a huge stage in front of so many people, I don't even know how to prepare for that," she confessed.
"I don't know that I'll ever experience that again," said Tove, who is not taking her success for granted. "It's going to be arena stages in one of my favorite countries in the world. I'm over the moon about it. I don't think I'll understand it until I have the plane tickets in my hand and I'm going."
While the performer may still struggle with self-doubt and disbelief, her music speaks for itself. From "Like Em Young" and "Not on Drugs" (from the lyrics of which the album takes it's title) to "Timebomb" and "My Gun," Tove Lo should flood dance floors...and airwaves. Personal favorite, "Talking Body" has been on repeat for weeks. Mid-tempo "Run on Love" and raw, self-effacing "Moments" will certainly appease the romance-minded.
Truly, as one of the strongest pure-pop releases of the year, Queen of the Clouds has no shortage of radio-ready fodder to keep fans enthralled. While this solid debut is likely to catch many unfamiliar with Tove Lo off-guard, nobody seems more surprised than the artist herself.
"Right now, everything that's happening is so amazing and kind of overwhelming," she said, "I just feel like I'm on top of the world."
How fitting for the Queen of the Clouds!
REAL LIFE. REAL NEWS. REAL VOICES.
Help us tell more of the stories that matter from voices that too often remain unheard.