REVIEW
The Royal Treatment at Queen of the Night!
So much fun, you won't forget it! Who knew such a great event is happening at the Diamond Horseshoe in Midtown at the Paramount Hotel?! It was there all the time and I only got to see it now! How foolishly unaware!
At the entrance, handsome, charming security guy, Eric Evans told us we were going to love it! And he was so right.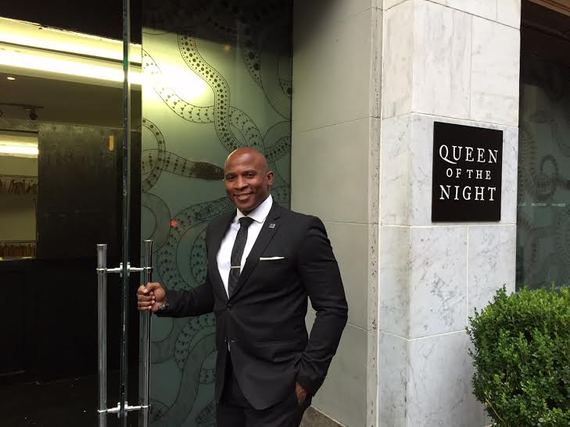 Stanley Kubrick could not have directed a better show, since it brought to mind The Shining, Eyes Wide Shut and several other theatrical films all rolled up into a kind of Cirque Du Soleil with food and drink.
All the men and women from wait staff, to barmen, and dancers, were not only beautiful and without a flaw, but gracious, delightful, super talented, and playful.
On the stairs we were met by Tamino in a long black skirt and white shirt who offered us drinks that were yummy. We ascended the winding staircase not knowing what to anticipate as we passed broken champagne glasses and some S & M props. As a matter fact the ballroom was superbly propped out.
We were brought to our table and urged to interact. And so we did, without giving anything away, we met O, who told us the rules of the house and gave me and my husband shots from a hidden compartment inside a huge wooden chest, before slipping a mint into my man's mouth and encouraging us to kiss.
Of course the enchanting Queen was in the middle of the stage, masked and beautifully turned out in a Dalian white and gold sparkling cape, while other nymphs and goddesses flitted here and there, flirting with the audience. I never saw men get as totally absorbed in a production before and participate with such complete abandon as this one. It was super amusing to watch the mild mistresses give them orders and without question all of them obeyed.
After the initial introduction...
The performers put on an outstanding show of acrobatics, fire eating, and dance magic, after which servers brought out tasty meats and vegetables. All in all it was a great night, not too short, not too long! Lots and lots of fun! We ended our evening watching the dazzlingly Queen take the stage, she performed a bewitching piece of sweet, sexy enchantment.
Popular in the Community