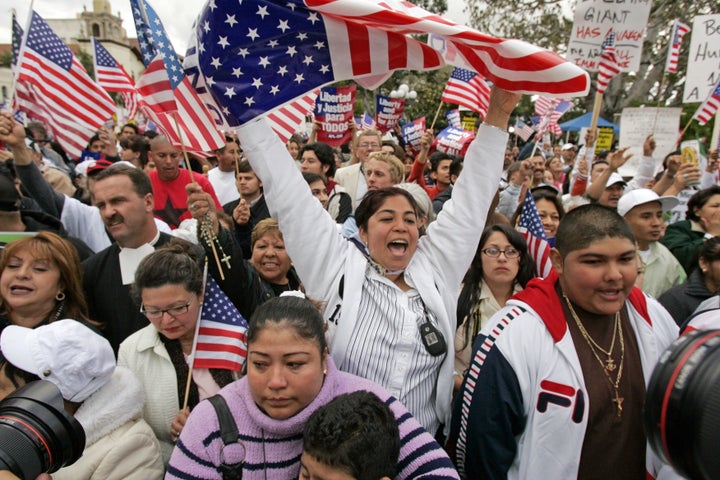 Omar Ulffe, a 37-year-old immigrant from Peru, approached the pulpit at St. Leon's Catholic church in mid-Mass - something he does every week, at different churches, he said - and told the congregation about the importance of next year's national census. Ulffe has been canvassing Hispanic populations in neighborhoods like Elmhurst since early summer.
"Our senior citizens, our children, or health, education, transportation - basically, every service is done or planned choosing data from the census," he told the crowd on a Saturday evening. "So please, on March 31, 2010, we are all going to receive the questionnaire. Fill it out, and return it. It is very easy, it is safe, it is important, and the information is protected."
A few dozen people looked up impassively. Ulffe returned to his seat looking optimistic, nonetheless ready to shake hands with anyone willing to listen. But after the Mass, only a handful approached him. Over coffee afterward, he explained the challenges he faces. "Some of them oppose being counted based on past, bad memories back in their countries," he said. People were jailed or fined in Peru, he explained, if they didn't participate in a census - and this makes people fearful of the US Census Bureau.
Five months ahead of the next year's national population count, the Census Bureau is undertaking a massive outreach campaign across the country. It hopes to counter a predicted low participation rate brought on by unprecedented foreclosures, privacy concerns over government surveillance powers, and increased fear by national lawmakers over immigration.
Ulffe, one of the Bureau's 200 New York employees, is working to reverse a trend in immigrant-heavy regions such as Corona and Elmhurst, where mistrust of the government runs high and previous population counts have been lower than the true figure. Queens, like many areas that were undercounted in the previous census, is especially tricky due to its high number of undocumented workers who are scared of deportation.
Yet, much hinges on getting a correct count so that these working-class neighborhoods receive a fair share of government funds and political representation. Low participation in the national census could result in reduced health care and education here, despite the estimated increase of 65,000 residents.
"Queens sets an important model for the country," said Stacey Cumberbatch, a coordinator for New York City's 2010 Census, speaking at Queens Borough Hall.
The Constitution mandates a count of all inhabitants, regardless of legal status, every ten years. Census numbers are used to apportion the 435 seats in the House of Representatives and more than $400 billion in federal funds to state, local, and tribal governments. It is a massive undertaking; up to 1.2 million people will be temporarily hired to take part in the $14 billion program, according to the Census Bureau.
But national participation in next year's census - the nation's 22nd since 1790 - is likely to reach only 64 percent, according to a bureau spokesperson. That's three percentage points lower than in 2000. In Queens, where only 54 percent of residents participated in the previous count, the Bureau is trying to make five to 10 percent more people return the questionnaire. Even that target is unlikely, however.
"A whole lot of things are adding up in 2010 that [are] simply going to make it more difficult," said Kenneth Prewitt, the former director of the 2000 national census and currently a professor of public policy at Columbia University.
Along with the heightened fear of undocumented immigration in Congress, Prewitt said that the previous high participation rate was helped by the "unspoken understanding" with the Immigration and Customs Enforcement (ICE) agency that it would refrain from immigration raids during the four-month count.
Such an agreement, he said, has not yet been made for next year. A spokesperson for ICE only stated that consultations between the two agencies would take place in order to make the census "the most efficient and accurate as possible."
Ulffe, the Census worker, says that many undocumented workers fear that mailing back the information could lead to deportation. "The immigrant community - they are the real challenge for us, because they fear the government will share the information with immigration [officials]," he said. "They are afraid of the questionnaire, and they don't return it."
Then there are those who feel they have nothing to gain from it. "The government, the police, I don't like them," said Luca, a 38-year-old Mexican immigrant who lives in Corona. He wished to withhold his last name because he is undocumented.
"I won't participate [in the census]. It's not worth participating - it doesn't help the poor, it only helps the rich," he added.
In order to reach out to these immigrants, the Census Bureau announced in September the creation of what Advertising Age magazine called the largest advertising campaign in US government history. Over $300 million in advertisements and other education material will be distributed in 28 languages. Over $43 million of that amount will be directed to 'hard-to-count' areas such as Queens.
Children in elementary school are being targeted as way to get the message to their parents. Many schools are encouraging them to play an online counting game and learn about the reasons for the census.
On the bureau's web site, an animated song plays, "I count, you count, your family counts too. The census counts people, make sure it counts you!"
Next year's form will also be much simpler. The 2008 National Community Survey replaced the need for the time-consuming long survey that was distributed in 2000. Now, there will be only 10 questions, and it should take about 10 minutes to complete, according to the Census Bureau.
Furthermore, the census will be offered in six languages: English, Spanish, Chinese, Korean, Russian and Vietnamese. Language guides will also be available in 59 additional languages, including Navajo, Amharic and Swahili.
But despite these efforts, community activists in Queens are afraid that low participation will further cut services in the borough next decade.
Haydee Zembrana, the director of Latin Women in Action, a nonprofit community advocacy organization in Corona, said that many immigrants will hide from any advance by the government and will likely avoid census workers.
"They don't want to know about it," she said. "If you can tell a young lady who is in love that she has to stop loving that person - it's the same concept."
Across town, the Census Bureau is working with the Centro Civico Colombiano, to reach that community in Corona.
"If we count every person - that's more education, more health, more services for the community," said Adolfo Sanchez, the center's general secretary.
"We tell them, if you don't send in the papers, you don't count!" he said.
Related
Popular in the Community