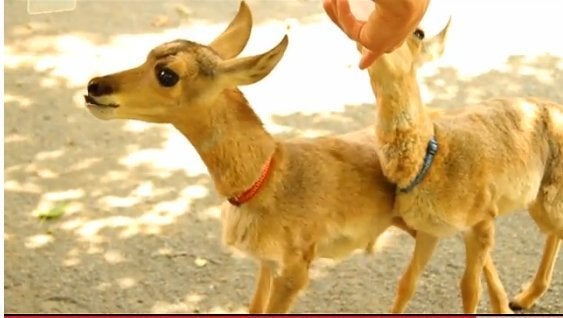 Today in cute zoo baby news: the Wildlife Conservation Society's Queens zoo welcomed three new pronghorn antelope fawns this weekend.
Sure, they are cute, and a little wobbly at the whole prancing thing, but what exactly is a pronghorn antelope? The Queens Zoo tells us that:
1. "They are true American natives that do not occur anywhere else in the world and are the second-fastest land animal in the world - second only to the cheetah."
2. "Each tiny fawn has a coat of beautiful soft-brown fur and enormous dark-brown eyes.:
3. "In the wild, pronghorn populations are threatened by new roads, fences, development, and resource extraction activities that are increasingly encroaching upon, and restricting, access to suitable habitat."
Anything else you need to know you can most likely find out in this video, below.
REAL LIFE. REAL NEWS. REAL VOICES.
Help us tell more of the stories that matter from voices that too often remain unheard.