Two of the creative, gay minds behind The Golden Girls are ready for a whole new generation of laughs! Stan Zimmerman and James Berg, who cut their teeth on the perennial TV favorite before going on to classics like Roseanne and penning feature film A Very Brady Sequel, now offer fans a new pair of queer-centric comedies.
Lesbian-focused premium outlet tello Films is already streaming the out writing duo's Sandra Bernhard-led Secs & Execs. Up next, said series cocreator Zimmerman, is a "gay men's Golden Girls" (a comparison which might be slightly redundant).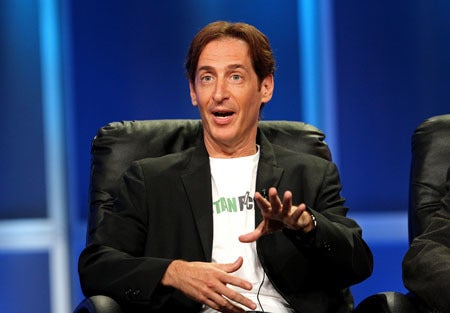 "Every one of us is getting older," he told listeners of Podomatic's No. 1 LGBTQ podcast before outlining the proposed show's obvious parallels to the four iconic Miami retirees. "Especially with gays and lesbians and transgender, we create our own families – and that's what The Golden Girls did.
"Those women came together and supported each other," Zimmerman explained.
The premise for Silver Foxes was inspired by acclaimed documentary Before You Know It, noted Zimmerman, which spotlights the struggles of LGBTQ elderly. From the film, he learned retirement communities and assisted living facilities often push queers back into the closet.
"Can you imagine?" he asked. "We thought that would be a great way to start the show."
To move the project forward, the determined writer had to get creative. Zimmerman sent "cold email" introductions outlining the show's concept, his past work on classic programs such as Roseanne, The Gilmore Girls and more to a list of out actors he wanted for the roles – many of whom he did not know.
"Everyone just jumped in!" he admitted.
A comedy A-List was on-board even before the first script about four retirement-age gay men was written. An afternoon table reading of the pilot script drew George Takei (Star Trek), Leslie Jordan (Will & Grace, American Horror Story), multiple Emmy-winner Bruce Vilanch, Todd Sherry (Parks & Recreation, Life in Pieces) and long-running Saturday Night Live star Cheri Oteri.
"When they got the script, it was just hysterical," said Zimmerman, humorously recounting how it required Jordan – "the gayest man in the world" – to "butch it up" to hide his sexuality in his old age.
"It was a pretty classic afternoon in my house," he acknowledged. "I hope to share that with the rest of the world on a real TV show. I think it could be so great."
WATCH: Official Trailer for tello Films' Secs & Execs
With Takei, Jordan and the rest attached, Zimmerman and Berg are shopping the script to major networks – with alternative outlets Netflix, Hulu and Amazon also as options. Meanwhile, they are basking in the success of new tello Films series Secs & Execs.
Originally the office-based pilot was written on spec as two separate-yet-connected programs for Lifetime, which continues reruns of the team's work for The Golden Girls. The comedies were merged after receiving an immediate greenlight from tello President Christin Baker.
"In this day and age, especially with gay and lesbian content, we can't wait for other people to make it," Zimmerman stated. "We've got to make it ourselves – and that's exactly what we did."
Secs & Execs centers on the opposing viewpoints of four executives and their assistants at fictional women's wear company Kathletics. Zimmerman and Berg's second tello Film project, the star-studded cast includes Olivia D'Abo, who grew up of TV's Wonder Years, Daniella Bobadilla (Anger Management, The Middle), Bayne Gibby (The Comeback) and Sandra Bernhard.
The dynamic duo's first outing – so to speak -- with the lesbian-oriented media upstart was the Elizabeth Keener-led Skirtchasers, also starring Meredith Baxter and Barry Bostwick . Though pitched to mainstream television first, Zimmerman said it was blocked from production by debuting hit The New Normal.
"Networks only allow one gay project a year. It's an unwritten rule," Zimmerman explained. "We were told 'It's great characters, we've never seen a relationship like this, but we've already got our gay show.'"
Frustrated, he reached out to Baker. Without hesitation, his old acquaintance signed on. tello's rapid decision, Zimmerman said, came as a shock after the "constant battle" of years with network TV.
WATCH: Skirtchaser Trailer Starring Elizabeth Keener, Barry Bostwick & Meredith Baxter
"There's such a joy in the artistic community that we can get our own vision out there," he said of his relationship with tello Films. "There's less cooks in the kitchen telling you what to do, and that's so exciting as a writer and director."
Of course, Zimmerman isn't foolish enough to downplay the importance of network TV – or its lasting impact on his career. Having joined the writing team of The Golden Girls directly out of college, that "very fortunate" experience more than three decades ago still impacts life today.
"We knew there was gold on the stage, but conventional thinking was 'Who would watch a bunch of old ladies?'" he recalls. Soon, he says, ratings answered that question handily. The Golden Girls debuted in the Top 20, moved into the Top 10 and, eventually, sat alone atop the Nielsen ratings.
"We found that everybody wanted to [watch] – from little kids to old people," Zimmerman said of the show's success. "I can't think of really any other show that everybody loves."
Unlike other sitcom giants, which no matter how popular receive some form of criticism or fail to reach certain audiences, Zimmerman suggests The Golden Girls remains in a class all its own.
"There's just something so loveable, these women stand the test of time," he concluded. "It was thrilling to be at the early part of it, and it just changed my career forever."
For More Information on Skirtchasers or Secs & Execs, visit the tello Films website.
LISTEN: Stan Zimmerman is interviewed by Party Foul Radio with Pollo & Pearl.
Other recent Party Foul Radio celebrity interviews include psychic John Edward, Erasure's Andy Bell, Skin Wars judge Robin Slonina, hitmaker DJ Cassidy, professional wrestling legend Melina & more.
Calling all HuffPost superfans!
Sign up for membership to become a founding member and help shape HuffPost's next chapter