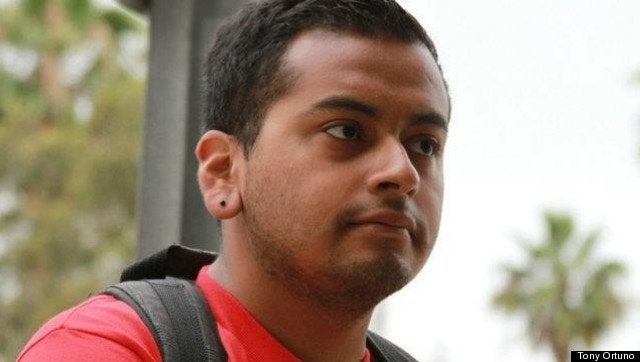 Editor's note: As a part of the 2012 Fullerton High School "Mr. Fullerton" pageant, senior Kearian Giertz was asked, "Where do you see yourself in 10 years?" Kearian responded that he hoped that in 10 years marriage equality would be legal so that he could marry the man of his dreams. As a result of his answer, a school administrator disqualified him from the competition. Immediately after the incident took place, Kearian's classmates, seniors Blake Danford and Katy Hall, started a letter-writing campaign, asking the question, "Where do you see yourself in 10 years?" They added their vision of what is needed to create safe and supportive schools. Blake and Katy teamed up with the Gay and Lesbian Community Services Center of Orange County and Youth Empowered to Act (YETA). The campaign became the foundation for YETA's comprehensive, student-led program to inform students, faculty, and administrators about California's school laws, provide support and advocacy for students, and create safe schools in Orange County and beyond.
The Huffington Post is sharing the stories of several youth involved in the campaign responding to Seth's Law, which was enacted last week. For more information, and to participate in the campaign, visit Youth Empowered to Act.
I am queer, undocumented, a community activist, an immigrant, a person of color, a recent college graduate, and a loving son and brother. Every single one of these identities has sustained my dedication to continue the work toward an inclusive society for all people.
In 1992 my parents made a decision that would change the lives of our entire family forever. They took the risk of moving their entire immediate family to another country. They moved to a country where their children would grow up learning a new culture and language and obtain opportunities potentially not afforded to them in Mexico. I was 2 years old at the time and therefore do not remember the move, but I have heard the story from the perspective of my mom. Her story begins with explaining our ages; I was 2 and my sister was 3. She always inputs this detail because she wants to remind us how difficult it was to travel with two toddlers. She says we traveled with many other people in a small van for three days and two nights. We traveled from the state of Guerrero, Mexico to the city of Tijuana. She remembers feeding us soup for most of the trip, as this was the only thing she could afford to feed us and herself. We left behind our grandparents, aunts, uncles, and cousins, whom she has not seen in years, and whom my sister and I still have not met to this day.
I am still an immigrant to this country, and because of the method by which we came to this country, I am an undocumented immigrant. This immigration status has placed barriers I never thought I would face but has also given me the opportunity to become a strong and independent individual. Through community organizing I have found a love for our immigrant communities that I had never experienced before. I became actively involved with the Orange County Dream Team, a grassroots organization that supports and advocates for the rights of undocumented students of all nationalities. This organization has become an outlet for me to share my story, develop my identity as an undocumented immigrant, and organize in my local community. With the support of this organization and its people, I was able to complete my last semester of college. The membership consists of people from various backgrounds, genders, sexual orientations, immigrant statuses, and experiences. We learn from each other and have developed long-lasting relationships. Their role in immigrant student activism was crucial in the recent immigration policy change announced by President Obama. The announcement would grant a specific group of people deferred action and the potential to gain work permits. This victory would not have happened if it were not for the immigrant student groups like the Orange County Dream Team.
Queer, undocumented activists have been crucial leaders in the undocumented youth movement. They have led hunger strikes, participated in civil disobedience, and organized numerous rallies. They have been empowering movements to see these leaders take bold and fearless acts. I have had the opportunity to share my own experiences at these events. Every time I share my story, I confidently state my immigration status and sexual orientation: undocumented and queer. I took these times as opportunities to learn something new about my identities. I have known of my undocumented status and my queer identity since I was young. I only acknowledged my undocumented status but hid my sexual orientation for most of my life. I came out and accepted my queer identity about three years ago. I never told anyone I was gay for fear of rejection. When I first came out to my mother, we were both in her bedroom having a conversation about a recent family party. I brought up my friends in our conversation, whom I had invited to this party; my friends are a lesbian couple. She seemed indifferent about having them at the party but repeatedly stated it is something she did not agree with. For some reason, she repeated this comment as if she were trying to firmly proclaim her stance on an issue she knew would soon affect her. I seized the opportunity, telling her in a shaky tone, "I am gay." This prompted an immediate silence in her room, with only the sound of the fan over our heads; I still remember this, because it was one of those warm, Southern California summer nights. To this day I have only had three conversations about my sexual identity with my mom, and each time it seems like she is willing to acknowledge my identity but not quite accept it. I will not wait forever for her acceptance, but I know that it is my responsibility to educate her on my identity and what it means to me. However, before I do that, I need to learn what it really means to me. Is it a mere sexual orientation, a tool of empowerment for community organizing, or a social construction? Maybe it is all of the above, but I am not afraid to find out. I am taking this time in my life as a journey of personal growth.
This passion for organizing is fueled by the love and dedication I have to make this an inclusive society. I have learned this from personal experience. Living as an out queer, undocumented person, I am constantly fed with negative images and rhetoric surrounding both communities. The most painful comments come when homophobic or xenophobic comments come from within our own communities. We cannot ignore the connections between one another. A few weeks ago I had the opportunity to hear Reverend James Lawson speak, and one of the things he said was, "Let your movement represent the type of society you want to see." He is right; we must acknowledge and accept our intersecting realities as oppressed people so we can organize together and make our communities inclusive of one another. This inclusivity will allow our movement to represent the society we want to live in.