Barney Cheng, the writer, director, and star of Baby Steps, obviously put his whole heart into this project. You may not think there's a need for another gay film about a mother unaccepting of her son's homosexuality . . . but apparently there is, especially if the mother and son are Taiwanese.
Baby Steps, when released overseas, "energized [Taiwan's] marriage equality debate," according to production notes, and this year the island became "the first democracy in Asia to legalize same-sex marriage." Additionally, the State Department screened the film at U.S. embassies in six cities in mainland China, including Beijing. Better dramedies have affected people's lives and political futures far less.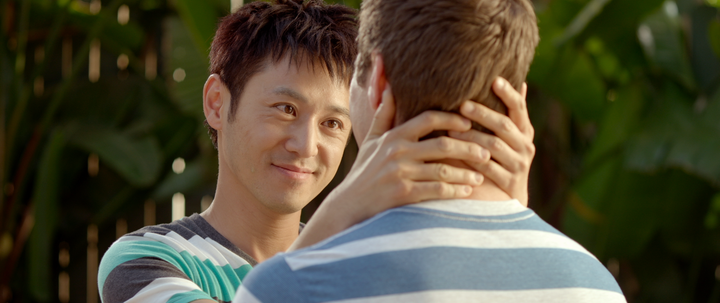 (When I first saw the film, the Trump administration hadn't yet come out for disenfranchising the rights of transsexuals in the military and gays on the work force. Baby Steps is becoming more and more relevant by the second.)
The plot here focuses on the openly gay Danny (Cheng), who's blissfully settled in Los Angeles with his Ken-doll artist boyfriend Tate (Michael Adam Hamilton). The duo's just celebrated an anniversary, in bed, when widowed Ma (Ah-Leh Gua) announces she will visit from Taiwan because she's heard her son is going to father a child.
"People say there are three major joys in life," she notes. "First is getting married, second is giving birth, and third is holding a grandchild in your arms."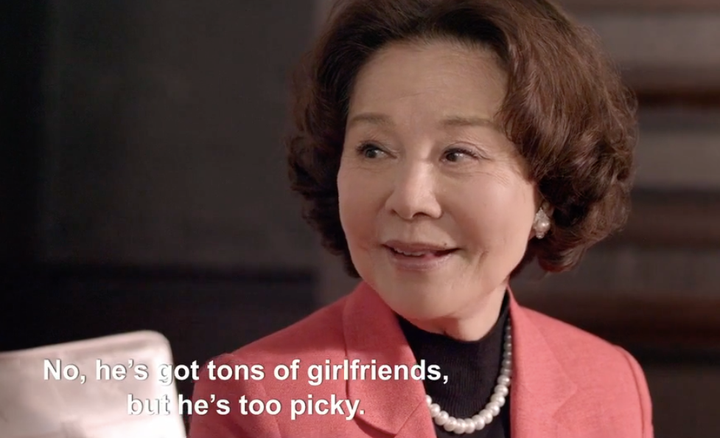 Of course, Ma believes her son'll do the impregnation the old-fashioned way. Apparently, she's not acquainted with the web site Surrogacy Now, the "#1 Egg Donor Database," from which her grandchild will be hatched.
Uh-oh! Besides not sharing that tidbit, Danny's also not revealed that Tate is his partner, so all of the photos of the pair must be hidden along with other queer artifacts. Then his lover must be sent along to his own apartment before Ma arrives.
Why? You're already out, Danny.
If you think finding her gay son without a beau will make Ma happy, you're wrong. She doesn't like the couch, the furniture placement in general, the populace of L.A., or sexual procreation where body parts don't make actual physical contact.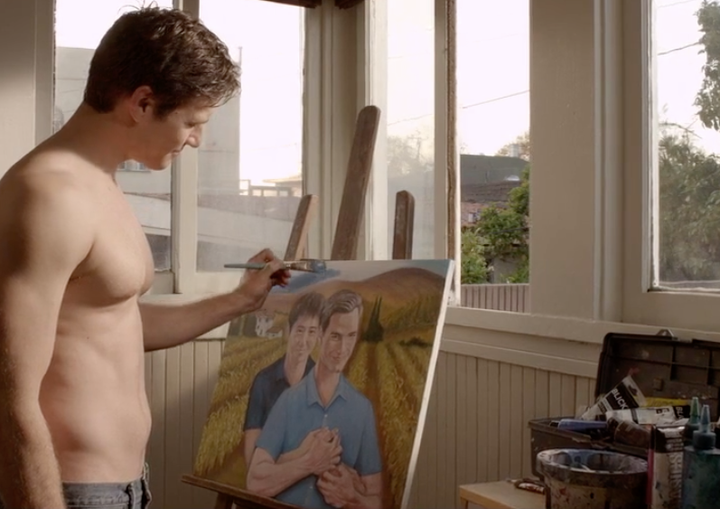 "Ma, I know it's untraditional, but I don't have a choice," Danny explains. "I'm not gonna pretend or be with a woman just to have a baby."
The widowed Ma decides if this is the only way the family line will be carried forth, she'll accept the process. Overcoming her distress, she gets involved in every aspect of the pregnancy . . . annoyingly so.
From this point on, everything that can go wrong does go wrong in spades: sperm counts, unacceptable egg donors, insane surrogate mothers, anti-gay government laws, and so forth. But any viewer who can't predict that the whole cast will be smiling and hugging as the end credits roll has never seen a queer romcom, or this film's explicitly detailed trailer.
So if you can overlook the soppy musical score, a doctor in a remarkably bad wig (the bald Jason Stewart) and an overacting security guard (Peter Dernbach), all the leads are affable and the politics on target. Inarguably, here's an LGBT film created by and starring Asian-Americans that is seldom less than pleasant and definitely worth applauding.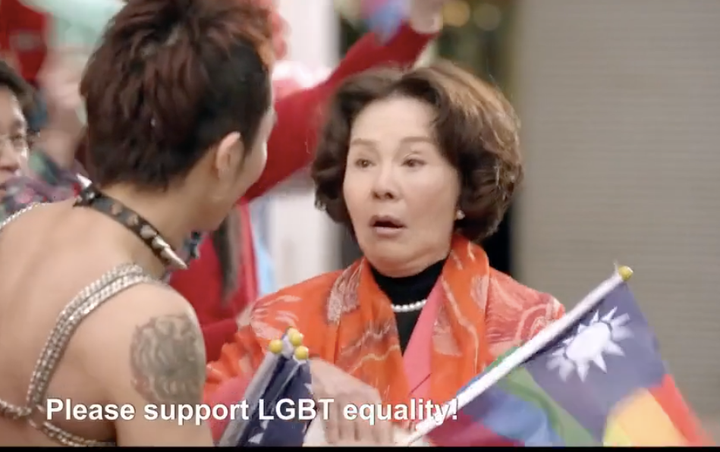 (BABY STEPS will be released in the U.S. and Canada via Gravitas Ventures on August 15th on DVD, Blu-ray, VOD and across digital platforms including iTunes, Amazon, and Google Play. There will be a Western Justice Center Benefit Screening on August 10th at the Downtown Independent Theater in Los Angeles.)
REAL LIFE. REAL NEWS. REAL VOICES.
Help us tell more of the stories that matter from voices that too often remain unheard.