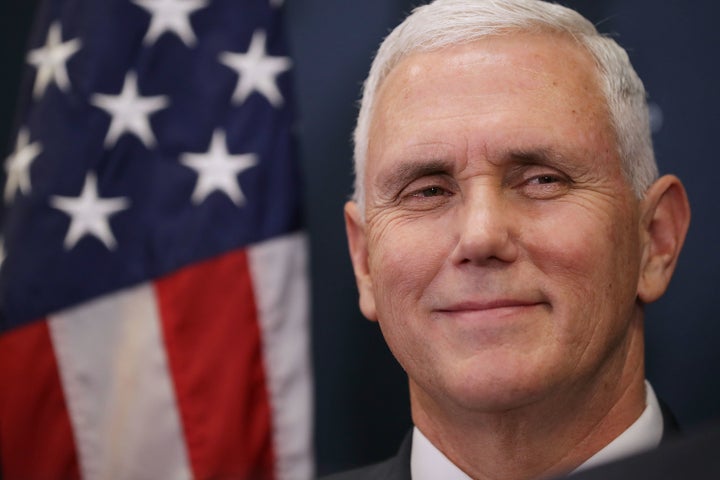 A queer activist collective in Washington, D.C. is planning a dance party in front of Mike Pence's home this week, ensuring that the Vice President-elect never forgets a big ol' group of queers partied on his front lawn.
Organized by DisruptJ20 and WERK for Peace, the dance party, slated to take place in Pence's Chevy Chase, D.C. neighborhood, will include plenty of biodegradable glitter and "rainbow paraphernalia," scheduled in conjunction with a series of actions pegged to the inauguration of President-elect Donald Trump. The event will start at 6 p.m. on Wednesday, Jan. 18, two days before Trump is sworn into the highest political office in the developed world.
"The homo/transphobic Mike Pence has graciously invited us to shake our booties and bodies in front of/around his house in Chevy Chase," a Facebook event for the dance party notes. "We plan on leaving behind [biodegradable] glitter and rainbow paraphernalia that he can NEVER forget. #WeAreQueer #WeAreHere #WeWillDance That's right, get ready to WERK it and tell Daddy Pence: homo/transphobia is not tolerated in our country!"
Firas Nsar, founding organizer of WERK for Peace, told The Huffington Post, "Even before the tragedy at Pulse Nightclub in Orlando, during which 49 individuals were massacred on a dance floor, nightclubs and dance served as critical cornerstones of queer/trans activism and expression." Nasr added, "In taking dance to the streets, we use our bodies to occupy space and assert that will embrace each other, our diversity, and our differences. Tomorrow, we will send a very clear message to Mike Pence on his doorstep: #WeAreHere, #WeWillDance, and we refuse to tolerate bigotry and hate in this country."
This isn't the first time queer people and their allies have organized acts of resistance against incoming Vice President-elect Pence at his place of residence. In early December, Pence's neighbors trolled him by collectively hanging rainbow flags from the fronts of their houses. 
Even if they shut you down early, dance extra hard for all of us who can't be there, queers! 
CORRECTION: An earlier version of this story misidentified the location of Pence's home as Chevy Chase, Maryland; it is in the Chevy Chase neighborhood of Washington, D.C.
Calling all HuffPost superfans!
Sign up for membership to become a founding member and help shape HuffPost's next chapter
BEFORE YOU GO