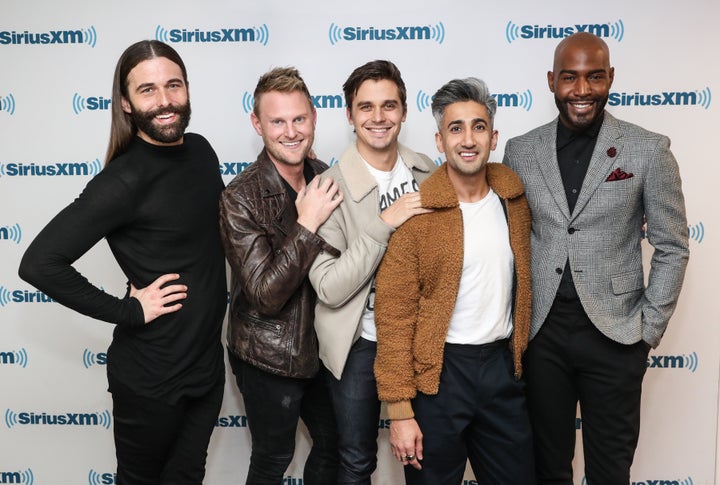 But the new cast persevered, offering their suggestions on making Trump great again (even if he hadn't actually been great before) in an interview with me on SiriusXM Progress this week.
The original "Queer Eye" featured five gay style gurus based in New York who taught straight men about fashion, design and culture and helped spark a new genre in makeover shows.
Debuting on Netflix on Feb. 7, the new "Queer Eye" has the cast headquartered in Atlanta, with the group of style experts heading into red-state America. The show's design guru, Bobby Berk, noted that "the old show was 'Queer Eye for the Straight Guy'" while "the new show is just 'Queer Eye'" ― and that's for a reason.
"We're out there not just focusing on straight guys, telling straight guys what they need to do different," he explained. "We're out there helping everyone ― straight guys, trans guys, gay guys, women. And [we] really just want to not just go out and create a bunch of metrosexuals ― just teaching guys how to groom. It's more about transforming them, not just on the outside."
So, on to a proposed Trump makeover.
After a few sighs, some laughter and an "Oh, God!" from the group, the show's grooming guru, Jonathan Van Ness, plunged in.
"Sticking with my vertical, I would say, I... ugh, um." He paused. "Well, maybe just a gorgeous facial hair moment to, like ― hide. You know, give him a little roughness. And make him not like such a freshly-shaven baby head – who is wreaking havoc! Oh, and a lace front [wig]. A nice, dork, natural JFK moment."
The show's culture expert, Karamo Brown, would take Trump "to a small village in Mexico where he's trying to build this damned wall."
"And I would say, 'Let's go ahead and put you in front of these people,'" Brown said, "'and I want you to look at them in their eyes and tell them, truly, that you really think they are criminals and rapists.'"
"First of all, I would get rid of some of the gold!" exclaimed Berk, the show's design expert. "All this flashiness. I mean, he is clearly trying to make up for things that aren't quite adequate, you know, by coating everything in gold."
Food and wine expert Antoni Porowski said he's "thinking about poor Melania and poor little Barron."
"I don't know if he ever has, but teach him how to make a meal for his family and show up," Porowski said. "Because she's been put through the wringer."
Fashion stylist Tan France, however, said he wouldn't do much at all.
"I haven't got much bad to say about him," France confessed to gasps from the rest of the cast. Pushing back, France added, "The only thing I would say is that he needs to get an actual tailor. I think he's going to God knows where —"
Berk interjected: "No, it's because of his diapers. They make his pants poofy."
In case it's not evident, a key difference about the new "Queer Eye" is that the new "Fab Five" weigh in on cultural and political issues of the day and get into charged discussions with their "heroes," as they call their makeover subjects. (France, who is Muslim, is outspoken about being married to a Mormon cowboy.) The show's creator, David Collins, explained recently that while the earlier "Queer Eye" was about "tolerance," the new version is about "acceptance."
"Where gay men were in 2003, when the show originally came out, is not where we are in 2018," Brown, who is African-American, said. "I think the beauty of what we are doing now as a cast is not only that we are diverse, but we're bringing our true selves and our lives to the show, which is great."
"I don't think anyone's ever seen an openly gay Muslim man on television being this proud, and for him to go into the South, that's obviously going to be [a] conversation," he continued. "And I think that's what we all do so well. We have these culturally relevant conversations in a way that is not going to turn people off, but is going to invite them into our community and say, 'Hey, let's have some fun, but let's also learn.'"
Pointing to why "Queer Eye" could be even more relevant in 2018, France added: "I think before, we were very much sticking to a whitewashed version. It wasn't so much diverse. You wouldn't really talk about our personal lives in the old show, whereas now you find out so much about us."
In Trump's America, even if the president himself doesn't get his much-needed makeover, that can only be a good thing.
CORRECTION: An earlier version of this article said the new "Queer Eye" debuts on Feb. 8. In fact, it debuts on Feb. 7.
Calling all HuffPost superfans!
Sign up for membership to become a founding member and help shape HuffPost's next chapter