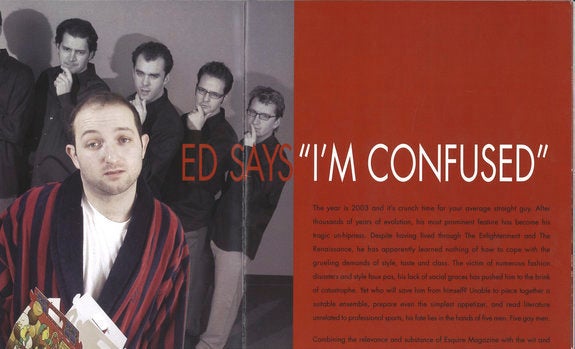 It's hard to imagine "Queer Eye" without thinking of Tan France and Jonathan Van Ness or, if you're a vintage fan, Carson Kressley and Ted Allen.
But in the early 2000s, the show was just a concept that revolved around a balding guy named Ed Peselman and five nameless gay men recruited to make him over.
We spoke to "Queer Eye" creators David Collins and Michael Williams this year for HuffPost's oral history of the series, and they shared with us the pitch book they crafted to sell the show over 15 years ago, featuring Ed first in various disheveled states, then looking sharp. 
As the origin story goes, Collins and Williams were at an art party in Boston in September 2001 when they spotted a woman haranguing her date about his wardrobe. Three gay men nearby soon surrounded the couple, urging her to ease up and making suggestions about how the guy could improve his image. Just like that, a reality show was born.
Williams recalls that Collins turned to him and said these exact words: "Queer Eye for the Straight Guy." 
From there, the duo created the pitch book (starring Ed), inspired by Esquire magazine's five main sections, which became the Fab Five's areas of expertise: fashion, grooming, design, culture and food and wine. MTV liked the idea, but Bravo ― then a sleepy arts network best known for "Inside the Actors Studio" ― ended up picking up the show, which came to redefine the entire channel and even popular culture at large. 
REAL LIFE. REAL NEWS. REAL VOICES.
Help us tell more of the stories that matter from voices that too often remain unheard.