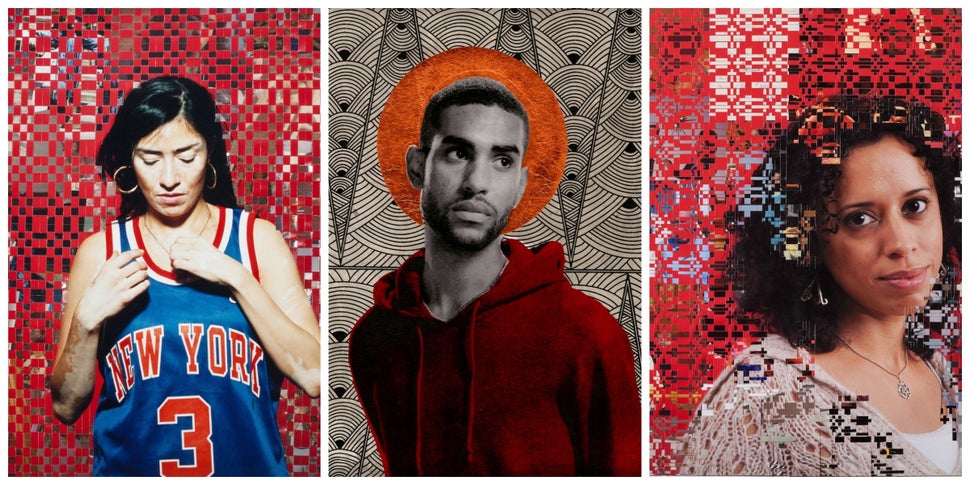 A woman stands proudly, chin-up, facing the camera head-on. She wears a bursting, sunny crown, vibrant and a little daunting. It looks like the baldly admiring depictions of Jesus painted during the Renaissance era; "this is a person you should admire," the portrait seems to say.
But the subject in the portrait is not Jesus, or Sebastian, or David, or any of the other Saints so often given face-time in famous historical paintings. She's a woman who identifies as queer, as evidenced by the self-reflective scrawl that frames her image. "Strength. Vulnerability. Community. Chola politics. Crimson lips, hoops and jet back liner.... as femme armor," she writes.
It's part of a series by artist Gabriel García Román called "Queer Icons," where he uses the reverent style of Renaissance painters, but applies it to underrepresented groups -- namely artists and activists who identify as queer.
Much of his work is concerned with the descriptors we attach to ourselves -- for Román, these include "queer," "Mexican," "American," "immigrant," "secular," and "Catholic." Even when these identity markers aren't included verbally in his work, each of Román's portraits reflects the constructed and internalized identities of its subjects, and treats these identities with the sort of reverence typically reserved for saints.
"The subjects in 'Queer Icons' are people of color, who maintain separate, individual identities within the queer community," García Román writes in a statement on his website. "These explorations of the edges of genders take place in the nuances of the contemporary urban world. A simple eye shape, an angle of a mouth, the tilt of the head -- indicate a queering of conventional forms and roles ... Much like traditional religious paintings conferred a sense of safety, calm and meditation into a home, the works in this series aspire to a similar sense of refuge, drawn from the inner grace of the subjects out onto a world that might not always be safe."
Check out images from Román's "Queer Icons" and "For My Father" series, on view at Gallery Aferro from March 30-May 21, below.
PHOTO GALLERY
10 Queer Things You Couldn't Have Seen On TV 10 Years Ago
Calling all HuffPost superfans!
Sign up for membership to become a founding member and help shape HuffPost's next chapter