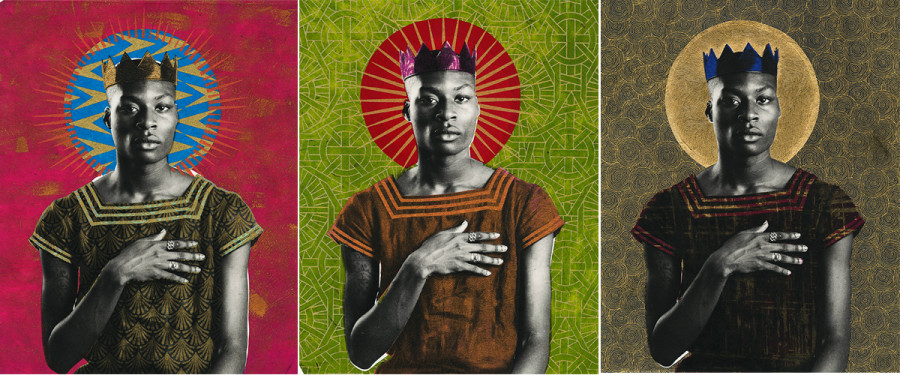 Jahmal. 2014, From the series Queer Icons, Photogravure w/ Chine-Colle, 11x14, image size 8x10. Gabriel Garcia Roman
Icons are an essential part of the visual history of religions, including those of the Catholic, Coptic and Orthodox Christian traditions. From the familiar Mary and the Archangel Gabriel to the more obscure Saint Menas or Theotokos of Vladimir, iconic depictions venerate the figures we consider holy or miraculous, marked by a defining saintly feature -- the halo.
For artist Gabriel Garcia Roman, the halo is a particularly mesmerizing aspect of spirituality. Born in Zacatecas, Mexico, he immigrated to Chicago at the age of two. There he grew up in a Mexican household heavily influenced by Catholicism and religious imagery. As a kid, Garcia Roman recalls being transfixed by halos in fresco paintings, which, to him, combined suffering and strength on the dark walls of his church. "I saw the halo as a badge of nobility and selflessness," he explained to The Huffington Post. "So I try and bring that feeling into my work. I want the viewer to be mesmerized like I was as a kid and still am."
His work, "Queer Icons," consists of wildly vibrant portraits that mimic the splendor of religious iconography, with one very important caveat. His subjects are not centuries-old saints. His subjects are very real individuals who identify as QTPoC (queer and trans people of color).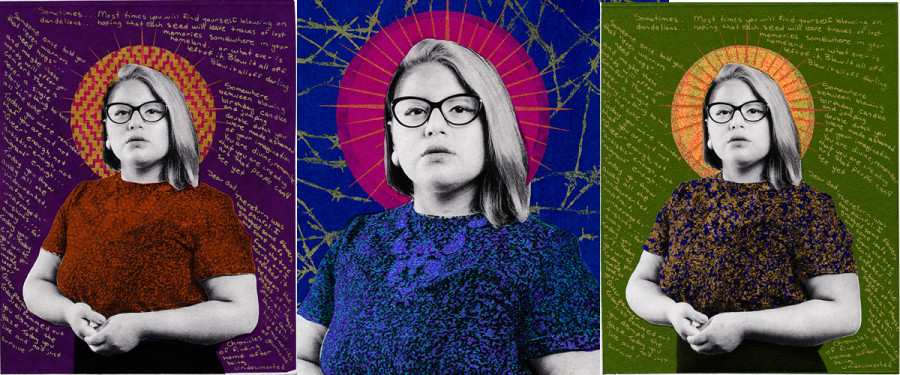 Sonia. 2015, From the series Queer Icons, Photogravure w/ Chine-Colle and silkscreen, 11x14, image size 8x10. Image by Gabriel Garcia Roman. Poetry by Queer Icon Sonia Guiñansaca
Inspired by a desire to show the diversity of a population that often goes underrepresented, Garcia Roman renders friends and friends of friends, whether they are organizers, activists, poets or artists, in saturated colors and decadent patterns, halos always in tow. Much of his series highlights QTPoC "icons" -- "people who are working at gaining visibility with issues or simply the identity of being a Queer person of color," Garcia Roman said.
"The subjects in 'Queer Icons' are people of color, who maintain separate, individual identities within the queer community," Garcia Roman writes in a statement on his website. "These explorations of the edges of genders take place in the nuances of the contemporary urban world. A simple eye shape, an angle of a mouth, the tilt of the head -- indicate a queering of conventional forms and roles ... Much like traditional religious paintings conferred a sense of safety, calm and meditation into a home, the works in this series aspire to a similar sense of refuge, drawn from the inner grace of the subjects out onto a world that might not always be safe."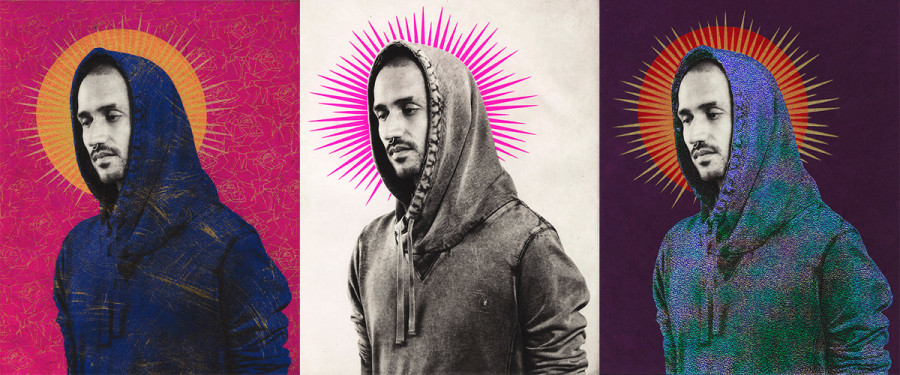 Mitchyll. 2014, From the series Queer Icons, Photogravure w/ Chine-Colle, 11x14, image size 8x10. Gabriel Garcia Roman
Drenched in deep purple and electric pink, his contemporary icons incorporate sprawling text and geometric backgrounds that set them apart from the icons of yore. To create them, Garcia Roman first photographs his subjects, then silkscreens colors and patterns onto the printed photos using a chine-collé technique. The artist has described his icons as a combination of martyrs and warriors, made distinct by their penchant for fearlessly staring down the viewer. Like the portraits of American painter Kehinde Wiley or South African photographer Zanele Muholi, both of whom Garcia Roman cites as influences, his work is defiant and uncompromising.
"I'm absolutely inspired by the stoic portraits of Jan Van Eyck and Albrecht Durer too," he added.
For some of the portraits, especially those that depict poets or spoken word artists, he allows the subjects to take part in the process, providing them with a Sharpie and tracing paper and instructing them to hand write some of their work around their image. "I wanted to give them a canvas to speak about their identity," Garcia Roman told Mic. "I wanted to amplify their voice."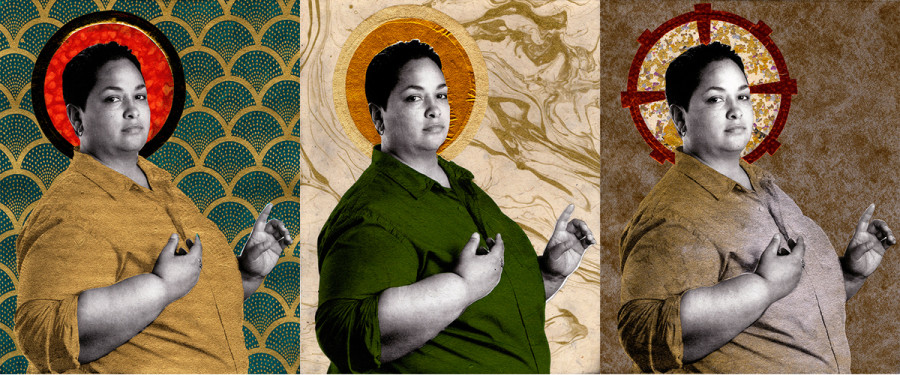 Kathy. 2014, From the series Queer Icons, Photogravure w/ Chine-Colle, 11x14, image size 8x10. Gabriel Garcia Roman
Garcia Roman posts the finished products online, on his Instagram, Facebook and Tumblr pages. "I am very active on social media," he said to HuffPost. "Right now my Tumblr page is getting a lot of hits and I get excited when I get a notification that one of my images got re-blogged because I know that it's being seen by people outside of my own circle."
His goal: to ensure that young people come across his images and see these "icons" as examples of powerful leaders. One way he's achieving this outside of the Internet is by making inexpensive digital reproductions, "so that people who can't afford to own an original piece can have access to them."
See a preview of the series here: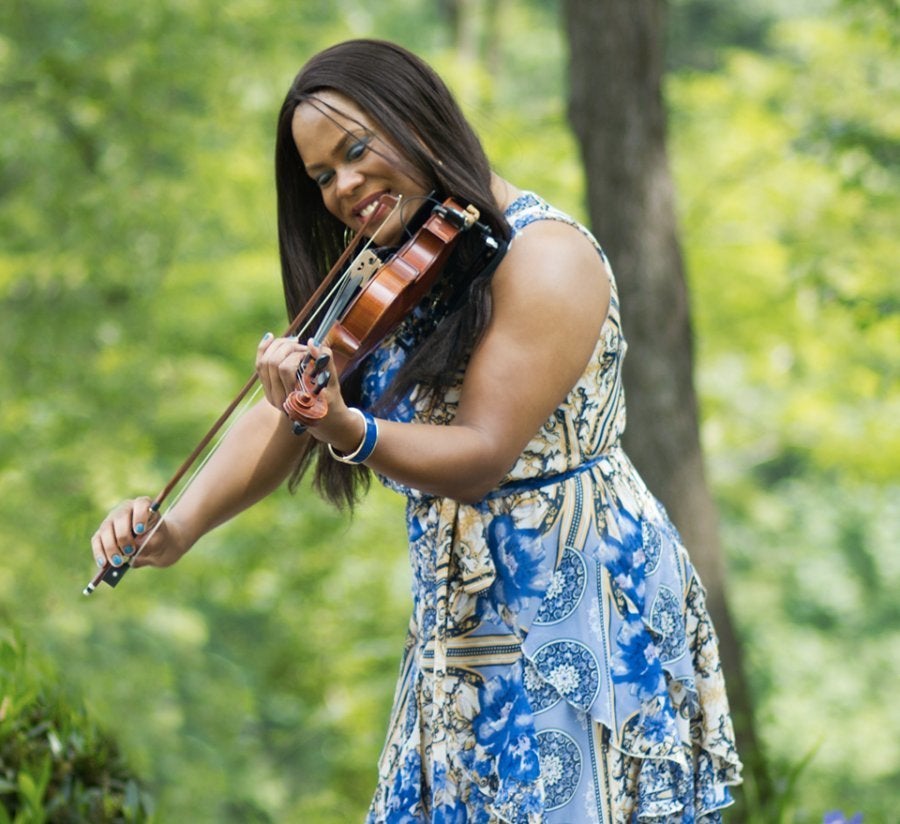 Trans Artists Changing The Landscape
Popular in the Community